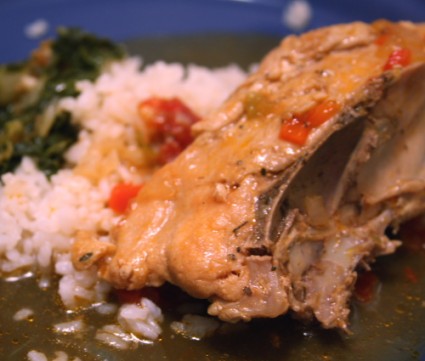 February is often one of the coldest and cruelest months of winter. But thanks to an extended visit from my out-of-town family, February has been nothing but warm. You see, for the past few weeks, I've had the pleasure of spending long weekends with my husband's wonderful mother and father on the ancient pull-out couch of their winter rental in Carpenteria, California.
Carpenteria is a perfect spot for two snow birds like my snow-weary in-laws who needed to flee the brutal winter of Michigan. There in the ocean-side town populated by off-season surfers, wealthy retirees and permanently parked mobile homes, we have spent hours laughing, and sharing family stories  around the dining table.
Chicken Coca-Cola is a family recipe my mother in-law shared on our first dinner together. Born and raised in Guatemala, my mother-in-law grew up on dishes inspired by local ingredients and spices and her her frugal mother. Lucrecia is a joy in the kitchen. She showers me with her passion for cooking, knowledge of Guatemalan classics and passion for sharing kitchen secrets. Chicken Coca Cola, is a family classic based around the iconic American soda.
[print_link]
Pollo Con Coca-Cola
1 Whole chicken, quartered (separate into wings, breasts, legs)
1 (14 oz) Can of stewed tomatoes
3 Garlic cloves, chopped
1 Medium onion, chopped
1 Jar (4 oz.) red peppers
1 Can Coca Cola (don't use diet!)
Vegetable oil (2-4 teaspoons)
In a medium to large skillet or Dutch oven, sauté chicken in oil until browned. Season with salt and pepper. Remove chicken. Add more oil to the hot pan if necessary before adding garlic and onion. Sautee until soft. Return chicken to pan with tomatoes, peppers and coca cola. Bring ingredients to a boil then turn down heat to allow contents of pan to simmer for several hours, or until chicken is tender. Serve with rice.