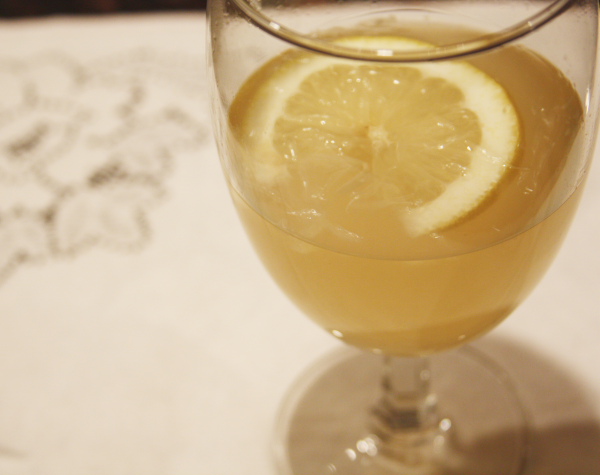 It's cold season and everyone I know is suffering. The most recent flu bug—a nasty twist on a head cold with a sore throat, congestion, and undeniable exhaustion—is taking down the best of 'em. Even earnest, hand washing me.
I shouldn't be surprised by my recent bout with a cold. When you work in a business that requires close contact with hundreds of people a day, it's no wonder I've gotten sick. The flu shot and lots of hand washing helps, but sometimes the viruses that topple the ranks of fellow restaurant employees, wins.
So besides getting lots of rest, drinking plenty of fluids*, and eating chicken soup, my sick body has been craving another kind of cold cure. Bourbon, fresh lemon juice, and spicy peppers work its magic on burning away the final traces of a sore throat. Fill a tea pot with hot water, add freshly squeezed lemon juice, a shot of Buffalo Trace bourbon (or your favorite brown stuff) and sweeten the mix with a Jalapeño simple syrup. The drink's warmth and fiery spice is the perfect late night answer to a cold cure. I've been feeling great ever since.
Spicy Hot Toddy

2 oz. (4 tablespoons) Bourbon (whiskey or rum can be easily substituted)
1 lemon, juiced
2 tablespoons Spicy Simple Syrup (recipe follows)
½ cup boiling hot water
1 lemon slice, for garnish

Add bourbon, lemon juice, and spicy simple syrup to a warmed mug or thick glass. Add the boiling hot water. Garnish with a lemon slice and serve.
Spicy Simple Syrup
This simple syrup will last for several weeks when it is refrigerated.

1 cup sugar
½ cup water
½ of 1 Jalapeño (or another spicy pepper like Aleppo or Lipstick)—use more if you like things really spicy!

Add water and sugar to a sauce pan. Stir over high heat until the sugar dissolves and the mixture begins to boil. Reduce the temperature and let cook until it becomes syrup-like, about 5-10 minutes.

Wearing rubber or latex gloves, slice the Jalapeño. Remove the seeds and top of the pepper and cut into four equal parts. Once the sugar and water mixture has become a syrup, add the spicy pepper. Let cook over medium heat until the pepper's skin begins to change color, about 2-4 minutes. Be careful not to inhale the spicy fumes! Let cool.

When cool, pour the mixture into a glass jar. Cover. Can be stored in refrigerator for several weeks. Use this syrup for other drinks like a spicy margaritas.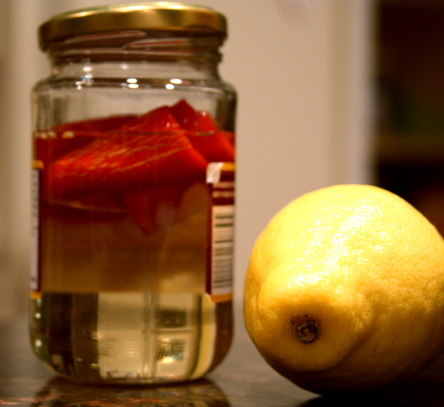 *Hot water, a tablespoon of honey, 1/2 a lemon, and a handful of fresh ginger in a favorite mug always works wonders