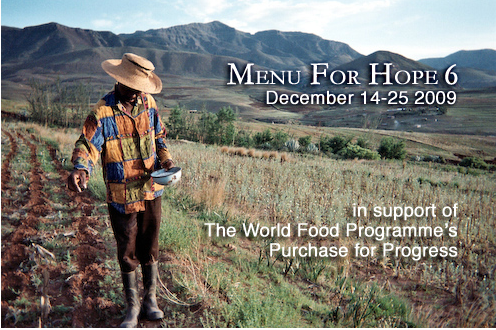 As we wade deeper into the holiday season, the more many of us think of ways to give back. Donating to a local charity, helping out a friend in need, and giving handmade gifts are wonderful ways to contribute to those that are in need.
This year, I am proud to say I am participating Menu for Hope, an annual campaign–started by food blogger and writer Chez Pim–to raise funds in benefit of the United Nations World Food Programme and its Purchase for Progress initiative. Not only will I be eagerly bidding on other great food blogger's donated items (like MattBite's Food Photography Class or Jen Yu of Use Real Butter's beautiful photography) I will be donating a wire sculpture to the event.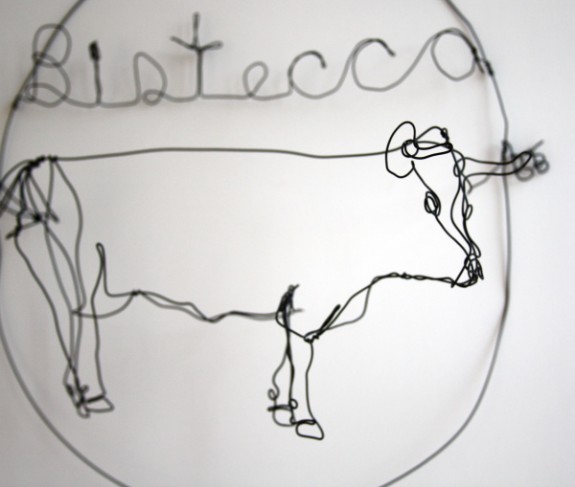 Menu For Hope Bid Item: UW35
The sculpture I'm donating is called "Bistecca," an ode to the great animal that has inspired many a great recipe.
What was once a quiet, secret art form I did for myself and for loved ones, my wire sculptures are three dimensional drawings in steel wire. It's a meditative art form that allows me to dive deeper into my creative process, contemplate spatial issues, and deliberate on thematic issues I'm passionate about. I am inspired by the generations of artist from my own family (Virginia Lee Burton, Hilja Burton, George Demetrios, Aris Demetrios, my sister Kate), Picasso's line drawings, and the wire sculptures of Alexander Calder, I began creating wire sculptures over a decade ago.
The sculpture is made from galvanized steel and measures 9″ x 8″. The sculpture would retail on my Etsy Shop for at least $100, so the chance of winning it for $10 is a great deal for a one of a kind piece of art.  The winning bidder will have the option to select "Bistecca" a sculptural ode to a mighty cow, or, they may choose to have a specific food item (like a cow, a fish, an apple) sculpted just for them. "Bistecca" is made from galvanized steel and measures 9″ x 8″. The sculpture retails for $90 on her Etsy shop.
Remember – the code for this bid item is UW35. You will need this code to bid for this sculpture.
What is Menu for Hope?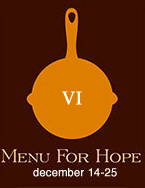 It's a simple idea with incredible results. Menu for Hope is an annual fund raising campaign hosted by Chez Pim and supported by an ever-growing group of food bloggers around the world.  Started over five years ago as a way to donate funds to those affected by the devastating tsunami in Southeast Asia, Menu for Hope was created as a charitable organization for food and wine bloggers to participate in.
From December 14-25, Menu for Hope will hold a worldwide charitable raffle full of unique food related gifts. For every $10 donation, participants will have the chance to win a bid item. The more you give, the more chances you have to win.  Even better than winning is knowing that the proceeds will go directly to the United Nations' World Food Programme. At the end of the two-week fund raising campaign, tickets will be drawn and the results will be announced on Chez Pim on Monday, January 18.
Menu For Hope's creative structure and the commitment of participating bloggers, made this little grass roots campaign to raise a money a significant force in ending world hunger. In just three years since Menu For Hope joined up with the UN World Food Programme, this yearly fundraiser has raised nearly a quarter of a million dollars in support.
Who is the beneficiary of this year's campaign?
Menu for Hope, in conjunction with UN World Food Programme–the world's largest food aid agency—will donate all proceeds of this years fund raiser to a new initiative at the WFP called Purchase for Progress (P4P).
P4P empowers low-income farmers to contribute crops to supply food to WFP's global operation. In addition to giving low-income farmers money for their harvests, the UN World Food Programme hopes to create economic opportunities for the farmers' local community. More on P4P can be found here.
Also, in a symbolic move, Menu For Hope will join with the World Food Programme's "A Billion for A Billion campaign."  By taking part, you will contribute funds to the more than a billion chronically hungry people worldwide. To find out more about A Billion for A Billion here.
Who collects the money?
All funds will be donated directly to a third party site called First Giving. First Giving collects the donations and sends the money directly to the WFP in one lump sum.  Find out more about how FirstGiving works here.
To Donate and Enter the Menu for Hope Raffle
Here's what you need to do:
1. Choose a bid item or bid items of your choice from our Menu for Hope main bid item list.
2. Go to the donation site at Firstgiving and make a donation.
3. Please specify which bid item you'd like in the 'Personal Message' section in the donation form when confirming your donation. You must write-in how many tickets per bid item, and please use the bid item code.
Each $10 you donate will give you one raffle ticket toward a bid item of your choice. For example, a donation of $50 can be 2 tickets for UW35 and 3 tickets for UW35 – 2x UW35, 3x UW35.
4. If your company matches your charity donation, please check the box and fill in the information so we could claim the corporate match.
5. Please check the box to allow us to see your email address so that we can contact you in case you win. Your email address will not be shared with anyone.
Check back on Chez Pim on Monday, January 18  for the results of the raffle.
Thanks for your participation, and good luck in the raffle!
Feel free to email me with questions or leave them in the comments. Please note that I'm unable to answer any questions about bidding or the raffle itself. Make sure to check in with your regional host for those types of inquiries.
PS, This year our West Coast hosting duties are being performed by my friend, Shauna of glutenfreegirl.com. I want to thank her for all the hard work it takes to organize this monumental campaign! THANK YOU SHAUNA!