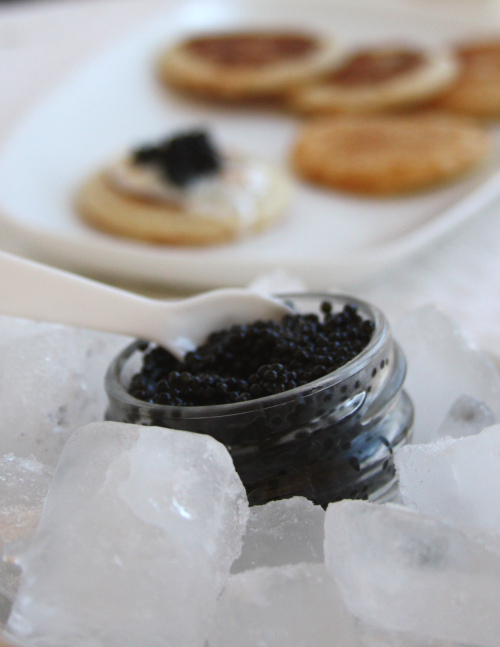 Culinary traditions are handed down, borrowed and created.  I bake my grandmother's Finnish Nisu (cardamom sweet bread) at Easter and Christmas. Favorite chefs and images like Norman Rockwell's Thanksgiving influence my Thanksgiving day spread.  Now that I'm married and living thousands of miles from my bi-coastal family, I find I need to create new culinary traditions to celebrate my life with the man I love.
Since New Years is a working holiday for most restaurant industry folk, I'll be saving my celebrating for the next morning. As many in Los Angeles wake with new-decade hangovers, my husband and I will be enjoying a celebratory morning with caviar and a bottle of bubbly.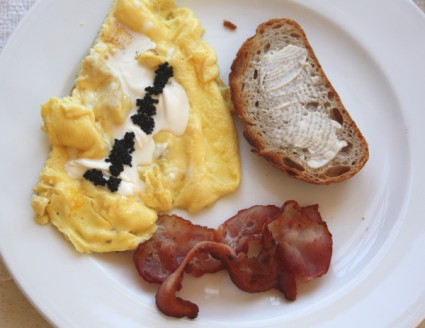 One of my favorite ways to enjoy the salty decadence of fish roe is atop scrambled eggs. Yet, even more decadent than eggs on eggs for New Years, is a pretty dollop of midnight black roe on a tiny blini with a citrus and caper crème fraiche.
I fell in love with caviar and this citrusy crème fraiche recipe a few years back when celebrating my friend Chef Jason Travi's favorite holiday: the Pats playing the Super Bowl. After taking one bite of this beautiful combination I swore I would find a way to work it into many more culinary celebrations. What's great about this complimentary condiment to caviar is its bright citrus notes from orange and lemon zest and the brininess from the capers.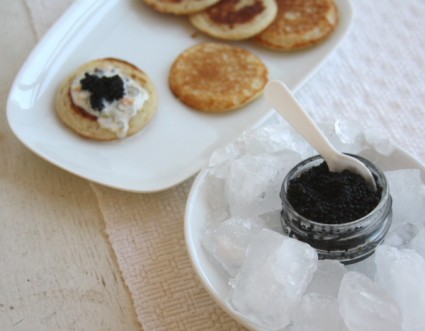 [print_link]
Travi's Citrus and Caper Crème Fraiche
1 cup crème fraiche
Zest of one lemon
Zest of one orange
3 tablespoons capers, chopped
Mix everything together and serve in a small bowl. Serve a small amount (1/4 teaspoon) on blini or toast points. Top with a generous dollop of caviar.
Skip an expensive dinner out and splurge on a tiny jar of the caviar (or whitefish roe) instead. Save some coin with a two ounce jar of black white fish row (tiny eggs with a tight texture and salty bite) for about $20; try 1 ¾ ounces of Petrossian's American Caviar (hackleback sturgeon caviar from Tennesse) for $88; or splurge on the good stuff like Petrossian's Osetra Caviar for $106 for a single ounce. There's no need to break the bank with this range of prices.