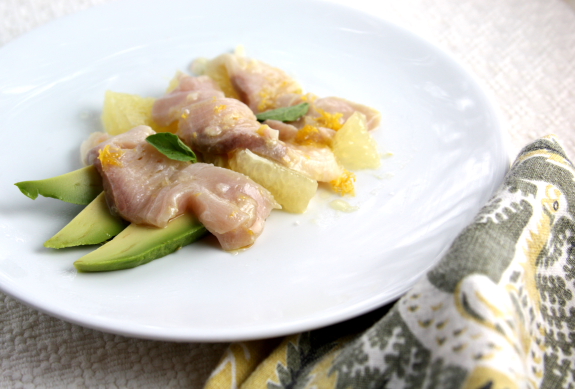 The Italians call raw fish crudo and the Japanese, sashimi; even the Spanish have a word for their citrus soaked raw fish preparation, ceviche. But what is the word for the dishes that American chefs create with uncooked fish? Naked fish? Raw appetizers?
Here in LA, a broad range of award-winning chefs serve raw fish on their menus every night. There's a a raw fish trend spreading through fine dining American restaurants, Baltimore fish joints, Cal-Euro bistros, and even Cal-Mex-Spanish fusion eateries. What's so appealing about eating a barely adorned piece of raw fish? Simple. The fresh flavors of the sea mixed with oil, citrus, herbs, or salt is a wonderful way to engage the palate and awaken the appetite.
Though one must be careful when consuming raw or undercooked fish, a thinly sliced piece of fresh-from-the-sea fish prepared with a handful of ingredients is—without a doubt—an understated show stopper. I've sampled Chef Quinn Hatfield's of Hatfield's Restaurant's version of crudo: fresh fluke that's marinated in beet juice and finished with sea salt, oil, and micro-greens. I've gorged on raw fish at Hungry Cat with Chef David Lentz's raw snapper on a puree of edamame with blood orange supremes and shiso leaves. The flavors of raw fish mixed with citrus, flavored oil, and salt results in delicate, poetic starters that leave me hungry (and inspired) for more.
After careful study of fish preparation and some expert advice from a trusted fishmonger, I feel confident enough to start any special meal with a raw-fish appetizer. What follows is a simple dish that you can make at home within seconds. And the best thing? This recipe will be sure to earn you major style points.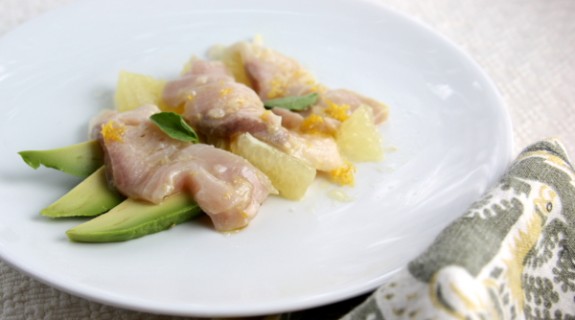 [print_link]
Raw Hamachi and Avocado
Serves two*
¼ lb Hamachi (as fresh as possible)
1 Pomelo (or beautiful grapefruit)
½ ripe avocado, sliced and quartered
1 small shallot, uniformly diced
2 tablespoon champagne vinegar
1 tablespoon finishing Olive Oil
Pinch of Maldon Sea Salt
Pinch of fresh Marjoram (or other fresh herb)
Cayenne to taste
To Prepare:
Place two small plates (the ones you plan to serve the crudo on) into the freezer.
Put the diced shallots into a small bowl with the champagne vinegar and let soak. Add more vinegar if the shallots aren't completely covered.
Using a microplaner, zest half of the pomelo. With the zest put aside, cut away the fruit's thick skin and pith to get to the juicy center. Using a sharp knife, supreme half of the pomelo. Cut the pomelo slices into uniformed smaller pieces. Juice the remaining pomelo into a small bowl.
Remove the fish from the coldest part of the refrigerator. With a sharp knife, slice off the skin from the Hamachi and any tough, dark spots from the fish. If there is any white connective tissue on the fish, remove that as well, being careful not to get ride of too much of the unblemished flesh. Once the fish is cleaned, chop it into small, uniformed pieces.
Add your favorite finishing oil, a generous pinch of the zest, and the juice of half a pomelo to the chopped fish. Using clean fingers, delicately toss the ingredients together. The fish should be lightly dressed, not dripping in oil. Add most of the avocado—reserving a few pieces for garnish. Add a pinch of maldon and cayenne pepper to taste and toss again. Taste and adjust for balance.
Remove the chilled plates from the freezer. Carefully plate the dish with the pomelo supremes on the bottom of the plate, then the fish. Tuck the last few pieces of avocado under the fish as a garnish. Drizzle with olive oil, a small pinch of maldon, a small bit of pomelo zest, freshly torn herbs, and a light dusting of cayenne pepper for color.
Serve immediately.
*Warning: Consuming raw or undercooked meat, poultry, seafood, shellfish and eggs may increase the risk of food borne related illness.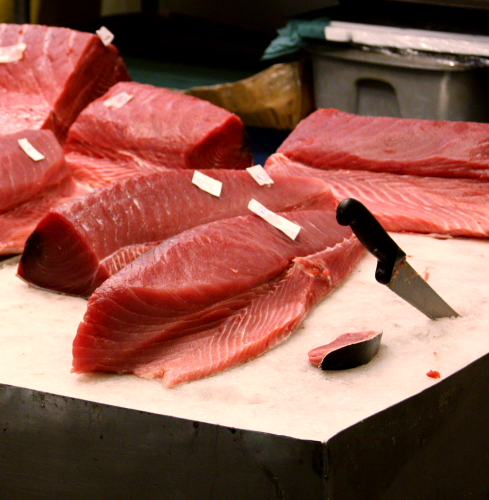 Is it safe to eat raw fish?
According to the website Sushifaq, buying fish to consume raw from your local grocery may not be safe. But if you're buying fish caught by a trusted fish vendor—like Hollywood Farmers' Market's J&P West Coast Seafood—raw fish may be something worth considering. Go to your local fish market and ask questions about the day's freshest catch and your plan to eat a small amount of it raw. According to my fish vendor, buyers should also ask their fishmonger for the freshest piece of fish that shows the least amount of blood lines. They say that a fish with dark blood lines is a fish that is flash frozen and best suited for cooking–not eating raw.
After buying the freshest fish you can find, be sure to keep it cold before you serve it. FDA requirements for safe raw fish consumption includes a parasite destruction guarantee which necessitates that raw fish undergo low temperature freezing and storing which is sufficient in killing parasites. In order to be safe for consumption, all fish must maintain an internal temperature of -4°F or below, or if it's frozen, to at least -31°F until it's solid. Fish must be stored at -31°F or below, or if it's frozen at -31°F (-35°C).
For more raw fish recipes and ideas
Check out Chef David Pasternek's cookbook, The Young Man and the Sea, or Paul Johnson's book, Fish Forever –a guide that pinpoints the least-endangered, least-contaminated, and best-tasting fish available.