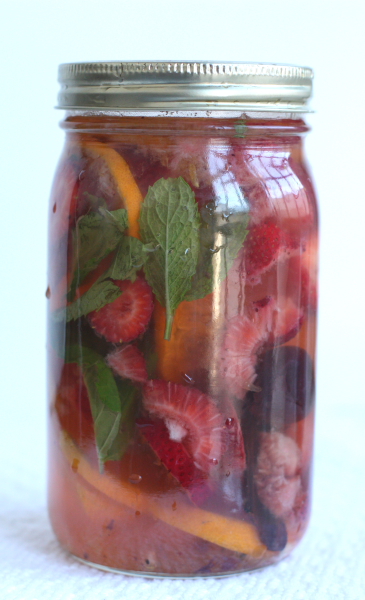 If a vacation back home could be distilled and put into a glass, I think it might taste a lot like sangria.
The simple moments–the naps on the couch, dinner table conversations, picnics, garden time, observing the changes in the landscape, listening to the sound of nature, building sandcastles, catching up with old friends, and walks around the old haunts–all have a kind of essence to them, or flavor.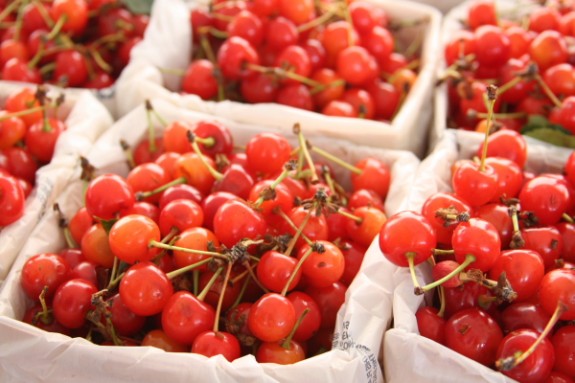 A homecoming cocktail would have to start with wine, since every dinner in the family dining room requires a toast. After pulling the cork on a bottle of crisp white wine and a floral rosé, I'd add zesty citrus—sun kissed tangerines or juicy oranges—to mimic the blast of sweet excitement I feel whenever I see my beloved friends and family. Of course I'd mix in some plump and ripe strawberries to mark the long ago days of childhood and vacation trips to the Pick Your Own strawberry fields near my home in Massachusetts. I would add fresh mint to commemorate my family's summer gardens and my great grandmother's iced tea recipe for a hot summers' day. I would slice up some mahogany dark cherries—sweet gems from the Ann Arbor farmers market if I got lucky—to show the influence of my husband and his Michigan family on just about every aspect of my life. I spoon in a bit of Cointreau to sweeten things up and tip my hat to the sophistication of my family's palate.
[print_link]
Vacation Sangria
No matter where your home is, you'll love pouring this refreshing cocktail over ice in your favorite glass.
Garnish with mint.

Ingredients:
1 bottle crisp white wine (Verdello, Gavi di Gavi, Pinot Grigio, Soave)
1 bottle floral rosé
4 ounces Cointreau
4 tangerines (or 2-3 oranges), sliced
½ pint of strawberries, hulled and sliced
¼ pound cherries, pits removed and sliced
1 bunch of mint, pulled from the stem
*Optional: Add a generous splash of ginger ale to the macerated sangria when serving, to add a fizzy sweetness to the drink.
1. Combine the liquid ingredients in a large pitcher. Add the strawberries, cherries and mint. Before adding the citrus, squeeze the slices to add their juice to the sangria mix. Taste. If you like your sangria sweeter you can add more Cointreau (or add ginger ale to the mixture when serving). Let stand for at least an hour in the refrigerator. Pour over ice to serve.