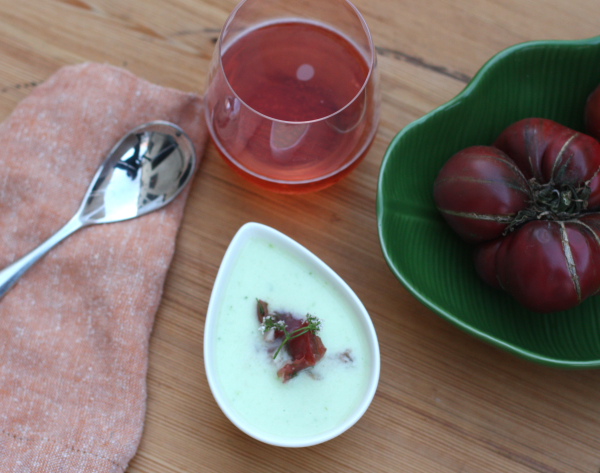 I think we've all experienced The Happy Food Dance at least once in our lives. Food obsessives–and I consider myself one–might engage in food-inspired ballet at their dining room table on a weekly basis.
I've seen toddlers bounce up and down and pound their fists with glee when moms present an especially tasty morsel. I've witnessed teenagers in a rare moment of no self-awareness squirm and twist in knots as a bowl of ice cream is placed before them. Even aged men with walkers and life-worn ladies with canes do a jig when presented with their most favorite dish.
No matter what age, certain foods set us dancing in our seats.
As I mentioned before, I adore food. So you're more likely to see me sashaying in my seat than hitting the dance room floor. I dance for a perfect piece of fruit, Nancy Silverton's pizza, a great bowl of pasta, a well-made morsel I've crafted in my kitchen. The dance is different for everyone, but it usually begins like this: a plate with enticing food gets fingers squeezing, and toes tapping. Then a sly grin appears, the head bops back and forth, and a bounce of excitement pulses so strongly, the whole body begins to move in a sideways, chair specific dance. All of a sudden you're wiggling with anticipation and expectant joy. Your mind sings "I'm gonna eat this! I'm gonna eat this!" and your hand goes flying for the nearest utensil and zip goes the food into your mouth. Ecstasy. Dance complete.
I've been in the thick of training for my new job, so I haven't had a lot of happy food dance moments at home lately. But all that changed the other night when I made a bowl of gazpacho from a recipe I found in my much-oggled Lee Brothers' Simple Fresh Southern cookbook. It's the first recipe I've made from this most delicious looking and inspiring cookbook by the two brothers–based on the table-side boogie it inspired, this is just the beginning of my explorations.
After getting over the shock that I had bought the ingredients for a kind of deconstructed gazpacho (yes, it's true, I did not follow the golden rule of cooking: read the recipe thoroughly before beginning anything), I allowed myself the opportunity to enjoy the brothers' unique style of cooking. I'm so glad I did.
This cool and refreshing gazpacho is the perfect meal or appetizer for any summer picnic. You'll be sure to find yourself doing a happy food dance after the 20 minutes of fast preparation required for this dish. I suggest serving this dish with a rosé (I served a slightly effervescent Spanish Txakoli Rosé from Gurrutxaga. This intriguing wine can be found at K&L Wine).
What foods makes you dance in your seat?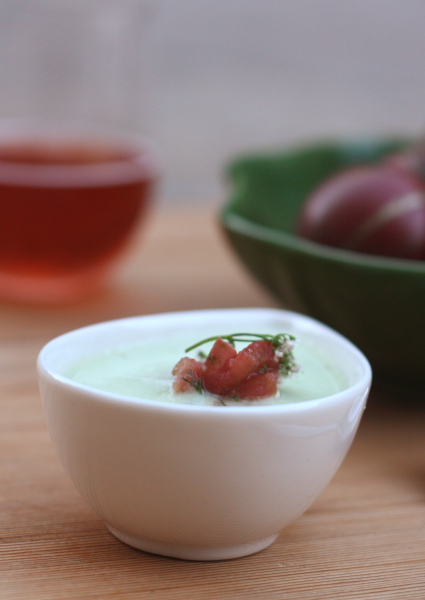 3 medium heirloom tomatoes (about a pound)
1 small Walla Walla or sweet onion
2 generous tablespoons of finely chopped flowering cilantro (or regular cilantro)
2 tablespoons of white vinegar (or champagne vinegar)
Kosher salt to taste
Freshly ground black pepper to taste
6 pickling cucumbers (or 4 medium cucumbers) peeled, seeded, and cut into a large dice
2 Asian peppers seeded and finely diced
1/4 teaspoon Cayenne pepper
2 cloves of garlic, minced
1 cub vegetable broth
2 cups plain low-fat yogurt
OPTIONAL: Bread for toasting
1. Set a strainer over a bowl. Core the tomatoes and cut them open across to expose the seeds. Remove the seeds over the strainer, being sure to allow any of the precious juice from the tomatoes to fall into the bowl. Once all of the tomatoes are seeded, tap the strainer with your open palm to remove any juice from the seeds. Discard seeds and remove the strainer.
2. Finely dice the tomatoes and add them to the bowl. Add the onion, cilantro, and vinegar. Mix with your hands or gently with a wooden spoon. Season the salsa to taste with the salt and pepper. Refrigerate the tomato salsa (this will keep up to three days). Place the soup bowls you plan to use in the refrigerator at this time, too.
3. Transfer the chopped cucumbers, chiles, garlic, veggie stock, and yogurt in a blender (or food processor). Pulse until smooth. Season to taste with salt, and black and cayenne peppers. Chill cucumber puree for at least thirty minutes.
4. Divide the soup in the chilled bowls. Garnish each soup with a few generous spoonfuls of tomato salsa. Serve with toasted bread (rub it with garlic and drizzle with olive oil and salt!).
*I'm doing another kind of happy food dance over the recent mention of my side project with Leah of Spicy Salty Sweet, The Food Blog Code of Ethics, on Mashable.com's recent article "Why Food Bloggers are Here to Stay".