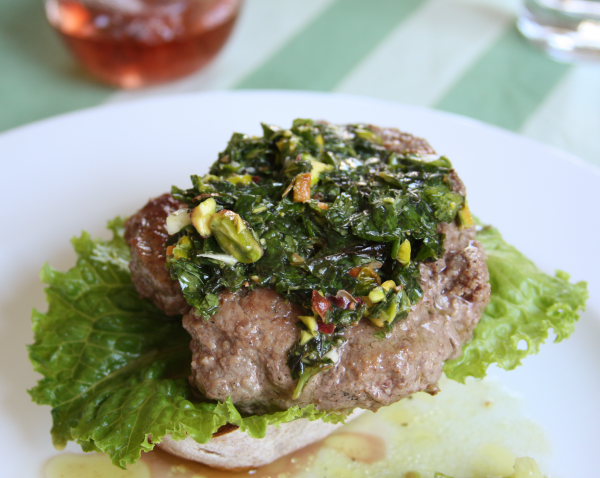 Summertime is the season of burgers. Be it beef, bison, turkey, tuna, lamb, or tofu—I find myself craving a burger and its supremely satisfying proportions on a frequent basis.  I love making new variations on the classic theme of burgers. Ground meat doesn't take a lot of time to prepare or cook and, if done right, can be a real show stopper if the right ingredients are used.
My husband and I work in the restaurant industry which means our off duty time is during the daylight hours. So for us, many of our best meals together are during lunch. Because of this I've began perfecting elegant, open faced burgers that taste great, have enough protein to sustain us through a long night, and go easy on the bread.
Thanks to the good people at Jimenez Family Farm (based in Santa Ynez, they drive down to the Hollywood Farmers Market every Sunday),  I discovered the beauty of a perfectly cooked lamb burger. Top the ground lamb shoulder patty with the complementary flavors of mint and sweet Santa Barbara Pistachios, and the results hit the flavor trifecta: simple, delicious, and true to the terroir. This lamb burger with a mint and pistachio salsa verde is so good, I've actually started daydreaming about owning my own restaurant and building the whole business around every juicy, burger-bite.
[print_link]
Lamb Burger with Mint and Pistachio Salsa Verde
This dish is great for a weekend meal or a simply elegant dinner. I suggest a crisp glass of Santa Ynez or Provencal rosé for a perfectly attuned accompaniment.
Mint and Pistachio Salsa Verde
Mint, about a ½ cup of clean and fresh leaves
Olive oil (I adore adding some of my Domaine de la Fondation des Treilles Extra Virgin Olive Oil to subtle sauces), 4-6 tablespoons (or just enough to saturate the mint)
¼ cup shelled pistachios
1 clove garlic
1 lemon, juiced
1 tablespoon sherry or red wine vinegar
salt and pepper to taste
For the Lamb Burger
1 lb. Ground lamb
Vegetable oil for grilling
Salt and pepper to taste
To make the Salsa Verde:
Add the mint leaves to a mortar and pestle with the clove of garlic, pound until the mint begins to reduce down into a paste (if pestle is too small do this in batches). Add the pistachios as you pound the mint to break down the nuts—but not so much they become completely pulverized.
Spoon the mixture into a bowl. Add two tablespoons of the olive oil and the juice of half a lemon. Taste. Stir and add more oil until the mixture begins to have a pesto consistency. Add the vinegar. Taste. Add salt and pepper to taste. Add more lemon if necessary for a good balance of oil and acidity. Refrigerate. Can be made in advance.
To prepare the Lamb Burger:
For two large patties, separate the ground lamb into two burgers (or to make 3-4 smaller burgers reduce the size of the patty). Season the burgers on both sides with salt and pepper. Cook on the grill or heat a cast iron skillet until hot. Add vegetable oil to the pan and add the burgers. Depending on the size of the burger, cooking times will vary. I suggest cooking two larger burgers for 3-5 minutes on each side (or flip the burger every minute for 6-10 minutes, but do not press down on the burger while it's cooking).
Let the burger rest for 3-4 minutes after taking off the skillet. Check the doneness of the meat with a meat thermometer (should be at 160-165 internally) or slice into the center of it. If the lamb burger isn't cooked enough return to the skillet for a few more minutes of cooking.
Serve on a lettuce leaf or on a single slice of well-made bread for an open-face sandwich. Top with the mint and pistachio salsa verde.
Leftover salsa verdes goes great on eggs or as a spread for any of your favorite sandwiches!