Great service isn't an accident.  It's a studied art that when performed at a high level seems effortless. Truly great service is a skill that is perfected through practice and commitment. When it's done flawlessly, the effect can elevate an entire experience.
Impeccable service lights up a room. It has a resonance that reverberates. Memorable service can feel like a tuning fork when hit just right: it can clean up the airways and soothe away discord. Great service has the power to make people happy to be alive and grateful to be present in the moment.
Memorable service is a high bar that people can spend a whole lifetime chasing.
Witnessing (or even better, receiving) incredible service can be awe-inspiring. My experiences with truly exceptional service kind of sparkle and glow in my memory. Witnessing great service is just important to me too. I marvel at the skill, the talent, and the seeming effortlessness of the act of doing big and small things for people—regardless of recognition.
Unexpected kindnesses—a door opened, a pair of reading glasses delivered for menu reading—or a masterful adjustment—a dish is moved before a guest mistakenly knocks it over, a glass is refilled before the guest notices it is empty—are subtle moments in service that take my breath away.
Terrine Excels
I recently had the pleasure of experiencing such stellar service at one of LA's newest restaurants, Terrine. Great service at a new restaurant is it's own kind of feat, but at Chef Kris Morningstar and Stephane Bombet's new restaurant on Beverly Boulevard in Los Angeles the team doesn't need any time to deliver their well-earned mastery of cuisine and service in their intimate French dining room.
The Experience
My husband and I were invited for dinner at Terrine and arrived for the first seating at 5:30. We wanted to see the restaurant before the rush of dinner service and so we could take our time to enjoy the little details of the dining room. The lights were dimmed, green bottles lined a glass-walled wine vault, rouge-red booths sat empty, and white tablecloths were decorated with one-of-a-kind antique silverware and mis-matched napkin rings.
What stood out more than the well-appointed dining room was Molly—a server who glowed with a light from within. She bubbled with enthusiasm and a friendly brigade of service staff stood in a row by the front door with their hands crossed behind their back. Their ready-for-anything posture made us feel immediately welcomed and supported by professionals.
Molly welcomed my husband and I and immediately and made us feel at home in the quiet dining room. We were handed menus made of thick, creamy paper and a thoughtful selection of appetizers and entrees.
We ordered the Assiette de Charcuterie, beef tongue salad, Chocrute, and Spetzle with cheese and mushrooms. Molly clapped with delight over our order and gave us a knowing look that we had ordered well.
When it came time to order a drink, she made asking for a non-alcoholic beverage an opportunity for exploration, rather than judgement or disappointment (often servers with a love for cocktail and wine parings lose interest in or excitement for the teetotaler).
Molly lifted the wine glasses from the table and a few minutes later delivered a pair of well-crafted mock-tails in a shallow coupe and deep bucket of glass. The beautiful hand-crafted beverages tasted of hand-squeezed fruit and freshly muddled herbs. An over-sized square of ice—a frozen token usually reserved for adult beverages of the alcoholic kind—floated in the bucket glass. Love was the spirit we tasted. Not booze.
Before our first course arrived, Francios, the service manager, stepped over to our table to welcome us. With a knowing smile and kindness, he offered genuine words of appreciation for our presence, making us both feel like restaurant royalty.
The runner delivered a basket of bread and the Assiette de Charcuterie, along with an introduction and descriptions of each item he served us. He smiled as he offered insider tips on how best to enjoy the crafted meats and assorted terrines. First bites silenced us. We marveled at the juxtapositions: velvety textures, savory flavors, and hints of earthy sweetness.
Memorable service requires Olympic level performance. Great service requires talent, commitment and a very special internal energy source of faith that powers the performer to approach the challenge of service regardless of outcome. Molly's frothy enthusiasm and commitment to the dishes on the menu made selecting dishes that aligned with our tastes easy.
We had practically licked the plate clean of all of Chef Morningstar's handiwork, when the dining room began to fill up with guests. Though the temperatures and speed of service ratcheted up, the service team continued to glide through the room with grace, smiles, and speed. Most impressive though, was watching Molly's internal glow and enthusiasm in her gait become more pronounced the busier it got.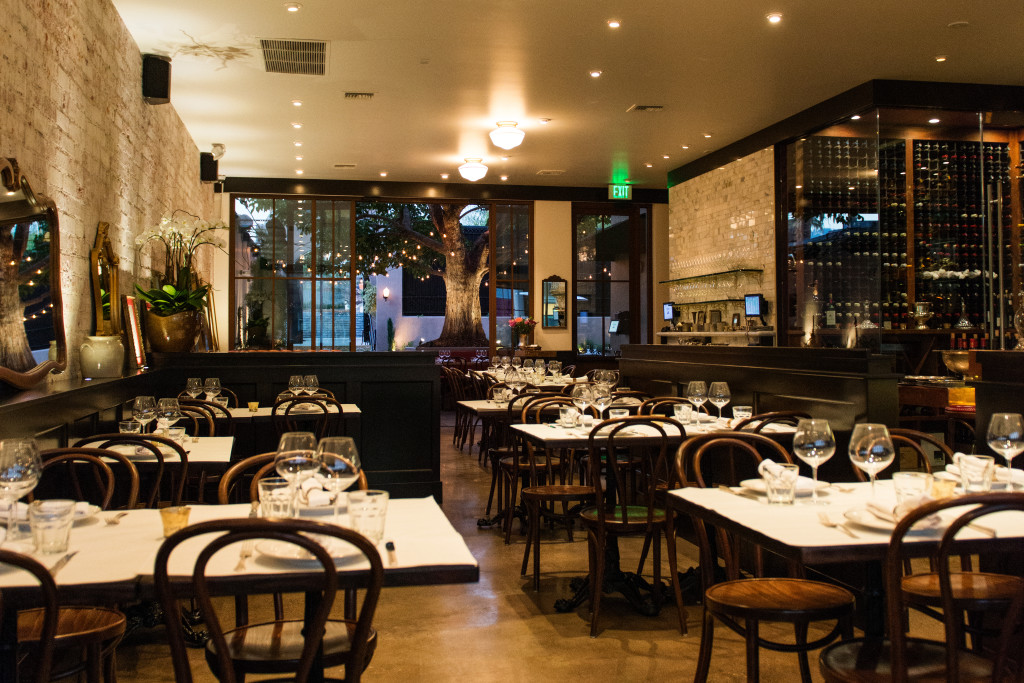 Next came the beef tongue salad, Chocrute, and Spetzle with cheese and mushrooms. The dishes were made with the care of a loving family member and plated elegantly. Morningstar is a talented chef who creates rustic dishes that showcase his culinary talents without being self-indulgent and unnecessarily fancy. His reserved artistry is an extension of the Terrine's confident but not pedantic service style.
By the time the last crumbs were swept from out table and the last sip of espresso was drunk, my husband and I were filled to the top with appreciation and gratitude for an evening meal well made and delivered with style and grace. Even though Stephane Bombet was enjoying a day off, his presence was felt in the dining room. The professionalism, streamlined service, and hospitality was displayed in the big and little details from beginning to end.
Service is an art. Celebrate it when you see it.
Tell your friends where to find great service when you experience it.
So here I am, testifying to the power of a bunch of talented professionals on Beverly Boulevard in Los Angeles. The team at Terrine Restaurant know what they're doing and they do it really, really, well. And a very special thank you to Molly. Thank you for making an indelible mark on my memory of what great service looks and feels like.
Terrine Restaurant – 8265 Beverly Blvd., Los Angeles CA 90048
*Full disclosure: The meal was comped by the restaurant.  I was not paid to write a review.