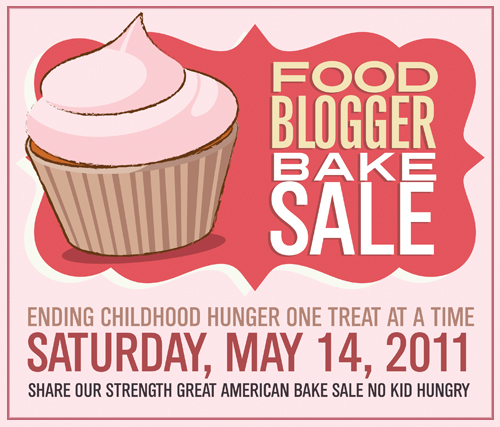 Something I would never expect happened to me today. I was browsing in the baking section at one of my favorite cooking supply stores and day dreaming about baking. I know. It's a miracle. Or maybe it's the Food Blogging Bake Sale for Share our Strength that's got me thinking about something other than getting over my fear of baking.
Today is a day dedicated to all things baked because I'm helping with all sorts of preparations for tomorrow's nation wide bake sale. The second annual Los Angeles Foodblogger Bakesale—organized by the fabulous and extraordinary Gaby of What's Gaby Cooking—is the flagship city for the nation-wide event that gathers the nation's top bloggers/food writers/and chefs to raise money for Share our Strength, an organization striving to eradicate childhood hunger in America by 2015. I'm excited to be part of this talented pool of food lovers who are gathering up all their best baked goods to bring awareness to this very real problem that's happening in your city and, more than likely, in your neighborhood.
I couldn't think of a better reason to spend all day in the kitchen.
Several months back I shared a deeply personal story about a difficult time in my life when I was a hungry kid. Luckily, childhood hunger wasn't something I had to face for a very long time, but those early experiences of asking for help and being denied assistance changed me. Having a door slammed in your face when you're a hungry kid has a way of affecting your relationship with food and the rest of the world. It's taken me a long time to feel comfortable sharing my story, but I knew it was important to reveal the honest truth to bring light to a subject matter that many people believe only affects a marginal group of people in our country.
But the fact is, at least one kid in ten is hungry in America. Not just in the cities. Not just in the poor rural areas. In just about every school in America, there are kids struggling to find food to fill their empty bellies.
There's more hunger in the classrooms than you'd care to believe. In rural and urban schools, a majority of kids (65%) aren't getting fed well at home and must rely on school lunches for their main source of nutrition. Considering the fact that many children must rely on schools to feed them, SOS has a number of summer lunch programs in place to make sure summer vacation is something all kids can look forward to.
So whether or not you are in Los Angeles or are near another city that's hosting a Food Blogger Bake Sale, you can donate a few dollars here to support the cause.  And if you are in Los Angeles and have something of a sweet tooth or want something healthy and good, I highly recommend you swing by BLD (7450 Beverly Boulevard, Los Angeles, CA 90036) for a treat. You will not be disappointed.