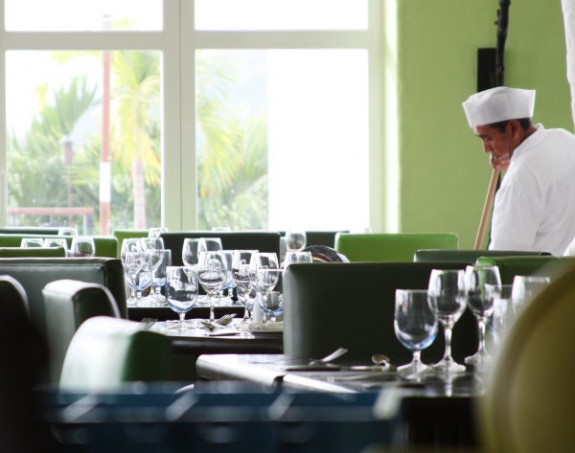 Though tipping the waiter may feel like something that's always been part of the dining experience in America, the fact is, the act of tipping is a borrowed custom from Europe.
According to Michael Lynn, a professor at the Cornell University School of Hotel Administration, tipping in the United States began just after the American Civil War in the late 1800's. Lynn suggests that wealthy Americans traveling abroad to Europe witnessed tipping and brought the aristocratic custom back with them to "show off," or prove their elevated education and class.
Tipping—which may have originated in the taverns of 17th Century England, where drinkers would slip money to the waiter "to insure promptitude" or T.I.P for short—wasn't embraced by all Americans when the custom began to make its way into our country's taverns and dining halls. A movement against tipping began in the late 1890's as many Americans believed that tipping went against the country's ideals and allowed a clear servile class that would be financially dependent on a higher class.
A servile attitude for a fee
According to an article that appeared in The New York Times in 1897, there was a movement brewing against tipping in America. The anti-tipping group believed that tipping was the "vilest of imported vices" because it created an aristocratic class in a country that fought hard to eliminate a class-driven society. In 1915 six state legislators from Wisconsin, Illinois, Iowa, Nebraska, Tennessee and South Carolina attempted and failed to pass an anti-tipping bill that would make leaving gratuities unlawful.
In 1916, William Scott wrote a stinging diatribe against tipping in his book, "The Itching Palm," in which he stood up against the policy of paying for a service twice (once for the employer and once for the employee). He decried tips to be "democracy's mortal foe" and creates "a servile attitude for a fee."
In the American democracy to be servile is incompatible with citizenship. Every tip given in the United States is a blow at our experiment in democracy. The custom announces to the world…that we do not believe practically that "all men are created equal." Unless a waiter can be a gentleman, democracy is a failure. If any form of service is menial, democracy is a failure. Those Americans who dislike self-respect in servants are undesirable citizens; they belong in an aristocracy.
Scott continues, "If tipping is un-American, some day, some how, it will be uprooted like African slavery".