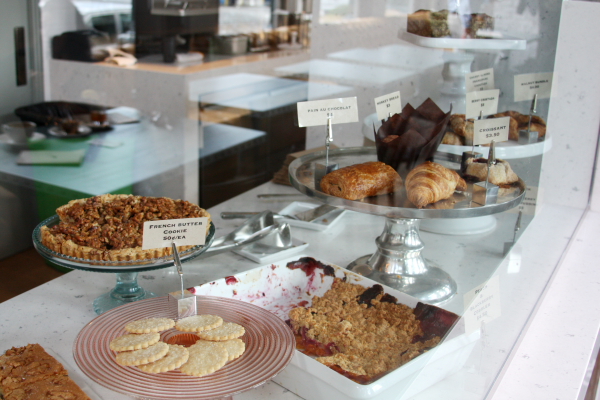 Sometimes life offers up little discoveries that remind you to stay sharp and be humble. You learn to swim after fearing it all your life. You read a book you always thought was "too deep" for you. You meet a stranger that inspires a courageous journey. You see stars in the sky and realize how small you are. You observe a piece of artwork that inspires a new idea. You taste a Madeline and suddenly the glories of youth are remembered.
These shifts in perspective, be it big or small, can redirect your life in an instant. Oprah calls this flash of understanding an "Aha!" moment. These life changing moments certainly do have a Sherlock Holmes-esque "A ha!" or "Egads!" quality to them.
My Aha! moment
I had one of those eye-opening moments a few days ago during a conversation with a long time friend, Anne, over lunch. She's a former model turned pastry chef (what a great combination, right?) and is one of the most honest and real people I know in Los Angeles. So not only can I talk to this smart and lovely woman about life, but I can also ask her all sorts of questions about baking. Maybe too many questions about baking. But she doesn't seem to mind it. Considering my fear of making desserts, I think Anne is the only one that will teach me to get over it. ASAP.
So, back to the "Aha" moment. I was in the thick of asking for Anne's culinary perspective on a cobbler recipe I was perfecting, when I asked her how she measured out her recipes.
"Kitchen scale," she said. "Though, I have a few of my early recipes in cup measurements."
Damn, I thought. I really do have to go out and by a kitchen scale. With the cost of gas weighing heavily on my wallet, I asked, "Is there a way to make sure to get perfect measurements from my measuring cups?"
Without missing a beat Anne answered. "Yeah. That's easy. Just scoop and level the ingredient out."
I immediately pictured my big glass measuring cup filled half way with flour.
"Yeah, but what if the recipe calls for 2 cups and your measuring cup holds 4? How do you level it out then? By punching it down?"
Anne gave me a Kung-fu master smile. "You're using a liquid measure to measure dry ingredients, Brooke. You need dry measuring cups to measure flour."
CUE SOUND: record scratching
AHA! Egads! THERE ARE TWO KINDS OF MEASUREMENTS?!!
No wonder my baking skills aren't great. I didn't know how to measure my ingredients!
Dry measurements vs. liquid measurements
If I had paid attention in my high school science class, I would have known that liquids and dry products measure differently. In the interest of anyone else that may be as in the dark about measurements as I am, I offer this quick and easy lesson.
In baking, accuracy is one of the most important skills for the cook. Follow recipes closely and use the correct measuring tools and accurate measurements. Using dry measuring cups allows for proper leveling and volume.
DRY MEASUREMENTS
Dry measurements should be put in individually portioned (nestled) dry measuring cups (or a professional grade portion controlled measuring cup). Ingredients are then leveled off the top with the back of a knife or spatula. This website strongly recommends using a scoop to fill the measuring cup with dry ingredients and not to use the measuring cup itself. Otherwise, your measurements will be off.
SPOON MEASUREMENTS
Despite what my mother told me about using kitchen spoons, measuring spoons are necessary in creating accurate measurements in baking. Measuring spoons should offer a wide range of sizes including 1/8 teaspoon, 1/4 teaspoon, 1/2 teaspoon, 1 teaspoon, and 1 tablespoon.

LIQUID MEASUREMENTS
Liquid measuring cups usually come in 2 or 4 cup containers which allow for pouring. Liquid measuring cups allow room at the top of the container for the curvature (meniscus) of the liquid.
This helpful website gives conversions for national and international kitchen measurements.
Aha moments can be a little unnerving at first, but in the end they can make you a better person, or in my case, a better cook.