With plane ticket fares through the roof it's impossible to hop a plane to Italy every time you get a craving for pizza or homemade pasta. And thanks to lean times, even eating a slice or a plate of pasta locally can seem impossible. But thanks to restaurant week, dining establishments across the country are offering deep savings to budget conscious diners to entice them to eat out.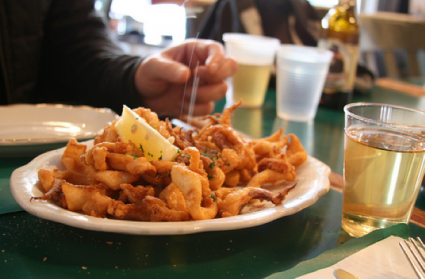 No matter what kind of food you are craving, if you are lucky enough to live in Boston you can take part in this year's restaurant week. From March 15-20th and March 22-27th Boston restaurant week participants will offer great money saving meals (multi-course meals for just $20.09 for lunch and dinners for $33.09) to cash strapped foodies looking to step out.
Participating in this year's restaurant week is one of my new favorite North End restaurants, Daily Catch. Located in the nation's oldest Italian neighborhoods, The Daily Catch is a family restaurant that has been in business since the early 70's. This tiny, twenty-seat Italian restaurant specializes in fresh-off-the-pier seafood. Known primarily for calamari and Sicilian pastas served in the sauté pans they were cooked in, the Daily Catch offers hand-made specialties to Hanover Street regulars and visitors alike.
What you'll find at the Daily Catch
Squeeze into a table and you'll be just inches from the closet-sized open kitchen. No matter where your table is you will have a front row view of the hard working chef as he prepares every dish while he harangues the knowledgeable (albeit harried) server. But not to worry, a steaming pan full of perfectly cooked pasta topped with fresh clams or calamari is enough to distract you from the restaurant employees' drama.
Start the meal with a Moretti beer or a crisp Italian vermentino and an appetizer portion of fried calamari. A touch of lemon is the only condiment needed to season the perfectly tender and lightly breaded squid. Though the Daily Catch has a very nice Italian beer and wine selection for its minuscule size, don't expect the server to pull a pair of wine glasses from a non-existent shelf. In what must be a space and dish-washing saving measure, all beverages are poured into plastic cups.
All dishes are made to order and served in the pan they were cooked in–which practically guarantees the pasta is prepared for every diner with extra care. Seafood at the Daily Catch isn't overworked or overly dressed up. Every bite is full of briny flavor.
Standout favorites are the fresh fish of the day, linguine and clams in olive oil and garlic and squid ink pasta Aglio Olio made with a flavorful seafood ragu made with ground calamari.
The Daily Catch
323 Hanover Street
(between Prince and Richmond)
617.523.8567
If you're craving dessert
If you're looking for an authentic Italian pastry, stop by The Modern for a freshly-piped ricotta cannoli and a frothy cappuccino.
Beautiful Wine, Amazing Selection
And speaking of deals, while you're in the North End be sure to visit the city's oldest wine shop V. Cirace & Son, Inc.. Since 1906, the Cirace family have sold an extensive collection of imported wines, spirits and culinary delicacies. Homey and welcoming, this family wine store features Italian wines, liqueurs and digestives.
Maybe even more impressive than their Italian wine selection, however, is Cirace's free Italian reference guides that present customers brief write ups that include regional insights and maps, varietals and culinary specialties for each of Italy's wine diverse wine regions. A perfect resource for any wine drinker looking to save some money, V. Cirace's wine resource guides are not only free but are the invaluable crib sheets for learning Italy's complex wine regions and grapes.
V. Cirace & Son, Inc.
173 North Street
Boston, MA 02109
Tel: (617) 227-3193
Fax: (617) 227-6941