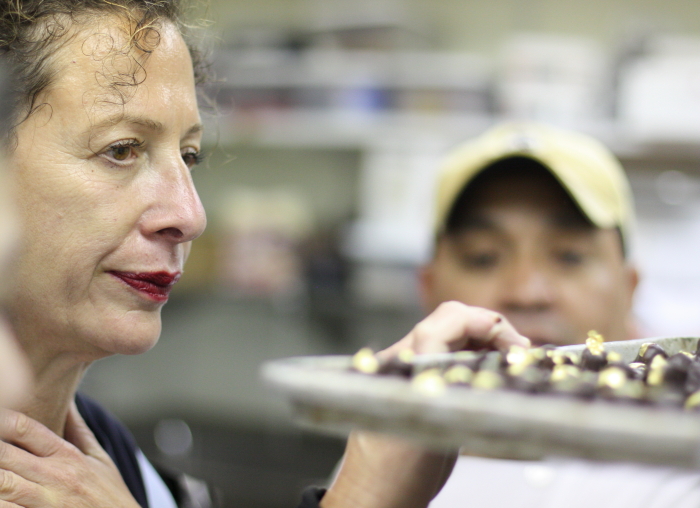 Ok. Let me tell you what really happened at the Pebble Beach Food and Wine Festival.
I got a one day pass to the final day of the Food and Wine Festival from my friends at Foodbuzz. I was having a hard time justifying the cost of flying or driving up until I found out Nancy and the chefs of Mozza would be cooking at the Pebble Beach Festival and they were feeling short handed. Having the chance to spend time in the kitchen with my culinary hero Nancy Silverton was the deal breaker. I had to go.
If you're lucky enough to have a conversation with Nancy Silverton at the end of a shift and she happens to mention that she's going to be at the same food event as you and she casually suggests that maybe you should swing by and "help out in the kitchen", then you sure as hell better take full advantage of the invitation and show up. Early.
Getting There
Which is how I ended up in my Volkswagon at 6 AM, happily speeding north for six hours until I reached Pebble Beach. Because, despite the fact that I have worked for Nancy for almost three years as a server, I have never had the opportunity to spend any significant time with her in the kitchen.
As far as I'm concerned—despite my years of service to great chefs—there has always been a certain line drawn between me and the men and women in chef's whites. Because even if you're in a great chef's restaurant on a daily basis, the only way to truly know and understand a chef, you have to work with them in the kitchen.
Finding my way to the kitchen
After several wrong turns and an unnecessary tour of downtown Carmel, I arrived at Pebble Beach some time around noon. I parked my car at my friend's hotel, rolled on an extra layer of anti-perspirant, threw on my Dansko clogs and grabbed my camera. Minutes later I was in a shuttle headed to the Inn at Spanish Bay where the Pebble Beach Food and Wine Festival was headquartered.
Past the grand brass doors of the Inn at Spanish Bay, I found Nancy's boyfriend Michael (a talented crime writer) lounging on a couch with Robert Oaks of Boulevard Restaurant.
Michael greeted me with his sly, sideways smile and introduced me to Oaks. My oddly syncopated banter with the larger than life Mr. Oaks gave away my nervousness.
"Want me to show you where Nancy and the girls are down in the kitchen?" Michael said as he ushered me away from Mr. Oaks.
"Come on," he said with an almost East coast accent. "Let me show you where they at."
Underneath the Inn
Behind the Employee's Only entrance and two floors below the Inn's main floor, was a labyrinth of pastel linoleum tiles that led my eye past kitchen prep stations, storage rooms and employee dining halls. We took a hard left past the speed racks and the metal storage shelves and walked into the sweet, chocolaty air of the pastry kitchen.
Like a child amazed to see her favorite cartoon characters cavorting together on screen—I was startled to see the familiar faces of my friends in the foreign kitchen. Newlywed and hard working pastry chef of Mozza, Dahlia Navarez, oversaw chocolate dipping as Katie Brucker, Nancy's tireless Publicist and PR person for La Brea Bakery, Katie shook excess chocolate off a pyramid of dipped candied almonds.
Their day in the kitchen started at 6 AM, the same time I was pouring coffee down my gullet and speeding north. Dressed in chef's whites speckled with dark chocolate, Dahlia rolled her eyes. "We don't serve dessert until 10:30 PM." I checked my watch. It was 1:30 PM.
I spotted Nancy–elegant in her European blue apron and corkscrew curls pulled up into a flowing bunch at the top of her head—orchestrating chocolate production in a side prep room. Amongst the speed racks stacked with sheet trays of perfectly formed candies, was Nancy. She looked downright exuberant as she sprinkled pistachios onto chocolate covered honeycomb.
Watching her work was a revelation. Nancy's way in the kitchen was so efficient and so gentle, it's almost as if she wasn't exerting any effort. Unlike many chefs of her caliber, her effortless grace feels like a soft breeze, rather than a turbulent storm in the kitchen.
Where most chefs are gruff, Nancy is soft spoken. Where most chefs would rather talk oven temperatures and seasonings, Nancy never fails to say a brief something to the people around her that lets them know she cares.
"Hello, Brooke," Nancy said with an impish grin. "How was your drive?"
Like any mundane prep work, the actual task—peeling potatoes, removing pin bones from a fish, placing hash marks onto a chocolate cake–may not seem like an important effort in the greater drama that will unfold during service, but it is an absolute necessity for the success of the final dish. In tandem with all the other mundane jobs, prep work adds up to the final something that matters.
I say this because the tasks I was given weren't difficult.
With the giddiness of a girl scout on her way to earn her first badge, I melted chocolate over a water bath. I dipped candied honeycomb into chocolate. And with a dizzy head from no food, drink or coffee for that matter, I scored sheets of chocolate cake with three-inch marks so that a much more talented person than me could cut perfect triangle slices for individual servings.
After several hours of slow and quiet work with sweets, a walkie-talkie crackled with the news that the Michelin Starred Chefs Dinner (LA vs SF) had begun. It was 7PM and it was time to wrap everything up and bring our ingredients to the staging area for plating.
My stomach flipped with excitement as Dahlia (or "Dolly" as Nancy calls her), protected her day's bounty—three hundred and thirty desserts' worth of chocolates—with a tight and continuous sheet of plastic wrap. Volunteer pastry chefs pushed Nancy's chocolate laden speed racks onto elevators bound for the main floor, while Nancy, Dahlia, Katie and I stepped into the employee changing room to freshen up before plating began.
Nancy buffed her shoes and reapplied a cherry red lipstick. Dahlia put on a crisp white chef's coat. Katie checked her makeup in the mirror. I snapped pictures, trying to cover the fact that my nerves had really started to notch their way up as I calculated the hours before our 10:30 dessert plating time. With more than three hours of work ahead of us and no coffee or food around for consumption, I knew I would have to pace myself.
Staging room
As Nancy and the pastry crew arrived at the staging room, Los Angeles chef Michael Cimarusti of Providence Restaurant was finishing the final plating of his appetizer course. Sous chef's wiped plates and dropped cilantro flowers onto shot glasses filled with a cauliflower panna cotta and tongues of pink uni. White gloved servers in black polyester tuxedos zipped by carrying pristine white plates of decorated fish.
As the final plate was taken, Cimarusti looked up from his work and breathed an audible sigh of relief. We applauded the three hundred-plate effort as Cimarusti and Nancy greeted each other.
"Good luck, Chef"
The plating of the dessert was slow. One piece of dense, flourless chocolate cake has a way of smudging white plates that is just about as difficult to remove as blood from a white tee shirt. Slowly, with a curled up damp napkin, I wiped away every chocolate blemish from the white plates until each and every plate looked ready for a food magazine close up.
As the time edged closer to 10 PM my nervousness only increased. There were still more than a hundred plates to wipe and yet three more elements to be added to complete Nancy's dessert. My shoulders tightened and my back ached as I looked up from wiping a plate. There, across the room, was an un-mussed Nancy, smiling at me. She was nonchalantly sipping a glass of red wine like she didn't have a care in the world.
"Aren't you nervous?" I said as my plate wiping got me closer to Nancy. "Nervous?" she smiled. "Of what? We have plenty of time!"
I looked around the room one last time. With less than ten minutes before the final course would be finished and still we needed to run down to the prep kitchen to retrieve the hot fudge from the warm water bath they were in.
Clearly, finishing more than three hundred desserts in ten minutes was nothing to this woman.
The service manager, a tall man in a razor sharp suit, entered the room with his walkie-talkie crackling. "Dinner is complete. We're clearing for dessert." The service manager called out the announcement I had been waiting to hear all day. "That's a go for dessert!"
What happened next was one of the most beautiful things I've seen in a dining room.
Some people love going to the ballet. Others enjoy a great pass on the football field. But for me, one of my biggest enjoyments is to see great service in a restaurant. I watch with wide-eyed appreciation as a bartender mixes a perfect hand-made cocktail or a server floats through her busy section with grace or a chef creates a single plate masterpiece amid the chaos of service. Just like any great sport or physical feat, great service is an art form.
Within seconds, the dining room was a blur with white chefs coats. Squeeze bottles filled with warm hot fudge was dribbled onto plates and gold leafed almonds were placed on cakes. Cimarusti and his sous chefs appeared from god-knows-where and joined the pastry brigade to put together the final elements of Nancy's dessert. My heart pounded with excitement and utter amazement. How was it that everyone knew what to do? How ever did Katie Brucker notice the missing nougat on that one odd plate amidst hundreds? Where did Nancy find the serenity to offer guidance to the unfamiliar chefs and volunteers around her without ever raising her voice?
As the swirl of activity ebbed, a sense of relief spread through the staging area. Chefs patted each other on the back, clinked wine glasses and beer bottles and smiled. They had done it. The dinner was complete.
The staging area quickly filled with exhausted Michelin starred chefs–David Myers of Sona Restaurant, Josia Citrin of Mélisse, Michael Cimarusti and others—joined together with their sous chefs to congratulate each other on a job well done.
And, for the first time in more than a decade of service, I could say that WE had done it. I was lucky enough to have been part of that amazing brigade.