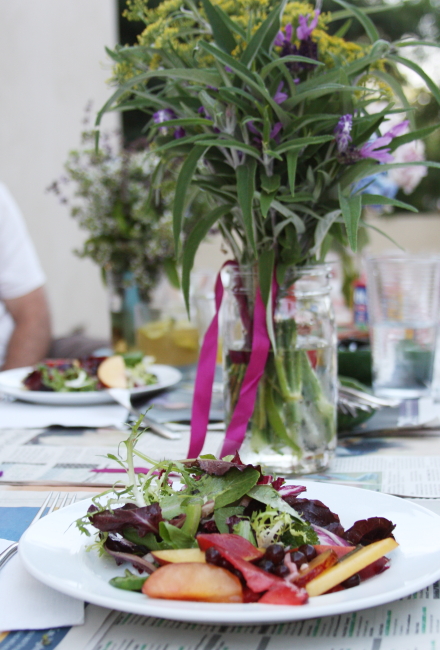 I love eating salads, don't get me wrong. But when it comes to eating out, I skip the leafy greens for the instant gratification of ordering a complex entrée that takes just minutes to come to the table, rather than hours of preparation at home. When I go out I want to have fun. When I'm home I want to keep it simple.
Once outside of the restaurant–be it the one I'm working for or dining at as a customer–I find myself craving simple dishes. I long for perfectly composed salads and uncomplicated appetizers that I see service after service as I wait tables at Tavern.
Thanks to my job as a server for Nancy Silverton, I craved Italian antipasti for years. But now that I work at a new restaurant, I find my cravings are colored by the seasonal whims of my new boss, Chef Suzanne Goin. Her food is rustic, Provencal and thoroughly inspired by the market. Go to the market and it becomes clear why a warmed heirloom tomato, a crisp plum, the lingering flavors of a basil stem could inspire entire dishes on Suzanne's menu. Her dishes reflect California's bounty and an unabated passion for great ingredients.
A recent culinary revelation was recently delivered to me via a white plate at pre-service (a daily meeting before dinner service begins). Suzanne described the dish as a fruit salad. More savory than sweet, one perfectly balanced bite made it was clear this was no ordinary fruit salad. Suzanne's greens were lightly tossed with vinaigrette—ingeniously made with left over basil stems and not-so-perfect plum pieces—and studded with just ripe stone fruits and Marcona almonds.
I've been craving it every since. This is my interpretation of her recipe, as prepared for my friends on a recent hot summer's day. I omitted the nuts, but you can add those back in.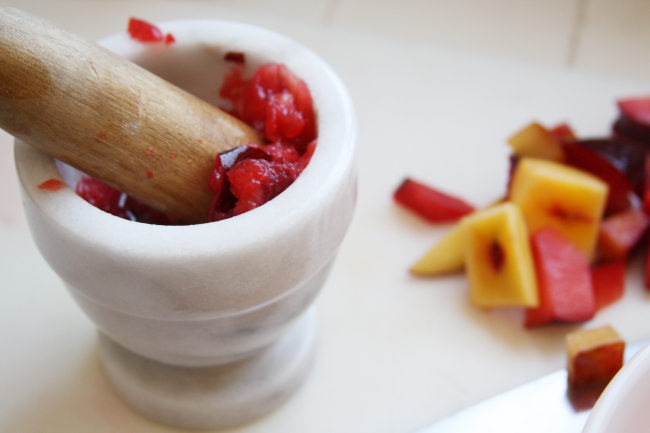 [print_link]
Suzanne's Fruit Salad
1 large bag of mixed greens
1 head of radicchio
1 head of frisee
3 large plums, dark purple and heavy with juice
2 large peaches
2 large nectarines
2 small Geo plums (or a tart, crisp varietal)
1 small bunch of grapes
4 branches of thyme
2 branches of basil
3 oz. red wine vinegar
1/3 cup extra virgin olive oil
1 small tangerine, juiced
salt and pepper

To prepare the plum vinaigrette:

Staying close to the seed, slice the stone fruit so that you have two perfect rounds per fruit. Slice the fruit "cheeks" into consistent sized slices. Set aside.

Cut the remaining fruit off the seed of each fruit, being careful to save the uneven pieces for the vinaigrette. Place the random pieces into mortar and crush, being careful to extract as much fruit juice as possible. Put the pulpy juice into a small bowl and add the olive oil, vinegar and tangerine juice. Remove the basil and thyme leaves from the stem. Muddle the herbs' leaves and the basil stem in a mortar and pestle. Add to the vinaigrette, stir and taste. Add salt and pepper. Taste for balance. Add more acidity (in the form of more red wine vinegar or lemon juice) or seasoning if needed. Put in a jar and let sit for a few minutes. When ready to toss the salad, remove the basil stems.

To prepare the salad:

Chop the radicchio into small slices. Chop the bottom off the frisee and pull apart into individual pieces. Toss the radicchio and frisee into the greens. Toss the fruit with some of the plum vinaigrette in a separate bowl. When ready to serve, toss the greens with the plum vinaigrette, using the least amount necessary.

To compose the salad, place a heaping tablespoon of dressed fruit on a chilled plate, then top with greens. Add pieces of the fruit on top, being sure to drizzle some of the juice over the top of the final salad.