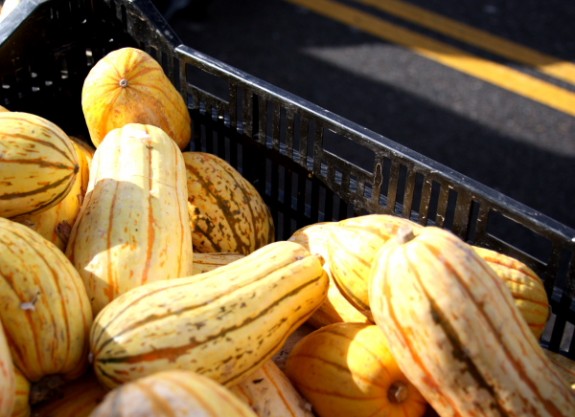 One of the best things about being a gastronome and a restaurant professional at an award winning restaurant is that my work environment is a constant source of inspiration. Some of the dishes we serve at the Osteria are incredibly complicated and require hours to prepare. Other menu items are based on grandmother's traditional recipes. The simple, classic dishes that haunt me the most. They compel me to tear off my waiter's uniform, get into my home kitchen, and cook.

A new contorni (that's Italian for side dish) went onto the menu last week. Ever since that first pre-shift bite of the buttery sweet squash with browned butter and sage, I've been obsessed with the need to figure out how to duplicate those warm, sweet flavors.
Lucky for me and my culinary obsessions, the Delicata squash contorni is a rather simple one to make, and requires only basic cooking techniques.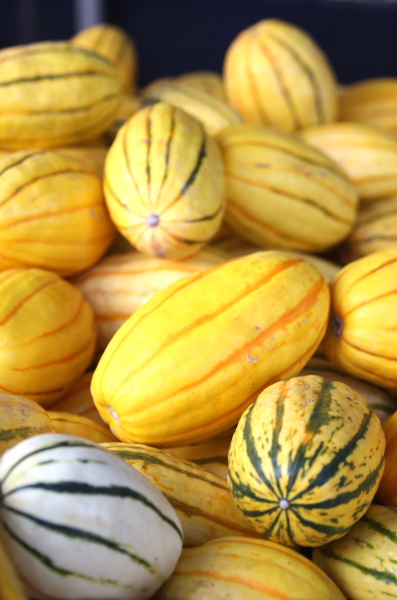 What makes this traditional squash side dish so special is its featured ingredient: Delicata squash. As its name suggests, this winter squash is a delicate vegetable with a skin so thin it can be eaten. The Delicata is fine grained, and an oblong squash that's no more than five to seven inches in length. It's light orange flesh and delicate interior makes it tasty either steamed or baked. When purchasing Delicata squash, look for 6″ gold and green striped varieties with shallow ridges that are heavy for their size.

One important chef technique I discovered while researching and making this dish was the concept of pre-roasting of the squash. By having the key ingredient prepared in advance, this on-the-fly contorni can be finished in just minutes.
"This dish is a six minute pick up"
The delicata squash contorni is, in chef parlance, a "six minute pick up" item. What that means is that with the cleaning, chopping, and prepping and pre-cooking of several ingredients out of the way, the cook needs only focus on the actual cooking of this dish for a few brief minutes. Translation to the home cook: this is a no brainer side dish that can elevate any main course or is a perfect vegetarian main course that would be great with a rustic grain.

After making this recipe, you might want to consider preparing it again, except this time take a few minutes at the beginning of your week to pre-roast the Delicata squash (as described below) and save the roasted squash in an air-tight container for several days worth of small side dishes on the fly. With your ingredients prepped and ready in the fridge, you'll be just seven minutes away from devouring a warm and comforting Italian vegetable dish any time you want.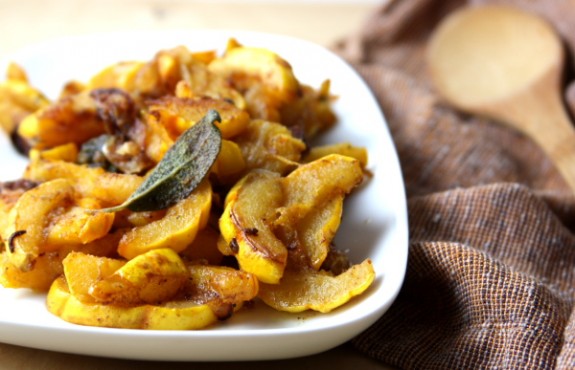 [print_link]
Delicata Squash
a contorni inspired by he great chefs at Osteria Mozza
4 Delicata squash (uniform in size)
5 cipollini onions, thinly sliced on a Mandoline
8-9 tablespoons of olive oil
2 tablespoons of sugar (organic, light brown, or turbinado is fine)
6 tablespoons of unsalted butter
8 sage leaves
salt and pepper for seasoning
grating of nutmeg
a pinch of Maldon sea salt
Preheat oven to 350˚
Wash the Delicata squash. Cut the squash in half, horizontally to expose the seeds. Remove the seeds and slice each half into consistent ¼ inch half moons. Toss the sliced squash into a large bowl and toss with 2 tablespoons of butter, sugar, and a generous sprinkling of salt.
Spread a sheet tray with parchment paper. Line a large sheet tray with a single layer of squash. If your squash exceeds the space of one tray, use two. If you have restaurant grade plastic wrap (the kind you can find at a restaurant supply store like Smart and Final) cover the tray with it and then cover the plastic wrap with a tight seal of tinfoil. If you do not have restaurant grade plastic wrap cover the sheet tray with a tight layer of tinfoil.
Bake the squash in the oven for twenty or thirty minutes, or until the squash is tender (yet firm enough to sautée without it turning into mush). Let the squash cool.
When you're ready to enjoy this side dish, heat a pan that's large enough to hold your squash over medium heat. Add the butter and remaining olive oil (approximately 4-5 tablespoons). When the butter is mostly melted, add the cipollini onions and the sage. Sautée for about a minute so that the thinly sliced onions get soft and the sage can crisp a little. Add the squash and toss all the ingredients in the pan to mix well.
Raise the heat a small amount so that the butter can start to brown. Allow the ingredients to caramelize a little in the pan before stirring—or, better yet, toss the ingredients in the pan–to move things around. Don't over stir the squash as it cooks. You want to watch the squash brown up a little as the sweetness of the squash caramelizes in the pan. The Delicata should be browned—not burned–on both sides. The cooking process should take about six minutes.
Taste the squash and season to your liking: add salt, pepper, and a light grating of nutmeg to the warm squash. If you would like the squash a hint sweeter, add a light drizzle of honey and mix into the squash.
I find I like this dish warm, not piping hot. To serve, finish with a delicate pinch of Maldon sea salt.