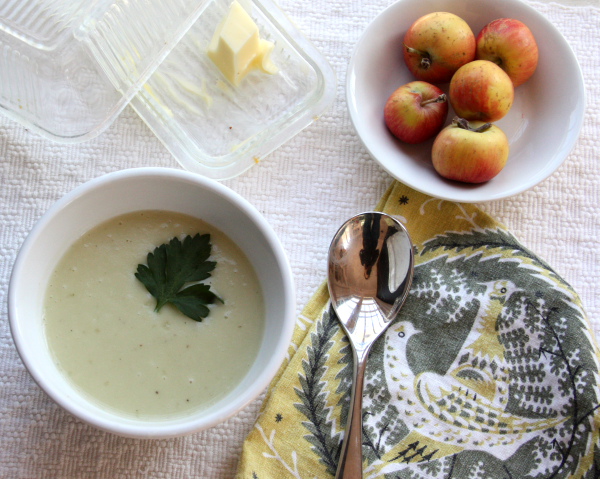 I'm not a chef, but I do spend a lot of time with professional cooks.
I work in a restaurant several nights a week and I like to show up early and take a few minutes of my off-the-clock time getting my bearings and observing the day's activity in the kitchen. I pour myself a cup of coffee and watch the guys prep fish, squish hundreds of roasted potatoes, or pluck leaves of mint for what will become salsa verdes for the night's service. It's in these little moments of observing the pre-game prep, that I learn the big lessons about cooking.
Most servers don't care for this sort of sideline observances. Maybe that's why the chefs and prep cooks don't mind as I watch them slice up chickens or brine pig's heads. I have pretty good radar for annoyance, so I'm able to disappear the moment I see a flicker of irritation on a chef's face.
In hanging around chefs, I've picked up lots of great tricks. But despite all the time I've spent with these men and women in chef's whites,  I haven't been able to get over my irrational fear of unknown ingredients and certain culinary techniques. One challenge I had to recently overcome is my ridiculous fear of leeks.
While most people eagerly snatch up bundles of leeks, I would walk past and pretend I didn't care for them. I even feigned ignorance of this vegetable's power to inspire culinary hysteria across France. I was that scared. But thanks to my wonderful friend, Leah and her You-Can't-Screw-This-One-Up Potato and Leek Soup Recipe, I finally had myself a leek epiphany.
Leah and I were strolling past the farmers' stands at the Hollywood Farmers Market, when she came to a full stop in front of a display of slender leeks. I eyed Leah with amusement. That woman is always admiring leeks.
"You should make potato and leek soup," Leah said, handing me a bunch of the green and white lilies. "Here. It's easy. You can't mess it up."
I blinked with muted shock as she pushed me towards the farmer. "Go ahead," she dared me. "Buy them."
Me? Make leek soup? She assured me it was as easy as chopping, peeling, sweating, and simmering. "You can't mess it up," she said as she talked me through the recipe. She was so confident in her simple soup recipe, she didn't even write it down.
Turns out Leah was right. You can't mess up this one up. You can meander down the wrong path, but in the end, you will still end up with a very tasty version of potato and leek soup.
Leah suggests cooking down the leeks in butter and olive oil and then adding water so that the flavor of the leeks can infuse the stock with their flavor. I missed that step and, after the leeks were tender, I added the potatoes. This makes pureeing the soup a necessity. Which, by the way, isn't a bad thing.  If you prefer a chunky soup add the potatoes into the stock after the water is infused with leek flavor.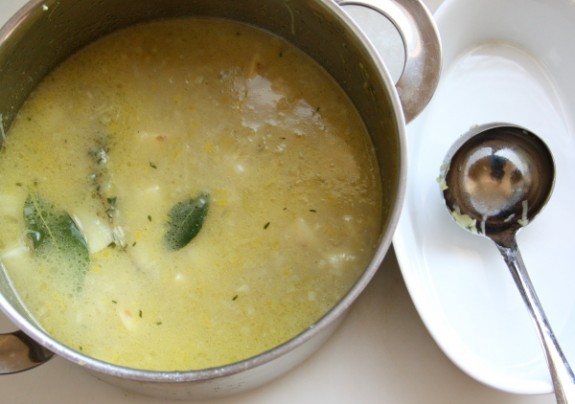 Leah's You-Can't-Mess-This-One-Up Potato and Leek Soup

1 bunch of long and slender leeks

1 lb of fingerling potatoes, peeled

2 Qts of water

5 tablespoons of butter

¼ cup olive oil

1 fresh bay leaf

1 sprig of rosemary, for seasoning

salt and pepper, for seasoning

Trim the rough green tops and roots from the leeks. Submerge the trimmed leeks in large bowl of water to remove any dirt or grit from the leaves. Half each leek, and slice thinly into half moons. Set aside. Wash, peel and cube the potatoes. If you prefer a chunky soup, make the potato cubes small and bite-sized. Set aside.

Over medium high heat, melt the butter in a good sized stock pot (one large enough for at least two quarts of liquid). Add the olive oil and sliced leeks and stir frequently. Season generously with salt and pepper. Let the leeks sweat down until tender, about 10-15 minutes. Add two quarts of water. Bring to a boil and then drop down the temperature to simmer. After 20 or 30 minutes, taste the stock. It should taste of leeks. Add more seasoning if necessary.

Add the potatoes, bay leaf, and the whole sprig of rosemary to the water; continue simmering. Once the potatoes are tender, the soup is done. Add more salt or pepper if needed. Remove the bay leaf and the single branch of thyme.

If you prefer a pureed soup, begin pureeing the soup in batches in a blender. Be careful to not fill the blender too high with soup, as it is very hot and will overflow when blended. Serve immediately or reheat.