Author's Note: Today's inaugural guest post is from Chef Erik Black, of Osteria Mozza. We look forward to sharing with you his five-day eating tour of BBQ through Central Texas and Hill County. So save your pennies and start working out, because this is one eating tour that you will most certainly want to commit your belly to. Completely.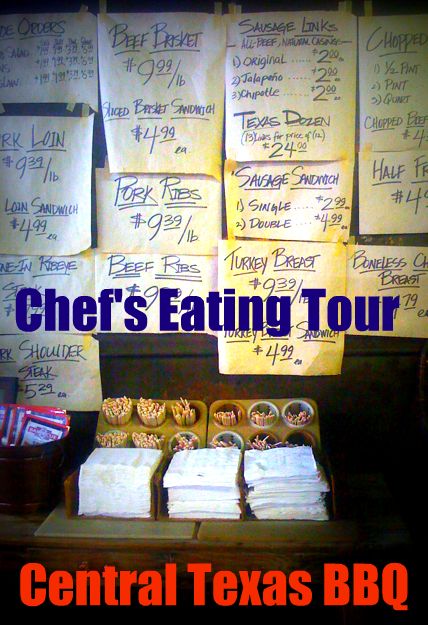 Day One: Get There and Get Salt Licked
The first day is dedicated to travel. I suggest you fly into Austin on Southwest. It's a great airline and the flights are cheap. Rent a car and drive directly to Driftwood, for some of this region's most famous Texas barbecue.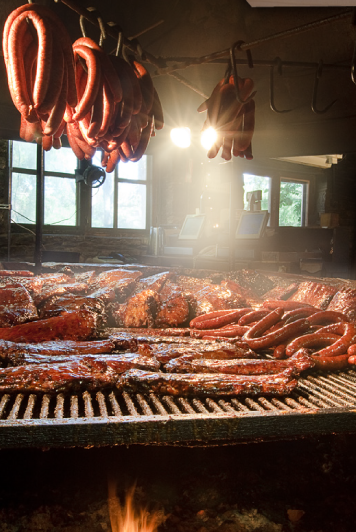 The Salt Lick, Driftwood
The Salt Lick has its roots in Mississippi BBQ. The Roberts' family has been in the business of making barbeque since 1967. Brisket, ribs and sausages here are renowned for being some of the best in the Lone Star State. The Salt Lick's open pit barbeque (oak wood fired), 32-spice sauces, and mouth watering meats have been hailed as quintessential Texas barbecue and named by the New York Times one of the top places to visit.
"When it comes to Texas barbecue, the one place you need to go is The Salt Lick. You'll sit at long tables with people you just met and eat the best brisket, chicken, and sausage to be had in Texas. It doesn't get any more authentic than The Salt Lick… with their friendly service and great food."—New York Times
Get a sampler plate to try everything. Cash only at the Driftwood Location.
Salt Lick, 18300 FM 1826; Driftwood, TX 78619 (512) 858-4959.
Day Two: A Serious Day of Eating
Grab a map and head out of Austin for a big day of eating. Today requires a full day of getting your belly stuffed with great Texas BBQ. Skip breakfast and go directly to brisket.
Taylor Café, Taylor
A spoke in the wheel of Texas BBQ, the Taylor Café is a tiny hole in the wall located not far from the train tracks of Taylor. The Cafe opens at  7a.m., seven days a week, so don't worry if you get up early and are ready to eat BBQ.
Be sure to say hi to Vencil Mares, a Texas barbecue legend. This kind, quiet man has been making BBQ for over sixty years and will happily let you in on trade secrets for making brisket the moment you meet him. The menu is limited to standard offerings, such as beef brisket, sausage, pork ribs and chicken. Order your barbeque by the pound, by the plate, or in several types of sandwiches.
Taylor Café: 101 N. Main St.,Taylor, Texas; (512) 352-2828
The second stop of the day is to Louie Mueller's. They've been making BBQ since 1949. I ate here twice during my five day tour and first time around the brisket was incredible. My second visit was not as good as the first, but the food  still knocked my socks off.  Regardless, I suggest you swing back by Mueller's as many times as possible. Even when Mueller's isn't at its best, its far better than most places around.
Louie Mueller, 206 West 2nd Street, Taylor, Texas 76574; (512) 352-6206.
Southside Market & Barbecue, Elgin
Brisket and hot links are the mainstay of this place and have been for over 120 years. Part barbecue and market, Southside offers the some of the best hot links around. This busy storefront supplies many other restaurants and grocery stores around Texas with their famous links. If you're in a rush, you can call and have links shipped to you.
Southside Market and Barbecue, located at the intersection of Hwy 290 and Hwy 95. North on the west side of Elgin; (512) 285 3407.
Black's Barbecue, Lockhart
The final stop of the day is to meet owner Edgar Black, one of the nicest people in the world. Black loves to give tours of the BBQ pit his dad built in 1932. That is, if the restaurant isn't too busy. Order the brisket, spare ribs, and hot links. Personally, I give Black's meat an A+.
According to Edgar Black, making BBQ is simple. "You just need salt, pepper, the right wood and a few family secrets that I can't tell you."
Black's Barbecue; 215 North Main Street, Lockhart, Texas 78644; (888) 632-8225.
Day Three: From Lockhart to Shiner Bock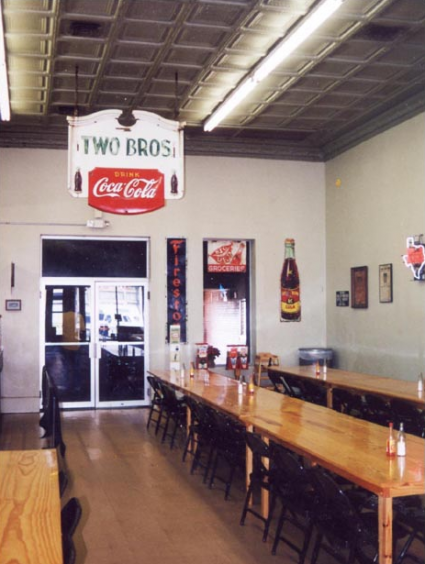 Smitty's Market began in 1999 in the building that housed Kreuz Market for more than 50 years. BBQ has been served to the town Lockhart from this exact location since the turn of the last century. Was barbecue invented here?  Maybe not. But it sure seems like fire was.
Smitty's: 208 South Commerce Street, Lockhart, TX 78644-2737; (512) 398-9344.
City Market, Luling
The second stop of the day inspires a change in ordering. Be sure to order saltines rather than white bread.  Really this is the only decision to make with Texas barbecue:  saltines or bread with your brisket and hot links.  Sauce is not an option.  The moist sausage links offer you all the sauce you need.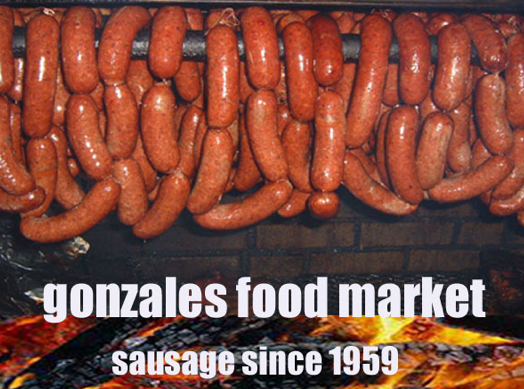 Founded in 1959 as a neighborhood grocery and BBQ meat market, this small town storefront has three brick fire pits for cooking sausage, brisket, ribs and chicken.  All the meat products here are made fresh daily. The BBQ is seasoned and smoked with no artificial colors, flavors, or preservatives.  As for the must order dish, it's the lamb ribs. Order at least a pound (everything is sold by weight).
Gonzales Food Market, 11 St. Lawrence, Gonzales, TX;  (800) 269-5342.
Spoetzl Brewery, Shiner
The final stop of the day is for a beer at the home of Shiner Bock.  Located a few blocks from the I-95, this 95-year old brewery may not offer barbecue but a person can't live on smoked meats alone. Indulge in a few pints of their Bavarian classic and call it a day.
Spoetzl Brewery, 603 E Brewery St., Shiner, TX; (361) 594-3383.
Day Four: The Classics and a Repeat Favorite
Laird's Barbecue, Llano
If you live in Los Angeles, you know there is just one place for great brisket, and that's Langers. Before coming to Texas, I used to think Langer's offered the best brisket in the country. After Laird's, I was a changed man. Sorry, Mr. Langer. Laird's Brisket sandwich is the best I've ever had.
Laird's Barbeque & Catering, 1600 S Ford, Llano, TX; (325) 247-5234.
Cooper's Old Time Pit Bar-B-Que, Llano
"Home of the Big Chop", Coopers is also known as Bush Jr.'s favorite place to get barbque, but don't hold that small fact against this Texas chain.  This BBQ joint is so big, they could feed all of Texas.  They burn wood by the pallet (one pallet equals one cord of wood) every week. The large spare ribs have tender meat, perfectly rendered fat, and are full of great smoky flavor. If a trip to Texas isn't in your near future, you can order smoked BBQ from Cooper's online.
Cooper's Old Time Pit Bar-B-Que, 505 W Dallas St., Llano, TX; (325) 247-5995.
Louie Muller, Taylor
Go back for more at Louie Muller. Because one visit isn't enough.
Day Five: Final day of eating with some travel
With a heavy heart, and much heavier frame, we wrap up our BBQ eating tour of Texas. The last day is a short one and dedicated to just two quick visits before hopping on a plane home.
Kreuz Market, Lockhart
If I was stranded on a deserted island with only one thing to eat, this German-style BBQ would be my pick. That reminds me of my dream vacation: go to the beach in Maui and order up a FedEx box of brisket from Lockhart.  Or, skip the deserted island and order up some BBQ to be delivered to your home at Kruezmarket.com.
Kreuz Market, 619 North Colorado St., Lockhart, TX; (512) 398-2361.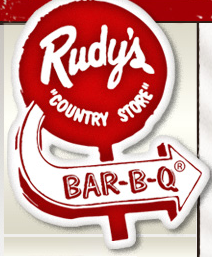 Rudy's Bar-B-Q, San Antonio
One shouldn't fly on an empty stomach. And since they only serve peanuts on Southwest, I recommend heading over to San Antonio for one last bite at Rudy's Bar-B-Q before boarding your flight home at Austin International. Order the ribs.
Rudy's Bar-B-Q 10623 Westover Hills (Hwy 151) San Antonio, TX; (210) 520-5552.