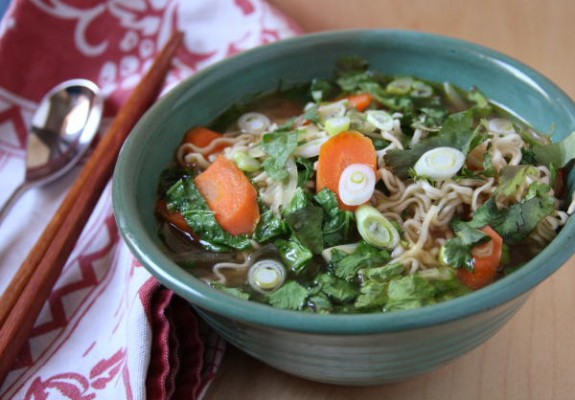 When you work in a restaurant you must be fast thinking, quick on your feet, a skilled multi-tasker, and able to ignore hunger for long periods of time. As a waiter, it's your job to serve food, not eat it.
Unlike a traditional day job that allows for 30 or 60 minutes for lunch, most restaurant workers don't get meal breaks. Though there may be a staff meal–a pile of something that's cheap and easy to make–at the beginning or end of their shift, most restaurant workers are required to work without stop from late afternoon until midnight (or later).  Stopping for a bite of bread in some restaurants is an offense worthy of termination.
So when I finish work and the grip of hunger is too strong to deny, I ignore my desire to indulge in delicious high-fat foods (a double double at In-N-Out or poutine at Animal) and head straight home for a satisfying cup of noodles.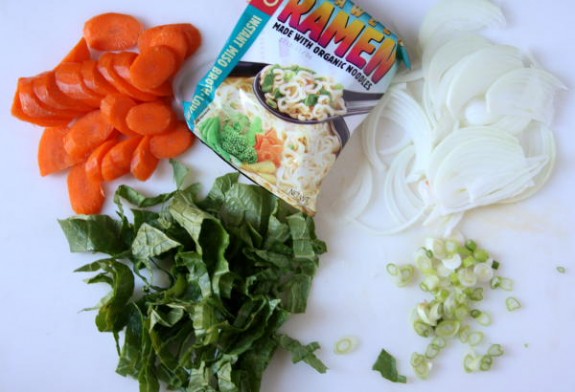 Using just a handful of ingredients (onion, carrot, scallion, and some leftover protein if I have any) and a cheap bag of ramen noodles, I can make a satisfying and healthy bowl of noodles in less than ten minutes. Because when it's late night and the belly is on less than empty, it's important to be able to make something fast and easy.
[print_link]
Late night noodles For One Hungry Person
Even though I've made this for one, it's an easy recipe to double. Be sure to taste the broth as you add the fish and soy sauce when you double up the recipe. That way you won't make the soup too salty for your taste!
Ingredients:
1 tablespoon vegetable oil
¼ cup thinly sliced yellow onion
1 carrot, sliced thin on the diagonal
2 cups water
1 ½ tablespoons of fish sauce
1 tablespoon soy sauce
1 package of ramen noodles
½ cup shredded Napa cabbage
a pinch of fresh basil or cilantro, chopped
2 fresh Thai bird chilies (or a teaspoon of Sriracha)
**Optional: ¼ cup leftover beef or chicken
1. Heat vegetable oil in a medium sized saucepan over moderate heat. When the oil shimmers, add the sliced onion and carrot and cook until the onion becomes fragrant, about one minute. Add the 2 cups of water and bring to a boil. Add fish sauce and soy sauce to season the water. Add one package of ramen and cook until tender, about 2 minutes. Add the napa cabbage and remove from heat.
2. Pour broth and noodles into a nice big bowl. Top with leftover meat (if you have it) and green onions. Garnish with fresh basil and chilies (or substitute with a teaspoon of Sriracha sauce). Serve with a spoon and chop sticks. Get slurping!