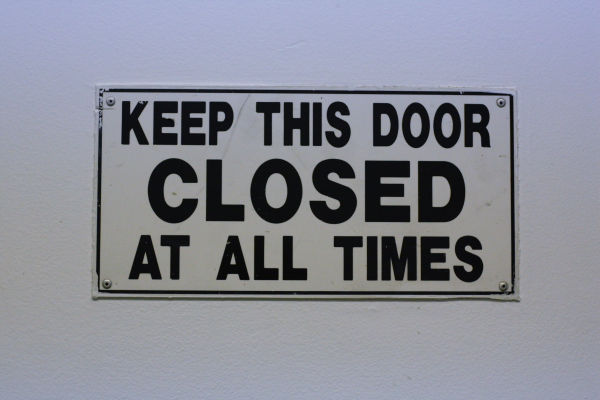 Yesterday in the New York Time's "Diner's Journal," New York Times' "Your Money" columnist Ron Lieber wrote a brief dispatch about getting kicked out of Restaurant Marc Forgione in Tribeca in his post entitled "Why I got Kicked Out of a Restaurant on Saturday Night." It's a simple tale of customer vs. chef, clashing cultures, big egos, and differing points of view.
The abridged version of the story begins with journalist Lieber as diner. The writer was eating at Forgione's restaurant this weekend when—during the height of service—Chef Forgione began berating one of his employees for talking back to him in, what I must assume to be, an open kitchen. The verbal attacks were so loud—Leiber wrote in his "Diner's Journal" post—that many in the dining room were visually disturbed.
So enraged by the outburst's effect on his appetite, Lieber marched into Forgione's kitchen and scolded the chef for his behavior. When Lieber returned to his table to continue his meal, Chef Forgione followed him into the dining room to speak with the writer about the inappropriateness of his actions. No customer, Forgione said, has the right to reprimand the chef in his kitchen. Even if he was screaming bloody murder.
After a brief back and forth about unsuitable behaviors, Forgione demanded that Lieber (and his guests) leave immediately. Lieber did, in fact, exit the restaurant but departed with a burning desire to tell his story.
Though this type of incident is just the kind of thing that sparks millions of users to create a Yelp account, Lieber took full advantage of his access to one of the most powerful food sections in the country to tell his version of the story. Because let's face it, most people would rather take the time to vent about bad service than go on-and-on about a great moment in their dining history.
But I digress.
Leiber's account of the event yesterday—though compelling—made me suspect of the man writing the story. Who was this guy thinking he could storm into the kitchen and teach-that-son-of-a-bitch lesson? What exactly does a finance reporter know about the inner workings of a professional kitchen? Granted, screaming at an employee in the middle of service isn't the best way to manage one's staff, but that doesn't mean a guest has the right to tell off a chef while he's working what sort of behaviors he will or will not tolerate.
I've worked in restaurants for over 15 years, and I have never seen a guest enter the kitchen to berate the chef–and live to tell about it.
"Either you've worked in the restaurant business and get this, or you don't," wrote Susannah Breslin, a former waitress and journalist for True/Slant.com . "No one but the most self-entitled jerk of a customer walks into the kitchen."
Though I am loathe to come out and say pointedly negative things about customers on this blog, I would have to agree with Breslin's point. A customer who enters the sacred heart of a restaurant without invitation–and with the goal to demand certain actions from the chef–is, as the kids say it, cruisin' for a bruising.
Restaurant guests, regardless of how opinionated they are, aren't in charge of the restaurant. They are financial contributors. Yes, money talks. But money does not choose the décor, decide on ingredients, pick out the play-list, or hire the employees. Restaurant owners, chefs, and managers do that. Customers make their opinions known via sales (and customer feedback cards, and phone calls…).
So what have we learned? Well the first thing is, don't even think that this recent incident gives the dining public the license to barge into their favorite kitchen and give the chef a piece of their mind. Be warned, the men and women working in kitchens are humans on the edge—they're hungry, tired, and quick to fight—and are armed with sharp knives, fire, and all sorts of torture—I mean cooking—utensils.
Woe to the next Lieber-type that dares step into the kitchen. Chefs around the country are on notice that you may be coming and, most likely, won't let you get away with just a verbal warning. Stay away from the kitchen. Customers are welcome to offer their positive and negative feedback in a more safe environment–via email and intermediaries like managers.