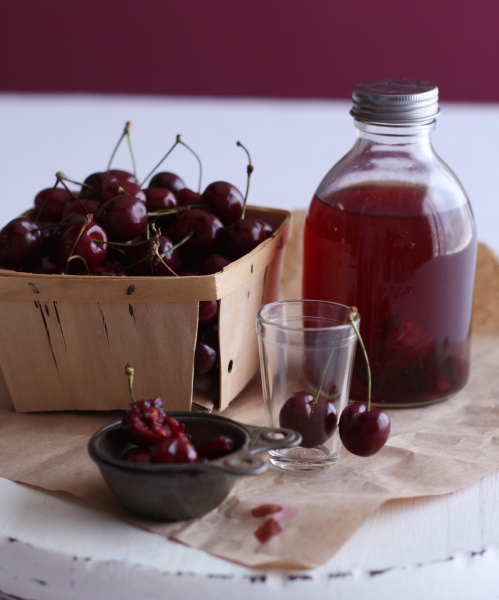 All good things come to those who wait. Parents, farmers, bread bakers, and economists know this. And in the past couple of years, bartenders across the country have learned that the old adage applies when it comes to making flavored spirits. Take a great tasting fruit like a cultivated cherry, add a favorite liquor, and in just a few weeks you'll have something completely new.
Cherries, or Prunus avium, are a stone fruit that are high in anthocyanins, the red pigment that gives the berries their color. In recent lab tests, anthocyanins have been shown to reduce pain and inflammation and reduce cholesterol and triglycerides. That's good news to cherry lovers, who are currently gobbling up all forms of cherries–as a snack, featured dessert filling–during their last few weeks of the season. Right now, trees from Michigan, California, Oregon, and Washington State are heavy with rosy pink, blood red, and sunrise yellow cherries.
Thanks to the juicy fruits of Bing, Brooks, Rainier, and Tulare, it's a wonderful time of the year to eat and, in my case, make cocktails.
Health benefits aside, cherries are a great flavoring agent in many cocktails (think Maraschino Liqueur, Amarena soaked cherries, etc.). Last year, my wonderful friends Todd and Diane from White on Rice introduced me to the idea of using cherries to enhance the flavors of a favorite liquor. Their gift of cherries soaked in Luxardo (a sweet cherry liqueur made from Marasca cherries and ground up cherry pits) blew my mind. The cherry-infused cherry liquor became a favorite featured cocktail ingredient and the center point of an obsession with the classic cocktail, the Aviation (Gin, Luxardo, and Lemon). Ever since then, I've been patiently waiting for cherry season to begin so I could try my hand at making my own cherry-infused spirit.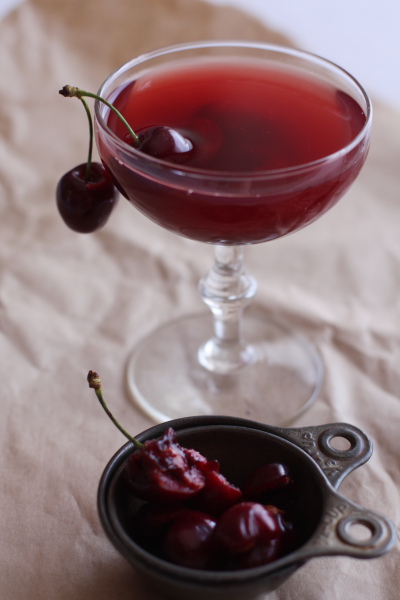 Rather than create a cherry-on-cherry infused liqueur, I decided to soak a portion of a bottle of Elmer T. Lee Bourbon— a well-made and affordable single-barrel bourbon from the Buffalo Trace distillery–with the juice and balanced flavors of pitted Brooks cherries. Within days, the caramel color of the bourbon had turned an alluring cherry red. In just a month, the cherries have taken on the flavors of the smoky and spiced whiskey and mellowed with the sweetness of the fruit. If you want your cherries to hold a sweetened flavor, add some sugar to your batch after a month of aging, to sweeten up your fruit and macerated bourbon.
Guidelines for making your own Cherry Bourbon Liquor
Before starting, think about how much macerated bourbon you want to make. If you want to make one big batch, be sure to find a large jar with an air-tight lid. Or perhaps you'd like to make a few small batches so that you can give some away as gifts. Either way, you'll want to pre-measure your jars to see just how much bourbon and cherries you'll need for the project. I suggest starting in small batches (one or two 8-ounce Ball Jars), that way you won't waste too much if you don't like the results.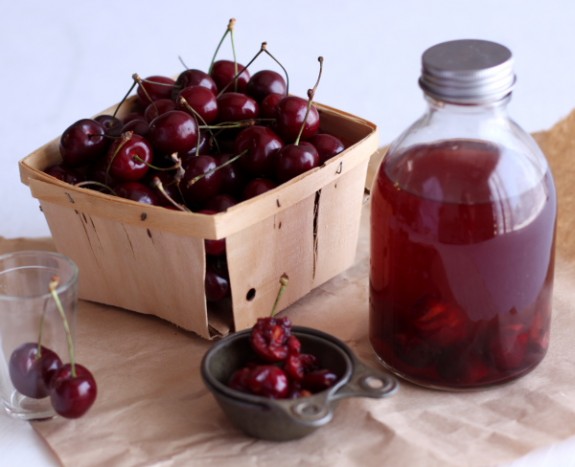 [print_link]
Cherry Bourbon Ratios
Fill a quarter of your canning or jelly jar with pitted cherries (a quarter of a pound for an 8-ounce jar). Be sure to capture as much cherry juice in that container as possible.
Fill the rest of the jar with a great tasting bourbon, like Elmer T. Lee
Shake the container and leave out on a shelf (at room temperature) for a month. Lightly shake your jar every couple of days. After three weeks to a month, taste your results. If you like a sweeter flavor, add a small amount (one fifth to your ratio) of sugar to your mixture.
SUGGESTIONS:
Pour a splash of this macerated bourbon on ice to experience the subtle flavors, or add an equal amount of Carpano Antica Sweet Vermouth to your glass for a mind blowing (and slightly sweet) Manhattan. Finish your cocktail off with one of the bourbon infused cherries for an unsweetened, bourbon soaked Brooks cherry garnish. Use your cherry-infused bourbon to make a super-charged version of my Master Cherry Cocktail.
OTHER IDEAS:
If you have a sweet tooth and love the classic Aviation cocktail, I highly recommend buying up an extra bundle of cherries and soak them in a jar with some Luxardo as well. The sweetness of the cherry liqueur infuses the fresh cherries with an almost candy flavor, which makes for a delightfully sugared fruit garnish, without adding any sugar!