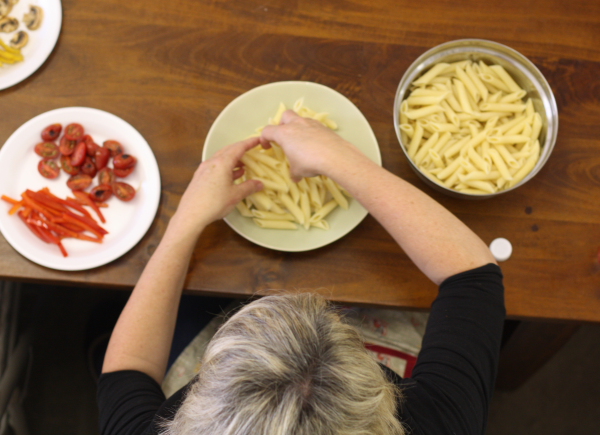 I love food. I love to eat it and dream up new ways to engage with all its different ingredients. I enjoy playing with my food, photographing it, telling stories about it. Clearly food is much more than a source of nutrition and sustenance. For me–and many more people like me–food is art.
My food obsession has reached an all time height, thanks to the accumulation of decades working in restaurants and writing this blog. Because of my heightened interest in food photography (and incessant questions about how he does what he does), my friend Matt Armendariz generously offered to allow me to sit in on his recent Food Styling and Food Photography class with the ladies of Food Fanatics at his studio in Long Beach.
Between jokes and colorful industry gossip, Denise Vivaldo and Cindie Flannagan offered students a handful of tricks learned over the years (nay, decades) they've been working in the food styling business. Vivaldo and Flannagan gave students insights into making food ready for camera and how to think about food styling as a career.
Food Styling Tips from the Pros
Use non-edible (but not poisonous!) items to prop things up.
Just because you use a cosmetic sponge to prop up a piece of meat before you shoot it, doesn't mean you can't eat the meat. Take the picture, remove the sponge, and dive in! The ladies at Food Fanatics suggest that if you don't have a lot of an ingredient (say pasta or rice) you can fake a false bottom with wet paper towels to give a bowl or plate additional height.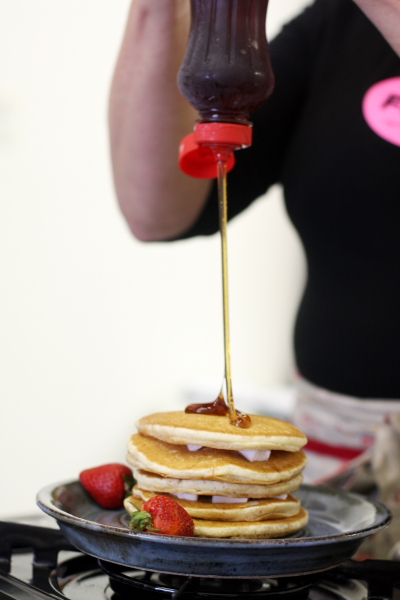 Play with your food.
Don't be afraid to manipulate your food a little bit when you put it on the plate. Remove big chunks of vegetables from your tomato sauce, for example, and place them on top of your pasta in order to show off the dish's key ingredients.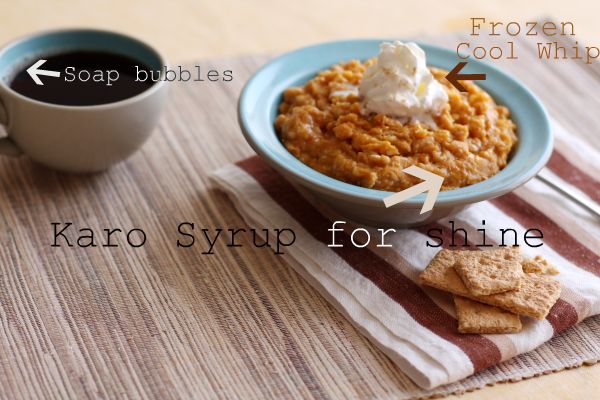 Don't be afraid to fake a shot.
Maybe you have your heart set on taking a picture of pancakes with whipped cream on top. Maybe you want a picture of said pancakes in a very stylized way. Buy a cheap bottle of fake maple syrup and freeze it. Make a perfect whipped cream dollop out of Cool Whip (I know. Disgusting) and freeze that, too. When you have your perfect stack of pancakes (the Food Fanatics ladies suggest using the cheap bottled pancake mix for this step), pull your frozen elements from deep freeze and build your perfect breakfast. This freezing step will give you several extra minutes of shooting, for sure. Also, a spritz or a few drops of Kitchen Bouquet can fake toasted bread and a glass of wine in a pinch.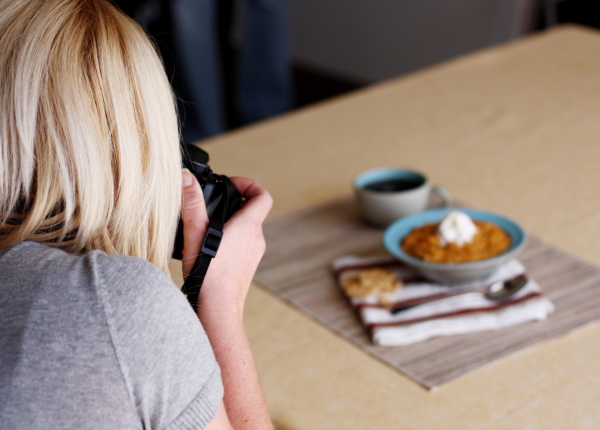 Work those angles.
If you want your fruit or produce to hold a certain pose, you can use Polident to hold them in place. Or if your pie crust starts flaking before its close up, the Food Fanatics say Vaseline can hold the crust in place. Just remember, don't eat the Vaseline-patched section!
Think about getting some tools.
And when I mean tools, I mean food styling tools. Think tweezers (for placing garnishes in just the right spot), fine paint brushes (for brushing on a nice olive oil sheen), cosmetic sponges (to prop up an item), spray bottles (for spritzing moisture), compressed air (to get rid of condensation), and melon balers (for a perfect scoop).
For more great tips on food styling, I suggest swinging by Matt Bites to find a great round up and insightful reviews on current food styling books.
Food Photography Tips from a Pro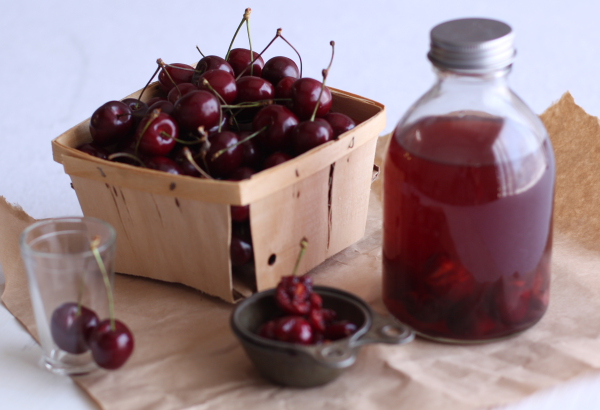 It's all about the light. Especially Directional light.
It wasn't until I saw all that beautiful day light streaming into Matt's studio, that I finally understood the power of natural light. Directional light in particular—the white glow of day as it streams in from a big glass window—has a way of kissing food with a soft glow. Simple, directional daylight can make a simple plate of food look like the subject of an early Vermeer painting: lit and filled with soft shadows.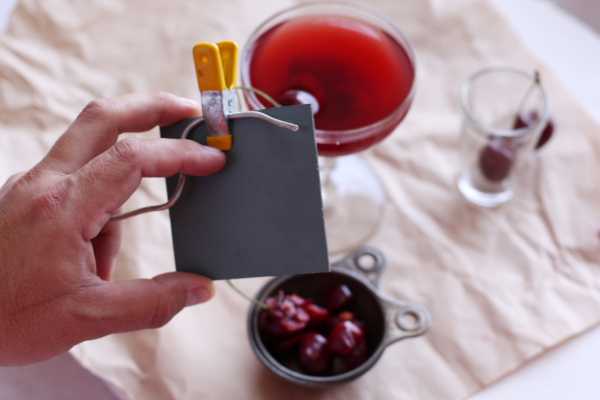 Don't be afraid to play with natural light.
Yes, natural light is beautiful. But it doesn't always do what you want. I learned that using bounce cards (a cut out square of foam core, for example) or reflective surfaces (a mirror or even tinfoil wrapped around a piece of foam core) can help bounce light where you need it.
Look before you leap.
When you're photographing the food you're about to eat, it is understandable why you'd be inclined to throw the food down, light the shot, and start snapping. But sometimes the first look you take isn't the best one. Play around with different vantage points: above, head on, to the side. The difference in 2 o'clock or 6 o'clock perspective can be dramatically different. Take a walk around the plate and see what angle works best.
Less is more.
Food photography is fun, but you don't have show all the things you've learned or use all the gadgets you have purchased to prove you know what you're doing. Keep your composition simple. Compose a meal on a small plate to play with perspective. Or use a big white plate and a little bit of food for a dramatic presentation.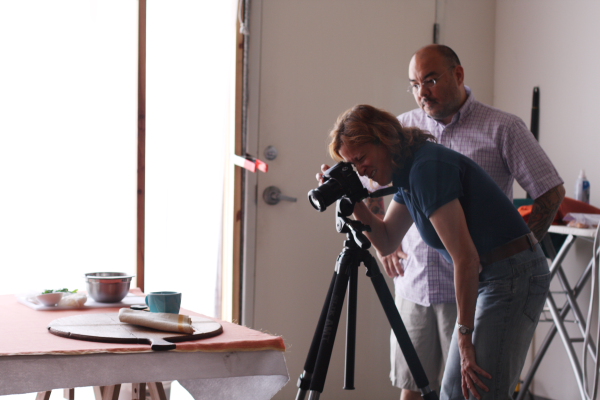 Use a Tripod. Go hand-held.
In lower light settings, using a tripod allows for a slower shutter speed, which allows your camera the stability to keep it's "eye" open for longer without perceiving a blur. If you've got an extraordinary amount of light, feel free to pop the camera off the tripod and see what angles you can find by simply holding the camera in your hand. Don't feel locked down by either option.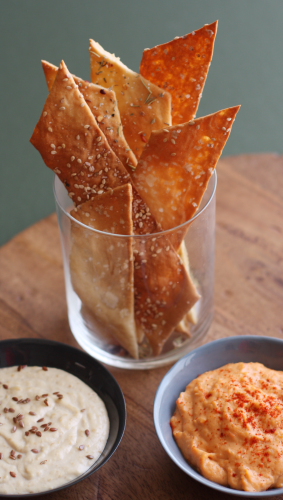 Tell a story.
The more you write, the more you discover your voice. The same is true with photography. What is it your eye is drawn to? What kind of story do you want your pictures to tell? Think of the tone of your food story before you snap that picture. Find a way to convey that feeling (joy, hunger, excitement, laziness, etc.) through visual images.
See how the big kids do.
Sometimes the best way to find your way as an artist, is to copy emulate the style of other artists you admire. If Picasso and Shakespeare could do it, why can't you? Open your eyes to other visual inspirations and try to recreate one of their food shots. After mimicking the style of someone like Matt, Todd and Diane from White on Rice, or Matt Wright at Wright Food, or any of the photographs from Donna Hay, you might start to find your own comfort zone and style.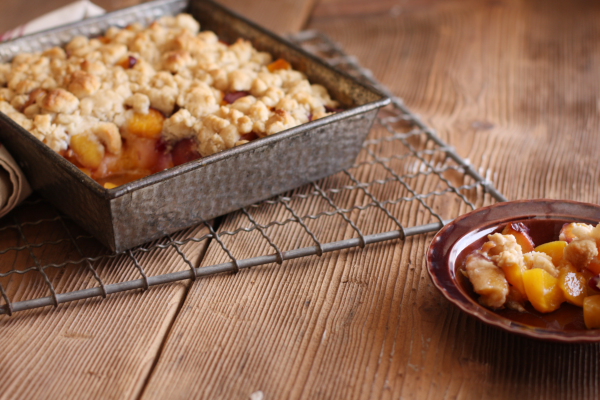 Be a pack rat with a mission.
You may not be a professional food stylist, but you can start to build a small collection of plates, bowls, dishes, cooking utensils, and textiles that give your food photographs a little character and style. Find a rough wood surface (in a construction zone trash heap, a thrown away wooden shutter of a house, a huge cutting board from ebay) or a pretty plain table cloth to transform the flat surfaces of your home near a window to create unique backdrops for your food photography. As much as your significant other may disagree with you, antique stores and ebay are your friends.
Spend some time with someone that knows.
The more time I spend with food photographers that know what they're doing, the more I learn. Truly, there's nothing more valuable than finding a master teacher when you're an aspiring student. Humble out, ask questions, and listen to what they say. I highly recommend signing up for the next hands-on class Matt Armendariz offers. Or make a vacation of it and fly in for  a class like the one Use Real Butter and White on Rice are teaching in Colorado.
Thanks again to Matt, Denise and Cindi for hosting me at your recent class! I learned a lot.