Some words carry flavor. Speak aloud the familiar syllables of coffee, chocolate or toast, and the brain fires memories of taste. Flash: a steaming cup of Sumatra, soft and gently acidic washes over your tongue. Your first taste of waxy chocolate Easter bunny as it melted in your mouth. Fresh baked bread, made golden from the heat of a toaster, on a cold winter day.
When I speak the words strawberry and rhubarb, I am given a crystalline remembrance with my grandmother. It's a summer's day in the 1980's. I'm in my Grandmother's tiny kitchen and staring at a pie she's placed atop her ancient, four-legged cast iron stove to cool.
"It's strawberry rhubarb pie," she tells me. She slices into the golden pie crust and it falls away to expose a pink heart of strawberries and softened rhubarb. I take a bite—it's the first time I've ever tasted these two flavors together—and I am struck by the sweet, earthy flavors of strawberry and tart-like-a-lemon rhubarb. The flavors are complex, almost too adult for me, were it not for all the enticing sugar.
"This is rhubarb?" I say to her, knowing the look of the plant from hours of playing make-believe in our family garden. The stalks of the plant resemble celery and the rough green canopy of leaves grow high enough to make a perfect hiding place for me—a child of five or six–from the sun.
I enjoy another bite of memory and it's gone.
Though my interest was piqued to recreate Grammie's strawberry rhubarb pie in my own kitchen, my desire for simplicity got the best of me. Rather than make a crisp (I'm always looking for ways around making a pie crust from scratch), I settled on modifying a recipe for a rhubarb and pistachio compote my friend Louisa Shafia created for her cookbook, Lucid Food.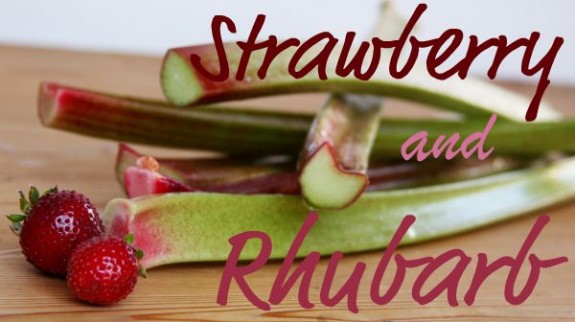 Louisa's spiced rhubarb recipe inspired me to take the best part of pie—the cooked fruit filling—and turn it into a subtly sweet strawberry rhubarb compote that's good for putting on top of Greek yogurt or ice cream for dessert. I added strawberries and an adult flavor enhancer—Maraschino liqueur—to broaden the flavor profile of the dessert. The flavor of cardamom—a beloved spice of my grandmother–enhanced my strawberry and rhubarb memory even more.
[print_link]
Strawberry Rhubarb Compote with Pistachios
This is an easy, no-bake semi-sweet dessert when served over ice cream or yogurt. It also makes an especially tasty breakfast when served over yogurt with homemade granola. A recipe inspired by Louisa Shafia, of Lucid Food
6 stalks of Rhubarb, ends and tips trimmed. Cut into ½ inch chunks
¾ of a cup strawberries, hulled and halved
½ teaspoon cardamom, freshly shelled and crushed with a mortar and pestle
¼ teaspoon freshly ground nutmeg
pinch of salt
7 tablespoons Agave syrup
2 tablespoons Maraschino Liquor
1 teaspoon Vanilla extract
½ cup pistachios, coarsely chopped
Vanilla Ice Cream Greek Yogurt for serving
1. Cut the rhubarb into ½ inch pieces and put in a small saucepan with just enough water to submerge the bottom half of the rhubarb, about ¼ cup of water. Cover and bring to a boil. Just as the water starts to boil, add the strawberries. Stir the mixture and decrease the temperature to a low simmer, for approximately five minutes, or until the rhubarb and strawberries soften. Add the cardamom, nutmeg and a pinch of salt and let simmer for another 4 minutes. Remove from the heat.
2. Pour into a small bowl and stir in Agave syrup, vanilla extract, and maraschino liquor. Let cool. To serve spoon a couple of tablespoons of the compote over greek yogurt or ice cream, and top with a scattering of coarsely chopped pistachios.
For more great rhubarb recipes, I highly recommend swinging by Louisa's Lucid Food site for a great post on rhubarb variations.