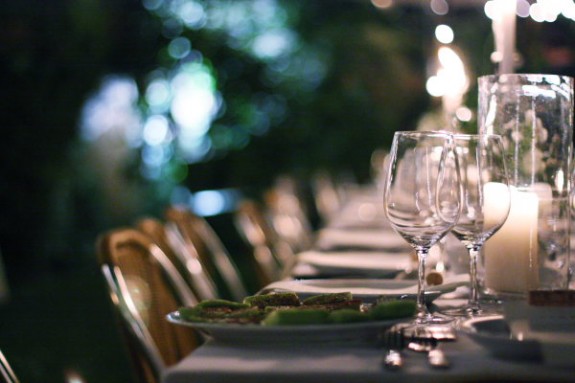 Dinner parties with wine experts, restaurant owners/mangers, and chefs aren't like your commonplace soiree. We don't cater (unless it's our friend that's doing the cooking), we don't go as a group to a favorite restaurant (unless it's our friend that's doing the cooking), we don't use mixers for cocktails, and we most certainly don't drink plonk wine. Rather, these after-hours events are more like being invited to an underground dinner club or pop-up speak easy—where there's an abundance of food, great music, and an obscene amount of impeccable wine and hand-made cocktails.
Food industry parties–not the kind attended by press and marketed to create a buzz, mind you, just a little get together of friends—are Dionysian affairs where off-the-clock servers grin a little bigger, sommeliers share favorite wine stories and their best off-color jokes, and the chefs cook and eat food with nonchalance. Though these are intimate gatherings-they are the kind of party you wish you could watch on TV.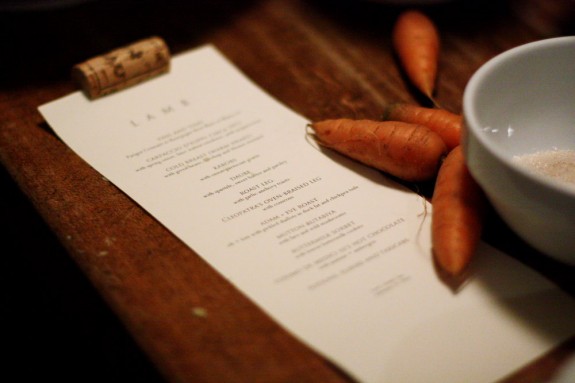 Be it spur of the moment get together or well-executed culinary bash—we restaurant folk go the extra mile to celebrate our day off by eating and drinking well and just relaxing. Crash one of our parties and you'll see a group of people happy to be free of their uniform and outside of the demands of customers. Really, really happy.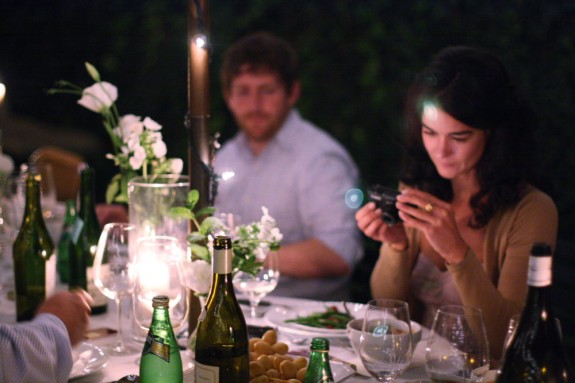 You can feel a kind of excitement in the air when you spend a night off with fellow industry folk. I imagine the dinner party fireworks of food and wine professionals are similar to the electricity between rock stars backstage, or in the dug out with baseball players. Put a group of people together who are in love what they do, and sparks will fly. If you look carefully, you can even pick up on the embers of exhilaration floating through the air*.
You can take a restaurant pro out of a restaurant but you can't take the restaurant out of the restaurant pro
Earlier this week, I had the good fortune to be invited to an extraordinary backyard happening called "Lambalooza", an event so named by its originator and co-host, Dan Perelli (friend, wine expert, and employee of the Wine Hotel). The eleven-course tasting menu was hosted at the home of Ben Anderson, a wine representative of Rosenthal wines and was organized by Sara Gim of Tastespotting. Dan was the mastermind behind the event that celebrated great wine and every tasty morsel of a whole Colorado prime lamb.
The moment I entered the backyard patio, I knew I had been invited to a remarkable dinner. Past the apartment's back gate, I found a circle of excited sommeliers and wine professionals standing guard over a high-top table littered with open bottles and tasting glasses.
"What'cha you bring?" said some of LA's best somms as arriving guests presented their wine offerings. There were magnums of Sancerre, chilled bottles of Prosecco and sparkling rosé, oddball reds, and special bottles smuggled in for the truly appreciative. Little gestures like seasoning a glass, checking of vintages, swirling a small amount and taking in the particulars showed the tell tale marks of wine professionals.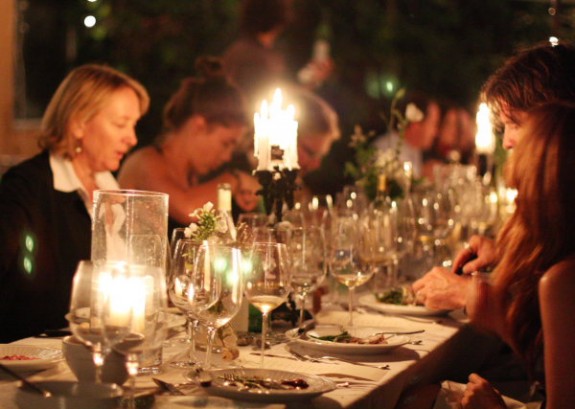 Ben's backyard was transformed into an elegant outdoor dining room, where all twenty guests had a comfortable seat. White freesia and fresh mint in vases decorated the white cloth draped table. Trimmed corks held the evening's menu in place. A disco ball stashed behind a bush threw rainbows of colors up through the dark leaves. Under the twinkle of stringed holiday lights, I found the night's printed menu declaring there would be lamb carpaccio with pink peppercorns and lime juice, lamb neck and breast pate with crème fraiche and anchovy and garlic dressed green beans, lamb kabobs, lamb daube with spetzle, a lamb roast, and lamb curry and several courses of dessert.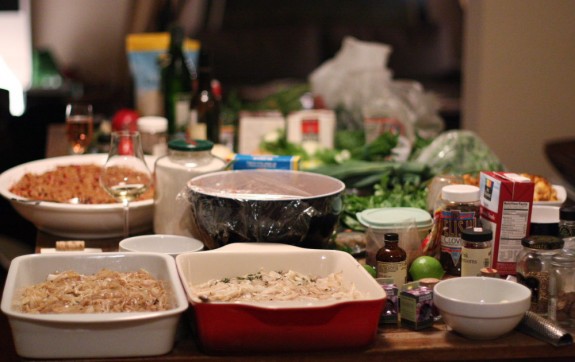 While the guests sipped wine outside, the inside kitchen was humming with activity. Dan transformed the dining room into a prep station and open larder where all of the ingredients for the night's dishes were readily accessible.
Dan read off menu items to be finished from his clip-board prep-list. There were roasting pans with slow cooked lamb legs, casseroles with caramelized onions, zip lock bags filled with peeled shallots, a bag of fresh-picked green beans, and a graveyard of half-sipped glasses of wine waiting to be finished. Daniel–a restaurant friend hired for the night to be the constant presence at the sink and at the stove—stood in the tiny galley kitchen washing dishes and doing last minute preparations. There were still whole dishes to prepare, à la minute. The fact that I'm more comfortable in the kitchen then mingling with dinner party guests, wasn't lost on Dan. Without skipping a beat he handed me a photocopied recipe of Fergus Henderson's Green Beans with Roasted Garlic and Anchovies, and put me to work.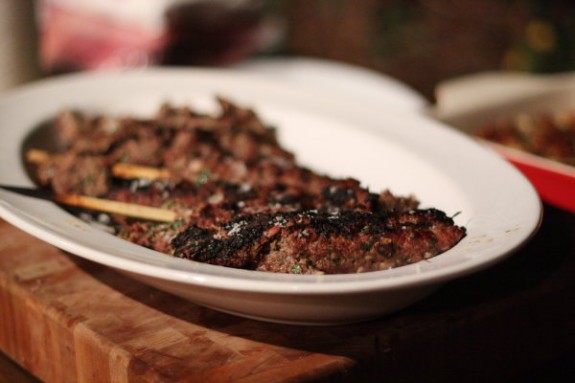 "We don't have anchovies in a can," he said, handing me a tube of anchovy paste. "Good luck." And with that, he disappeared to oversee the chopping of lamb shoulder for the next course.
Clearly, this was no ordinary dinner.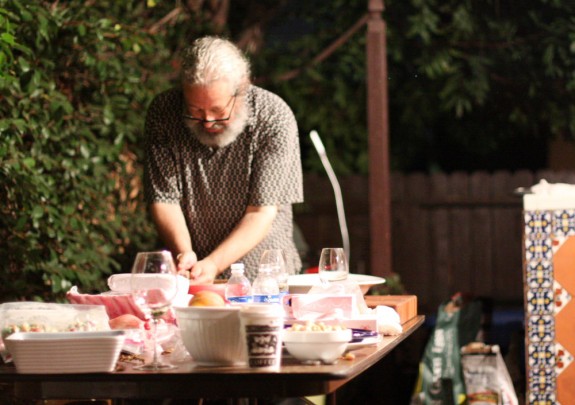 Regardless of whether or not you have a collection of restaurant folk in your life, you too can have a special after-hours party. Get together a group of friends, make sure you have plenty of stemware and silverware on hand, choose a theme, borrow a few extra card tables, and get serious about your ingredients. For great recipes for your own snout-to-tail dinner, I suggest purchasing Fergus Henderson's (the father of nose-to-tail cookbooks) "The Whole Beast". Or for a little coaching from an amateur, swing by Nose to Tail at Home, a blog dedicated to recreating the recipes of Henderson, or the delightful and award winning blog of Hank Shaw, Hunter Angler Gardner Cook.
*The glints of light are actually Bokeh my lens guard created from bright light sources.