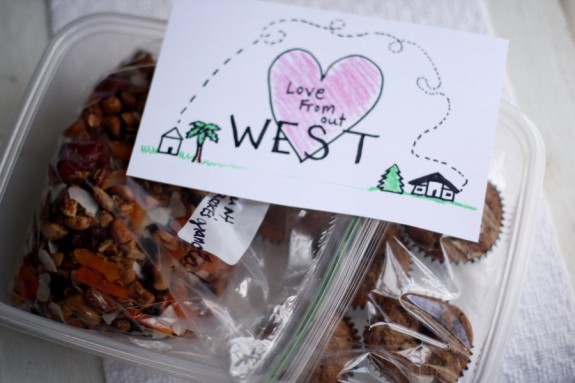 Not everyone has children of their own, but that doesn't mean there can't be plenty of great kids in your life. Nieces and nephews, best friends' kids, and neighborhood rug rats can all be part of your life. Though I'm married, I don't have children. But between my brother and my husband's two brothers, I have four nieces and four nephews who own a nice chunk of real-estate in our hearts. The problem is, I live several thousand miles away from those beautiful eight kids. Sure, Skype is great for capturing the magic of face-to-face conversation, and photos keep me up to date on their newest growth spurt, but I'm the kind of aunt that wants to cook for her nieces and nephews.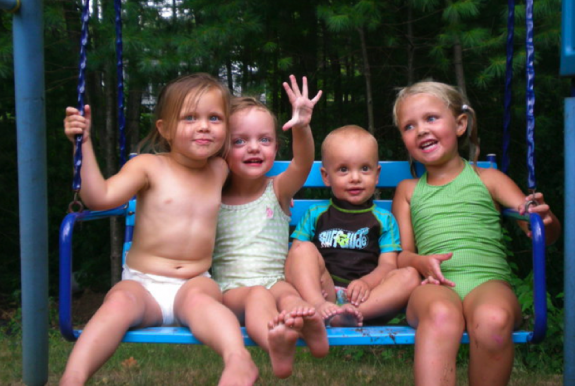 That's where care packages come in. Just because I live thousands of miles away doesn't mean I can't cook for your family. An old-fashioned care package gives my far-away family members a tangible treasure from my west-coast world. Ship a box of food and treasured objects to a loved one and—like our ancestors did before us—the beloved recipient gets a precious treasure to cherish and/or devour.
A care package is like magic: what was once with us is now with them.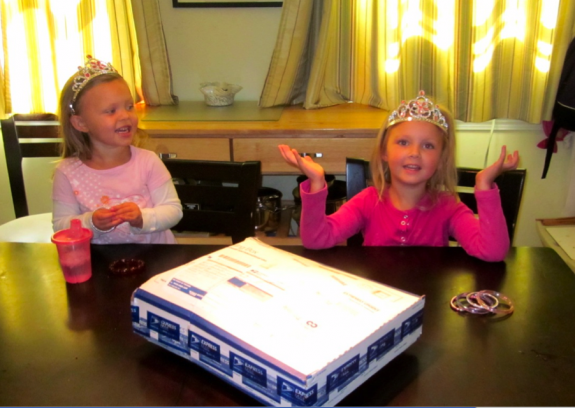 Distance Cooking
Perhaps this is why I'm glad I was selected to be one of this month's cooking for kids Foodbuzz 24×24–a sponsored event that brings together twenty-four food bloggers from around the world to write about a particular topic. I knew that my perspective on cooking for kids would be much, much different than a full time mom or grandparent.
As a full time professional and childless married person, the only option I have for baking for kids is when I put together care packages for friends and family. Since I'm a food person, putting together homemade treats for a care package is a great way for me to share my love of food and for my faraway family. Granted, I wish I had more time and money to hop a plane and go visit, but putting together a care package is a good alternative.
So if you are considering putting together your own care package for young friends or family, here are some things to think about:
Choose healthy ingredients (whole grains, dried fruit, nuts, and natural sweeteners)
Choose recipes for items that store well for a few days. This is especially important when shipping an item far distances.
Baked items like granola, fruit or nut bars, hearty cookies, and jellies are all great treats that will ship well if packaged well.
Choose baked items that don't weigh a lot. Shipping heavy jars filled with goodies may look cute, but the more an item weighs the more it will cost to ship.
Choose a shipping company you trust.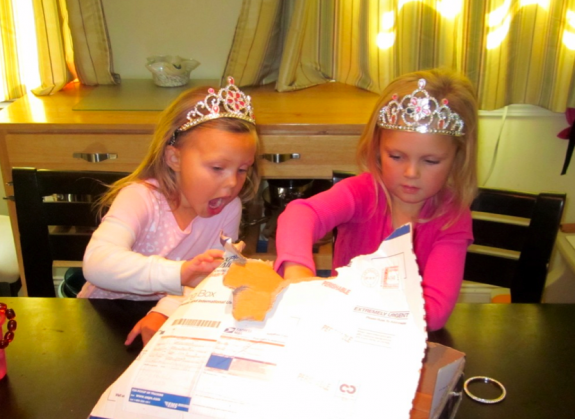 Granola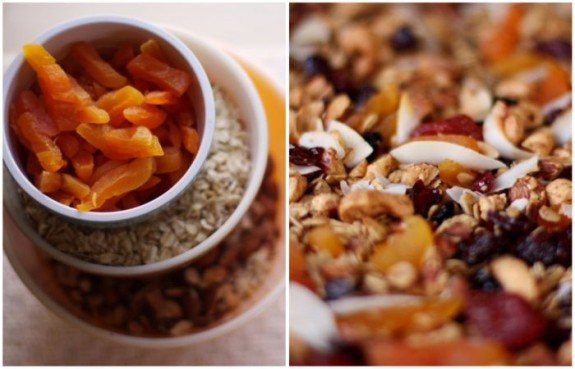 Baked oats, maple syrup, freshly ground nutmeg, dried fruits and nuts make my homemade granola a go-to snack for my brother's little girls.  My granola recipe is tried and true, easy to make, and can be made in double batches. You'll love this granola so much you'll want to make enough for you and your loved ones!
Granola Tip: Swap out fruits and nuts for whatever you have on hand or is available at your local market. For a granola that's more sweet, add chocolate chips or cocoa nibs.
Baked Treats
Because I'm not much of a baker, I asked some of my food blogging friends (and mothers) for their recommendation on some simple recipes for delicious and healthy snacks that would ship well. I asked Carrie Vitt of Deliciously Organic for her advice, and she gave me this recipe for an incredibly easy (and moist!) pecan muffin.
[print_link]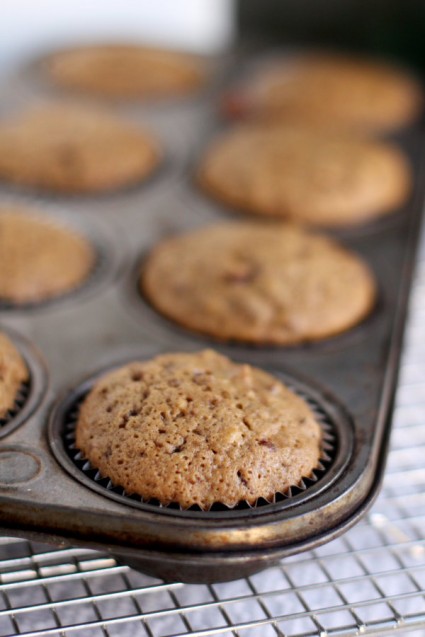 Deliciously Organic's Pecan Muffins
These muffins freeze well. Yields 6 regular sized muffins or 24 mini-muffins
Ingredients:
1/2 cup plus 2 tablespoons whole wheat pastry flour
1 teaspoon baking powder
1 cup muscovado sugar (I used dark muscovado sugar)
1/2 cup unsalted butter, melted
1 teaspoon vanilla extract
1 cup chopped pecans
2 large eggs, lightly beaten
Directions:
Preheat oven to 350 degrees.  Grease muffin pan with coconut oil or line with muffin liners.  In a food processor pulse together flour and muscovado until all of the lumps are broken up.  Pour into a large bowl.  Add melted butter, vanilla and eggs.  Stir until combined. Add pecans.  Using a spoon, divide batter evenly among cups.  Bake until cooked through, about 11 minutes.  Remove from oven and let cool 3-4 minutes, then pop the muffins out of the pan.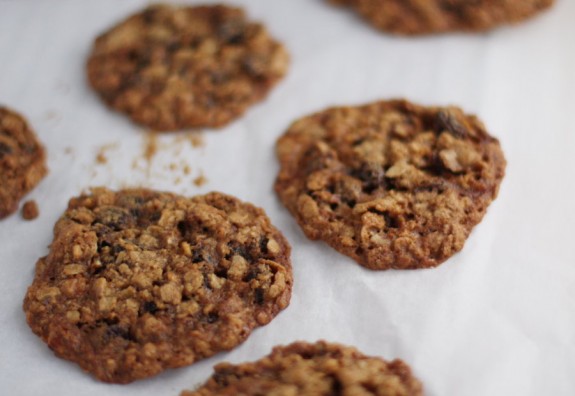 Urban Baker's Oatmeal Raisin Chunk Cookies
This recipe comes from my friend Susan Salzman of  Urban Baker. Susan is mom to three boys and talented baker with an unlimited number of great recipes. When I asked her for an easy and healthy recipe, she gave me this lovely Oatmeal Raisin cookie recipe. Making these cookies was so easy, I'm reconsidering my fearful stance on baking.

Ingredients:
1 cup all purpose flour
1/2 teaspoon baking soda
1/4 teaspoon salt
1/2 cup plus 2 tablespoons (1 1/4 sticks) unsalted butter, room temperature
1/2 cup sugar
1/2 cup (packed) dark brown sugar (I used sifted dark muscovado sugar)
1 large egg
1 teaspoon vanilla extract
1 1/2 cup old-fashioned oats
1 1/2 cup dried raisins
3/4 cup slivered almonds, toasted
Directions:
Position racks in center and top third of oven and preheat to 325°F. Line 2 large baking sheets with parchment paper. Sift flour, baking soda and salt into medium bowl. Using electric mixer, beat butter, sugar and brown sugar in large bowl until well blended. Mix in egg and vanilla. Beat in flour mixture. Mix in oats, raisins and almonds. I like to chill all my cookies dough for at least a day. But you don't have to.
Drop dough by rounded tablespoonfuls onto baking sheets, spacing 2 inches apart. Bake cookies 12 minutes. Switch and rotate baking sheets. Bake cookies until golden, about 6 minutes longer. Cool cookies on baking sheets (cookies will firm as they cool). (Can be prepared 1 week ahead. Store airtight at room temperature.)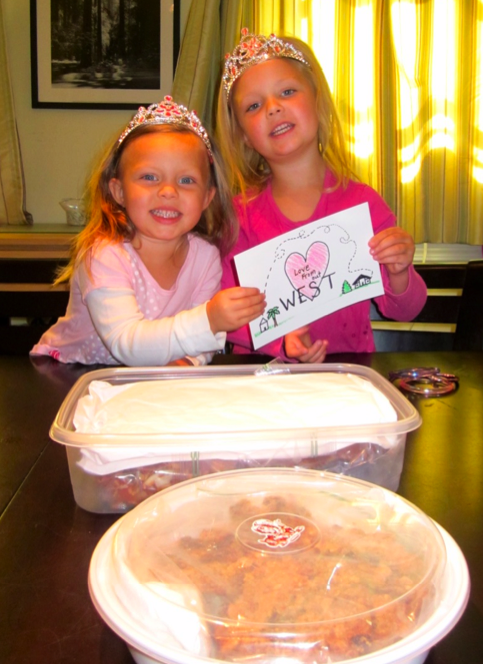 A few notes on Shipping
No matter how frugal you are, the cost of shipping a package may come as something of a shock. If you have baked items that are extremely perishable like baked items, it's important to keep in mind that you will need to overnight the package or get next day shipping. If you create a box of treats that will be fine in a box for several days, obviously the cost goes down when shipping 2-3 days. It cost $40 to overnight my package via Express Mail to Massachusetts.
I will say that I have sent a number of care packages via Express Mail from Los Angeles to the greater Boston area and have been disappointed with the service every time. Though my sister in law was at home the entire day, the package I sent to arrive on October 2nd was never delivered and was left at the post office. Luckily, my brother was able to pick up the package in time for this post and sent me pictures of my nieces.  In the future I will use a private shipping company in hopes of better service.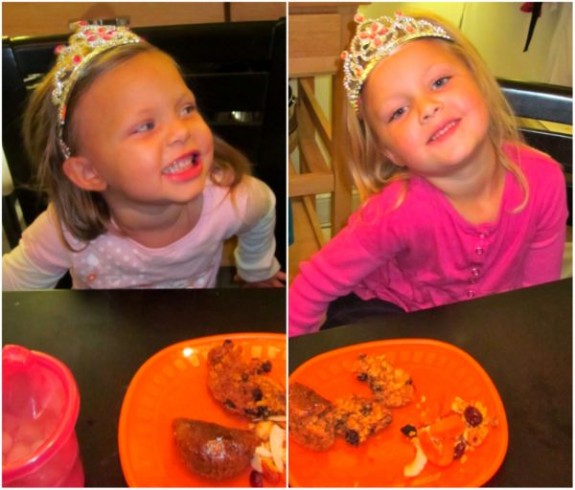 *FoodBuzz pays a stipend to all 24×24 participants to help pay for ingredients and costs associated with producing the post. Other than requiring the 24×24 post title and participating in the event in a timely manner, FoodBuzz does not control any of the content shared here. All opinions and words are mine.
Additional Note: This month's Foodbuzz 24×24 "Kids Table" is sponsored by Frigidaire and supports Save The Children. If you swing by their website you can support children in eating healthy food this holiday and give you a chance to win something too. If your interested in supporting this cause, please take a moment to swing by the site and donate.