Step into a restaurant kitchen in the early morning hours and you will find a machine of dull silver and aluminum-can grey. Its moving parts are meat slicers, oven doors, dish washing machines, and flesh and blood. Men and women, fresh from their beds, stand shoulder to shoulder in the uniform of pressed whites. Hidden are the rock tee shirts, tattoos, and scars from sharp knives. Bandannas and skullcaps conceal the full glory of a multi-color Mohawk, spaghetti curls, and the zig-zagging of a buzz cut.
The light is bright and the polished steel hurts tired eyes. In the kitchen, there are few words exchanged. Covered paper coffee cups and Mexican sweet breads sit untouched. The slicing of onions, the trimming of vegetables, the deboning of fish, and the stirring of stockpots require mindfulness and patience. Every motion is a working meditation. Everything in its place is the unspoken mantra of the kitchen.
Before customers arrive, the world inside the kitchen is deep-forest quiet. Then comes the axe to that serenity, with the rat-a-tat-tat sound of the ticket printer spitting out an arms length of orders.  Despite exhaustion from early morning prep time, a busy service gives the kitchen staff a boost of energy that allows them to push through.
Maybe this is a culinary preamble you're used to hearing. But what if I told you the kitchen I describe is in the corner diner you go to when you don't want to dress up, or at a culinary school you've never read about, or a restaurant that's never been photographed by a very-famous-photographer?
Is a chef not a chef, even if you don't recognize them? Why can't we celebrate the prep-cook? Food bloggers may be champions of ingredients, farmers, cooking techniques, specialty food makers and celebrity chefs—but what about remembering the underdogs for their humility and hard work and commitment to making our daily food?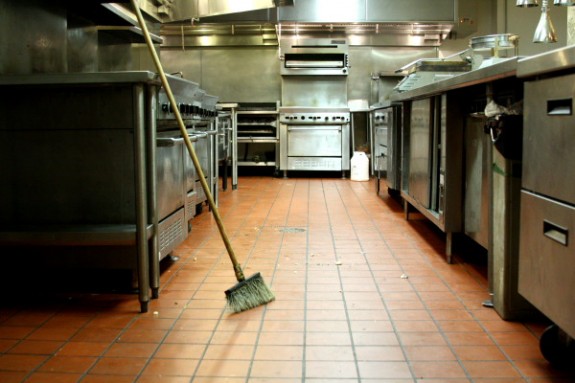 Maybe it's because I work in restaurants that this idea holds so much weight with me. But I can't help but think we in the food blogging community are missing an opportunity to start another kind of trend.  We are great at celebrating the little guy food artisans (to the point that food artisan has been outlawed at the newspaper I write for) and big time food celebrities, but we seem to have missed a great big chunk of cooking humanity in between.
Isn't it time we took on a new cause?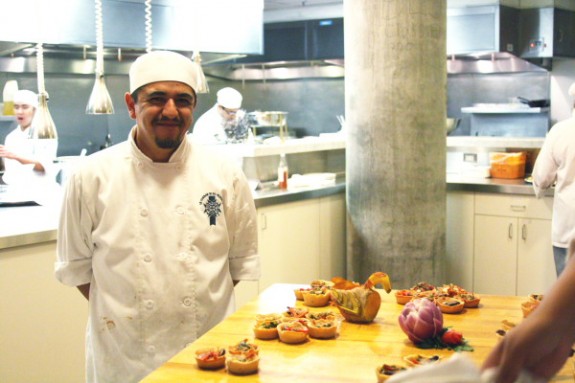 This need to say something percolated to the surface after attending the Blogher Food final night fete put on by the a handful of super talented and generous food blogging ladies at Le Cordon Bleu Culinary school. It was a lovely party, an incredibly fun event, but I couldn't help but notice something odd going on. Despite the fact that the room was filled with men and women preoccupied with food, I saw no collective interest being paid to the culinary students behind the food at the event.  Where were the throngs of dorky food lovers surrounding a wide-eyed student and peppering them with food preparation questions? Where were the sous-chef groupies?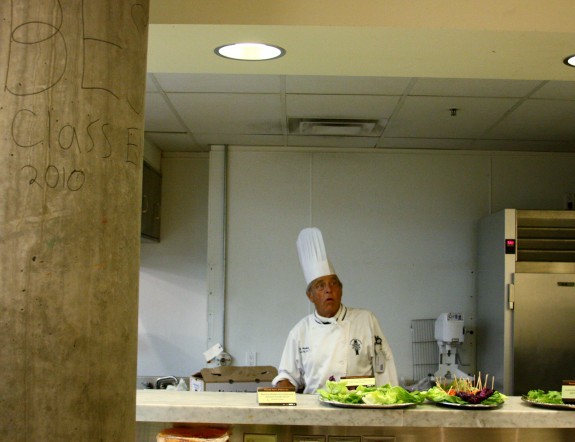 Nobody Cares If You're Not Famous
In a room full of food-infatuated writers and photographers, I noted few cared to focus their attentions on the men and women in chef whites. Granted, this was an event for networking and connecting one last time to the conference attendees, but I was surprised just how little attention the students got (except for a round of applause at the end of the event).
I stepped behind a serving table with a culinary student and started asking questions. What I discovered was a young man with twin interests: he was passionate about his craft, dedicated to creating beautiful food, and consumed with the idea of getting to work with great food makers. I watched his excited expression as guests ate the food he had worked on since the early morning hours, listened as he told me without a hint of disappointment that he was working for free, and shared a laugh over the ferocity of one guest's attempt to get every last drop of soup from his shot glass. Where I felt community on both sides of the table, I saw a great divide between the glittering crowd and the hard working staff in pressed whites.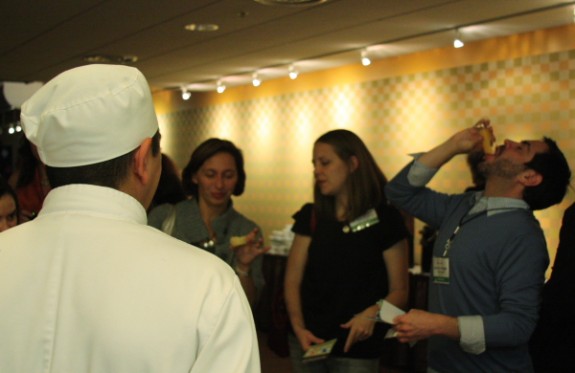 I know I have a much different perspective on things because I work in restaurants—but I can't help but think that the food lovers of this world (and I include myself in this category) have gotten a little too infatuated with celebrity. I say we food bloggers go rogue and celebrate the true underdogs of the food industry. Here's to finding more stories about the prep cooks, the dishwashers, the pastry interns, the small town culinary students, the flavor scientists, the delivery guy who shows up on time, and all the other helpers behind the scenes in the food world.
Because let's face it. Everyone has a role to play in getting food to our plate. Even if they aren't famous.