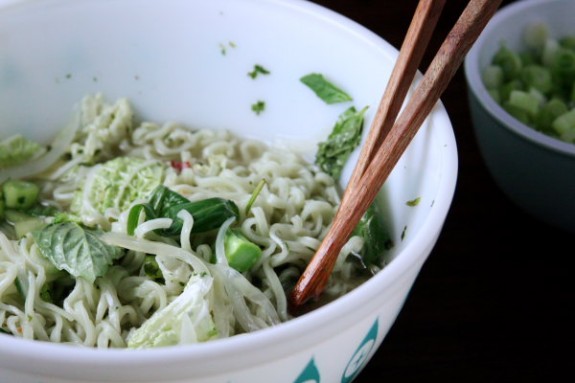 Having a night off from work is a luxury for most restaurant professionals. Since bars and restaurants earn most of their income after the sun goes down, most food industry employees keep vampire hours. We punch in after dusk, work when most people are relaxing (or sleeping), and are left to spend time with friends after the witching hour. I'd even venture to say that if you were to chart the hours of chefs, sommeliers, waiters and bartenders you'd think you were looking at Vampire Bill's stats.
So when I got the exciting news that readers had voted me through to the third round of Project Food Blog*, I knew I didn't have much time to prepare. Luckily, I've held plenty of impromptu dinner parties in my adult life, so I knew just what to do. I would throw a party where all my friends could get creative and eat some delicious Asian-inspired comfort food.
Party Tip: Throwing a great dinner party doesn't have to mean spending hours and hours getting ready. Stay focused. Stick with a theme.
Make-Your-Own-Ramen Party
Since my dinner party would be held during after hours, I would need to serve dishes that were simple and straightforward, and would have to be easy enough to accommodate everyone's post-restaurant/food writing schedules. I decided to offer two courses that would give guests a fresh new look on two of Asia's most convenient comfort foods–Vietnamese spring rolls and instant ramen.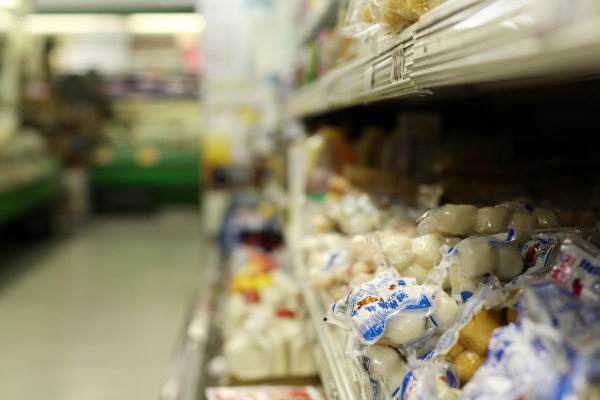 Keeping in mind the advice from chef friends–cook what you know—I purchased fresh ingredients at the local Asian market in Hollywood's Thai Town. I kept my eyes open and my creativity sharp in order to find unique ingredients for my dinner party spread. I sought out complimenting items that could add texture and interesting flavors to Vietnamese hand-rolls (my take on a wrapper-less spring roll) and bowls of instant ramen. I grabbed fresh Thai basil, jalapeno, bean sprouts, pressed/fried tofu, Sriracha, and for fun, I took a chance and added to my cart a package labeled "fish balls" (a kind of rounded fish cake).
Party Tip: If you don't live near an Asian market, you can find many great ingredients on line. You can even order an exoti assortment of ramen through RamenBox (a Los Angeles-based company that specializes in selling some of the world's tastiest instant ramen noodles via the internet)
The Set Up
Back at home there wasn't much prepping to do except chop vegetables and set up a number of pots to boil water for each guest's soup. My husband pulled out a stored away card table for staging ingredients and set the dining room table with plates, vintage mixing bowls (to hold generous portions of soup), and chopsticks. We made sure the fridge was well stocked with bottles of sparkling water, beer and wine for when the guests arrived.
Party Tip: Prep as many of your ingredients before the event as possible. Staying organized is an important step in making sure your event goes smoothly.

Party Tip: Allowing guests a role in your dinner party makes for a much more entertaining evening. Guests feel a sense of accomplishment when their dish turns out beautiful and tasty.
Guests Arrive
Guests came prepared for a night of playing with their food.  Along with their offering of a handful of ingredients pilfered from their own kitchens–left over chicken breast would make for a great featured ingredient for the handroll, as well as a head of organic broccoli from the farmers market for floating in the ramen–my friends brought with them a sense of humor and curiosity. All important ingredients for any play-with-your-food event.
My husband offered glasses of chilled 2009 Etz Kamptal Grüner Veltliner (a refreshing one liter bottle of Austrian wine with good dry acidity and white pepper finish that pairs well with spicy food) or a glass of unpasteurized sake from Japan. Even my friend Karl, a bartender at Michelin-starred Hatfield's restaurant—had an offering for the night, a six-pack of pumpkin spiced beer to add to the eclectic mix of beverages.
After the novelty of nibbling on fresh lychees wore off, I demonstrated to my guests how they should go about creating their first course of the night.
First Course: Vietnamese Hand Roll

The Vietnamese hand roll–or a salad that requires using your fingers–is a lettuce-wrapped package of good flavor and texture. Using red leaf lettuce as a wrapper, you can fill it with vermicelli rice noodles, fresh herbs, and protein. For this event, I suggested to my friends they try using the unusual Thai protein I discovered—fish cake balls—and drizzle the whole thing in a spicy Vietnamese dipping sauce, Nuoc cham (fish sauce, Thai curry paste, Sriracha, sugar and garlic). To pair with this dish, I suggested a small glass of a light and floral unpasteurized sake, Hakushika junmai nama-chozo.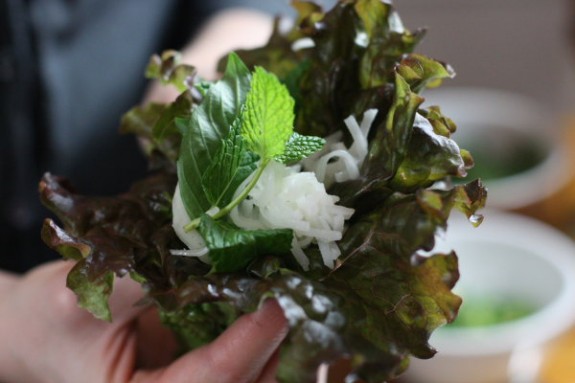 No sooner had the words "fish balls" left my mouth, that the table erupted in a wave of nervous giggles. "Fish balls, you say?"
With leaves of lettuce in hand, my friends chuckled like a group of twelve-year-olds. "Those balls are awfully big for a fish!" They'd say as they crafted their own version of the hand roll. As my guests got progressively more goofy–"How does the poor thing swim with balls these big?"–I sighed with relief. Yes! This party was going to be fun after all.
Party Tip: Good comedy is a sure fire way to make any dinner party much, much more enjoyable.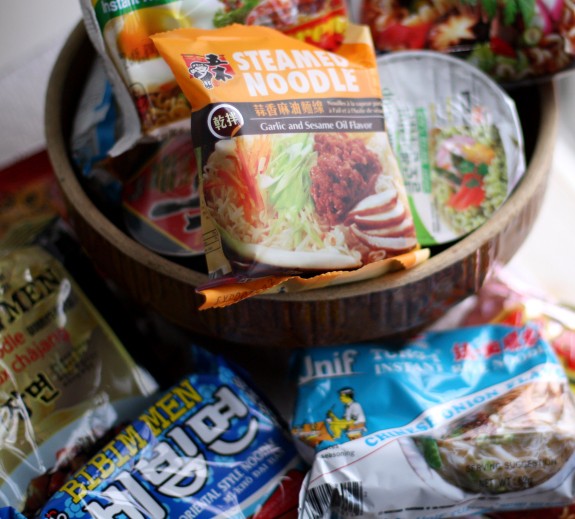 Main course: Make your own bowl of ramen
When conversation lulled and plates from the first course emptied, it was time to get water boiling. I pulled out a box of ramen for my guests to choose the base flavors of their main course. Many of my friends gasped when they saw the amount of ramen I had waiting for them. Many of my friends hadn't seen or tasted ramen since their starving-student days of college, while my friend Paige—a waiter and cheese expert—shared that she had never eaten a whole bowl of ramen in her entire entire life.
I gasped. This was her first taste of ramen noodles. This was going to have to be good.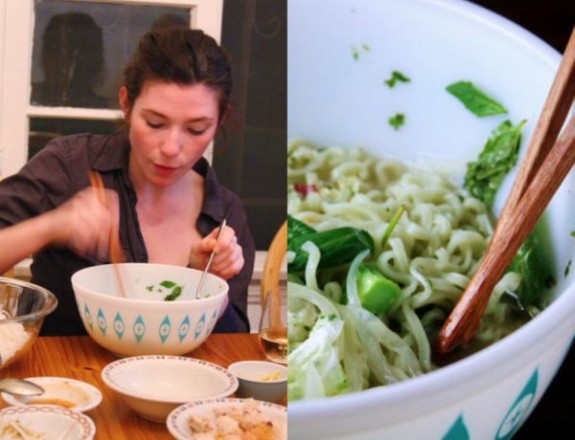 Logistics
Keeping track of the pots of boiling water was the trickiest part of the night. After my friend Leah picked a MSG and Mushroom-free ramen (she's allergic), I suddenly doubted my organizational skills and—rather than see her experience any allergic reactions—I offered her simply boiled water that we doctored with fish sauce and soy to give it flavor. One family-sized Shiitake and Spinach Noodle box made enough for my husband and I to share. I poured the individual servings in vintage mixing bowls to allow for each guest to add as many toppings as they cared to. A cold glass of Beer Lao, a light and citrusy lager from Laos, was a perfect contrast to the spicy and hot soup.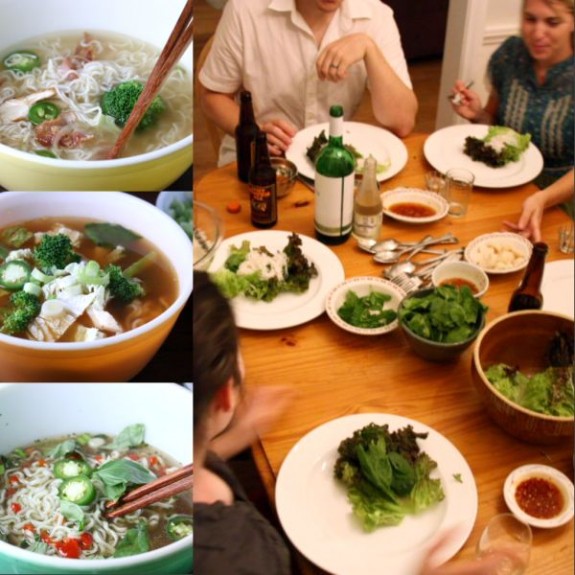 Party Tip: When dealing with guests with allergies, be sure to create a good labeling system to protect guests from cross-contamination.

Another Party Tip: If you are concerned about consuming MSG, skip the flavor packets inside the instant ramen noodles and make your own broth with water, soy, and fish sauce. Sesame oil is also a great flavor enhancer.
Dessert
Because of the late hour of my post-work dinner party,  I relied on some friendly neighbors—our local ice cream shop Milk–to supply us with handmade sorbet. Coconut sorbet and mango complimented the Asian theme of the night and was a simply sweet finale to the evening.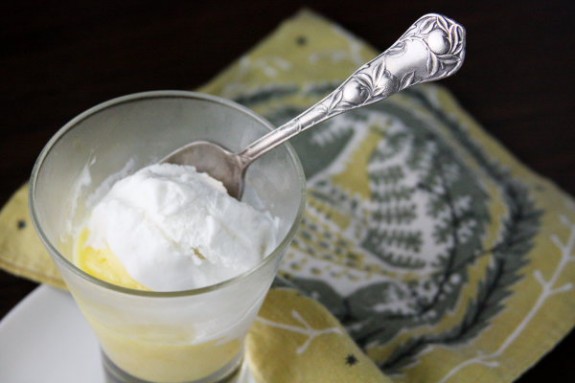 With the last bite of sorbet devoured, a hush came over my guests. Late night digestion had set in. Paige rolled her eyes as she tapped her newly-minted ramen belly. "I'm so full," she said. "I think it's time I go."And so, before the sun rose over Los Angeles, my guests left my house much more warm and comforted than when they arrived.
The menu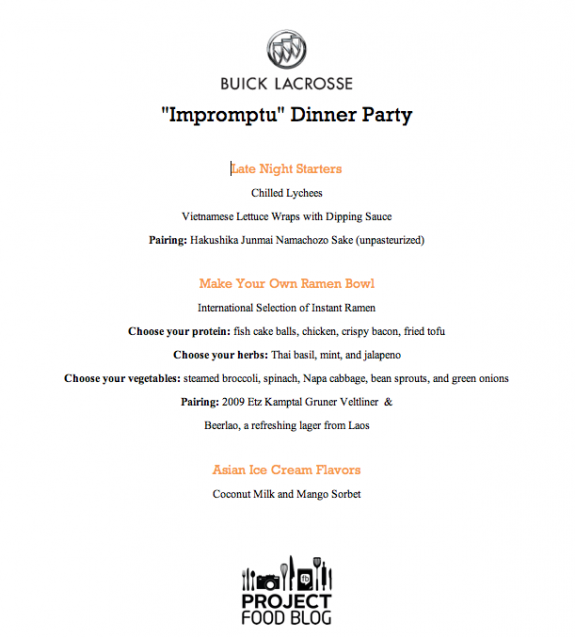 *Thankyouthankyouthankyouthankyou for voting for me and thank you for your patience and support throughout this entire voting process! Please keep on voting, just a couple more rounds until the final $10,000 final round! Voting Opens: 6AM Pacific Time October 4th through 6PM Pacific Time October 7th. Winners Announced: 12PM Pacific Time October 8th