The key to great writing, a wise friend once told me, is to look at the subject from the inside out. "It's not about what you think you should say," he said. "It's about what's going on inside of you." So, though I'd love to say I have a great recipe and sexy food shot for you today, instead I have a recipe for observing*.
Food + Eyes + Nose + Mouth + Imagination = Taste
The first step in this equation is to make a dish. Or buy a ripe piece of fruit. Maybe even sneak a square of chocolate from your secret hiding place. Then, take a quiet moment to take in all that it is. What do you see? What do you smell? What does it feel like? Does this food remind you of something?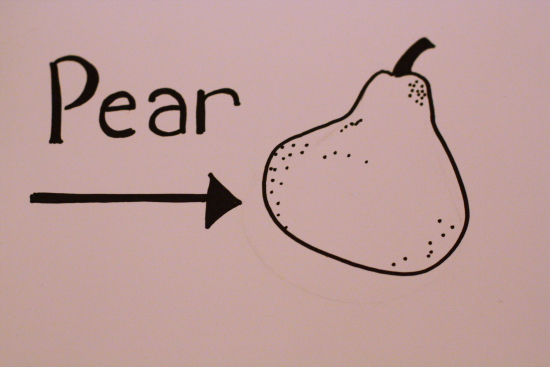 I've been obsessing over pears lately. It all started up in San Francisco when I took an aggressive bite of a perfectly ripe Frog Hollow pear. The surprise of texture, flavor, and—let me be honest here, sticky juice running down my arm–gave me one of those rare food moments that instantly  transported to the bedroom of my mind. Everything about that pear reminded me of tossed sheets and pulled curtains.
If you were at the tasting pavillion at the Food Buzz conference, you might have seen me blush. It's been a while since I had one of those sexy fruit moments.
So, ever since that sensual bite, I've been feeling up pears all over Los Angeles. I seek the green and browned skinned fruit at the market with eager fingers. Is this one soft enough? How about this one? A farmer at a fruit stand today watched me as I picked over a pile of hard, green pears. "These guys are crisp," he said, "but they're really good."
I couldn't hold back my displeasure.  "I want something really juicy and dirty," I said and scurried away before he could identify me. What's gotten over me?
So, yes. Ripe pears are pretty extraordinary. I eat them over the sink with my eyes closed so that I can relish in their messy pleasure. Flesh with the perfume of fall leaves and white fruit makes me whimper a little. My teeth rub up against the miniscule grain hidden within the fruit's juicy inside. And then I go back in for another bite. I contemplate the subtle sweetness of the meat all over again.
No wonder I take my relationship with food so seriously.
Perhaps the thing that's so compelling about food is its base nature. It nourishes—regardless of its pedigree–from the moment it enters the mouth. Maybe it fulfills a nutritional need, a craving, or a purely sensual one. But regardless, once you place that food on your tongue, you begin the process of becoming one with it. I think we food blogger types get stuck at the looking outside of ourselves part of the equation, when really, all the good stuff starts from inside. Go to any food blogging event, and you're sure to see men and women clamoring to get the best picture and forget about the pure joy of the first bite.
So I invite you to skip the technology, the SEO, and all the other shoulds you've collected up along the way. Instead, step up to that darling morsel and sink your teeth in.
Maybe you'll find something new.
Drop me a line if you want to share what you've written!
*Note: No cameras should be involved in this writing exercise. So don't tempt yourself by pulling the old DSLR out of its cushioned bag.