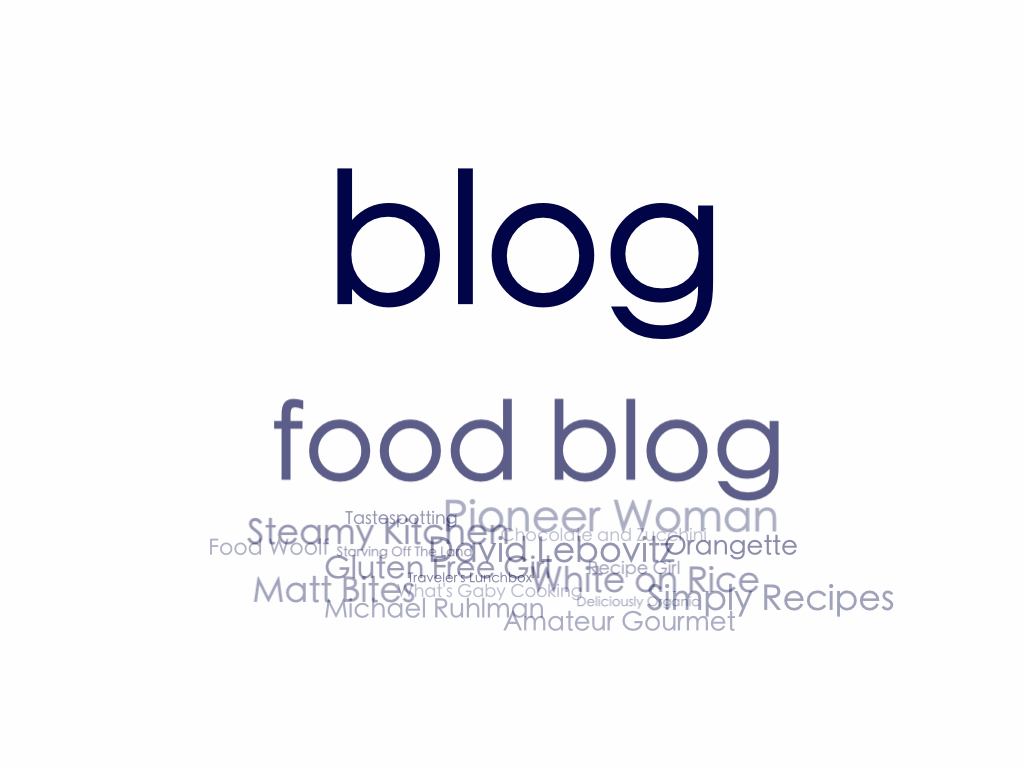 Though I hate algebra and loathe the fact that I still can't quite recall the entirety of my multiplications table, equations are my way of making sense of incredibly complex situations. It all started when I was a kid trying to make sense of a chaotic childhood. Equations like mom + dad + siblings = family worked for me. The simplicity of equations helped me skip the confusing parts (arguments, lack of money, bills not getting paid, neglect).
They say that the adult human mind naturally organizes knowledge of the world into systems—or, in my case, basic equations—in order to understand life's lexicon. Equation-based thinking can be a good thing—until you stop being mindful of the true value of things.
Take for example, this equation:
Food Woolf = Food Blog
Food Blogs ≠ Food Woolf
(Food Woolf is a food blog.  Not every food blog is Food Woolf.)
Yeah, I know. That equation is obvious. But you'll have to be patient with me on this. Because what I'm about to talk about does get a little complicated.
I know that all food blogs are not built to be the same. Yet, there are times when I think we all forget that other blogs aren't built like ours. We get frustrated. We might even get petty. And sometimes, we can even take other people's words and acts personally because they don't share our point of view.
I am a writer and a restaurant professional. I view the world with a very particular point of view. So when I read other people's blogs, I perceive the work from the perspective of a writer and a restaurant professional. I'm aware that there are plenty of blogs out there that aren't looking to win any literary awards. And yet, sometimes—when I'm not at my best–I forget that not everyone has the same goals as I do.
Rather than enjoy a blog for what it is, I can get lost in my internal editor mode. I get irritated by things like ALL CAPS rants, two paragraph posts, and words like yummy, drool, and delicious. Thin stories, laundry list posts, and paragraphs filled with empty descriptions can leave me feeling more than unsatisfied. On bad days, I can get judgmental and angry.
But it doesn't have to be that way.
Food Woolf  ≠ Your Blog
My focus should be on what the blog is, rather than what it isn't. Not every food photographer has a great vocabulary. Not every recipe-developer wants to tell the history behind an ingredient. The savvy business blogger doesn't necessarily want to sculpt a story with their words—they want to optimize their post with the words they pick.
Bloggers do things differently from each other because they are different.  Not everyone shares the same opinion about blogging as I do. Lots of successful food bloggers post for business, others for art, and some do it as a kind of open-cookbook to share with friends and family. What's important is to consider the source and keep those values in mind before embarking on handing out any judgments of the content.
I say all this because it's by breaking things down into simple equations and getting clear on what the value of things are, I realize it's unfair it can be to take how other people do things personally. Doing so would be like getting upset with cat for not being more dog-like.
And honestly, what's the point of that?
I'm sure you've seen plenty of examples of food bloggers venting their frustrations about other bloggers. I've written or said things I've later regretted. I've witnessed negativity spread in the form of gossip, bad mouthing, snarky comments, whispers, and eye rolling. I've even heard the words mommy blogger used in food blogging circles like it's a slur. But why? Surely a blog (popular or otherwise) shouldn't be up for attack because it doesn't jive with your personal style/aesthetic/voice.
Food Woolf may be a food blog, but all food blogs are not Food Woolf.
I'll be the first one to say thank goodness for that.
I'm not a recipe developer, world traveler, programmer, professional eater, restaurant critic, step-by-step food photographer, or a branding genius. There's no point in taking any other person's work or words personally because they don't share my point of view. Even the best of us get small minded sometimes. Maybe it's better to take a deep breath, check our motives, and re-evaluate the true value of things.
Because honestly, isn't it better to give back than to tear each other down?