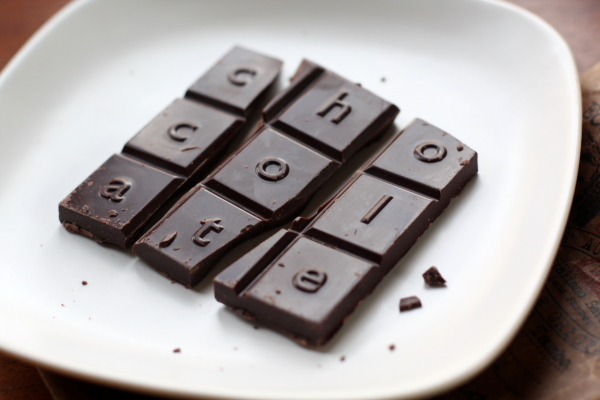 The writer William Blake said, "For nothing is as pleasing to God except the invention of beautiful and exalted things." I can only imagine God is quite pleased with the inspired works and bean-to-bar chocolates made by the good people behind Askinosie Chocolate.
I had my first taste of an Askinosie Chocolate bar one year ago and gained access to an entirely new world of flavor.  With just the smallest square of a San Jose del Tambo Nibble Bar I suddenly became aware of complex flavors and playful textures I had never experienced before. That rough, dark square of chocolate no bigger than a quarter had more flavor compressed into it than any over-sized, American candy bar I had ever tasted. One bite and I was left transformed by its rich and earthy tannins, hints of smoke, bitter cacao (all seventy-two percent of it), and the satisfying crunch roasted cacao nibs.
One bite of Askinosie's chocolate made me a chocolate obsessive.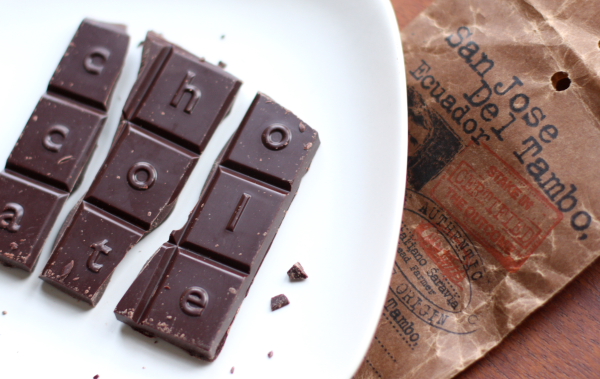 San Jose Del Tambo, Ecuador
70% Cocoa Beans (this includes 2% Askinosie cocoa butter made with the same Ecuadorian beans) 30% Pure Cane Sugar
Askinosie's dark chocolate bar offers a generous bear hug of robust flavor.  Earth, espresso notes, and subtly sweet, this award-winning chocolate bar (it won a Silver Sofi Award from the Fancy Food Show in 2009) is made with high-quality ingredients and techniques that create flavors that linger on the tongue for long stretches of time. What makes this bar so special are the people who make it and the elements within it: cocoa beans, cocoa butter and organic cane juice. The main ingredient–cacao–is sourced directly from farmers in San Jose Del Tambo, a village situated in the foothills of the Andes Mountains and is known to have the perfect micro-climate for growing cacao.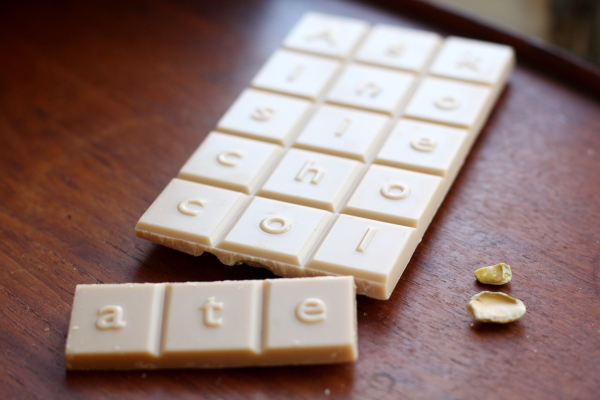 White Chocolate + Pistachio
34% Single Origin Cocoa Butter (pressed in Springfield Mo) made from Davao, Philippines beans
Askinosie's White Chocolate bar is a game changer, as far as I'm concerned. Before Askinosie, white chocolate was something I avoided. But now that I've tasted Askinosie's version, I'll never say never when it comes to white chocolate. The texture of the chocolate bears no resemblance to the waxy, artificial white chocolate bunnies of childhood Easter treats. The heat of the tongue releases seductive, granular bits of sugar.  Teeth excitedly engage in the pleasurable act of working against the soft meat of the organic, roasted pistachios.
This is one chocolate bar I could nibble through quickly, if only to justify the continued study of nuanced flavors and textures. The delicate milky flavors remind me of a creamy halva and dulce de leche, with hints of cardamom and almost-browned butter. The cane sugar used keeps it from having a mind-shattering sweetness. To eat a square of the stuff is to experience joy in white chocolate form.
Akinosie is the first small-batch chocolate maker in the US to make white chocolate from the bean. The main ingredient in Askinosie's white chocolate is 34% natural, non-deodorized cocoa butter made from cacao beans harvested in Davao, Philippines by Peter Cruz (the co-op's lead farmer) and his crew. Askinosie the first small-batch chocolate maker to press and make their own cocoa butter in their factory.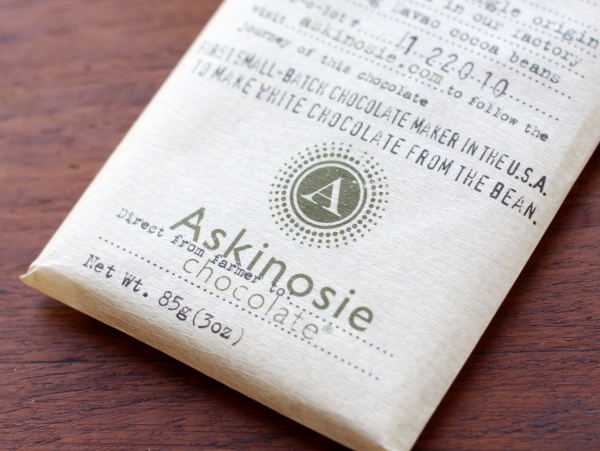 After pressing the Davao, Philippines beans to create the cocoa butter, it is combined with goat's milk powder and organic cane juice. The chocolate making process takes days in the company's 85-year old German melanguer (mixer). Though Askinosie's bean suppliers are not certified organic (the farmers cannot afford the cost of certification), they do not use chemicals or pesticides.
Askinosie chocolate bars are perfect for people who like a lot of bang for their buck. Though these are not inexpensive chocolate bars (they can cost between $8-$11 for a single bar), they last much longer than inexpensive, lower quality chocolate bars that decorate the checkout lane of the local grocery chain.
Beyond an incredible story, great business practices, and incredibly appealing packaging, what keeps me a loyal Askinosie fan is the simple fact that one tiny nibble of one of the bars is enough to last me for an entire day. Askinosie bars are something to be savored while mass-produced chocolate bars heavy with artificial or low-quality ingredients, seem to require fast consumption in order to experience any kind of intensity of flavor. Askinosie may be an American chocolate company, but these bars prove that US-made products can represent the ideal of quality over quantity.