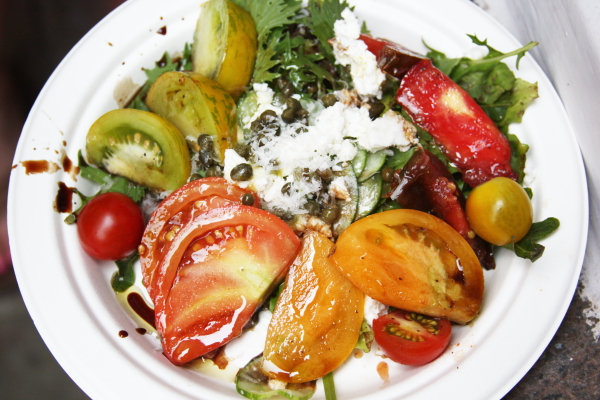 A great trip lingers with you long after you return home. A successful vacation is one where memories are unpacked long after the suitcase is emptied and the laundry is done. For me, the best journeys are the ones that get inside my heart and rearranging things.
It's been more than a week since I came back from Louisiana and I'm starting to realize that my trip reorganized a few things in my life while I was away: I've got new beautiful friendships to foster and a whole new set of cravings to grapple with.
Since my return to LA, my imagination whirls over gems of stories of the Louisiana food world. My daily routine is peppered with flavored memories of diners, ice cream shops, a water-side bar where the locals cook up craw fish outside under a tent, and the all-night beignet restaurant littered with empty plates covered in powdered sugar.
Those memories have been just the reason why I've been spending so much time in my  Los Angeles kitchen (the other LA), trying to recreate some of my Louisiana culinary experiences.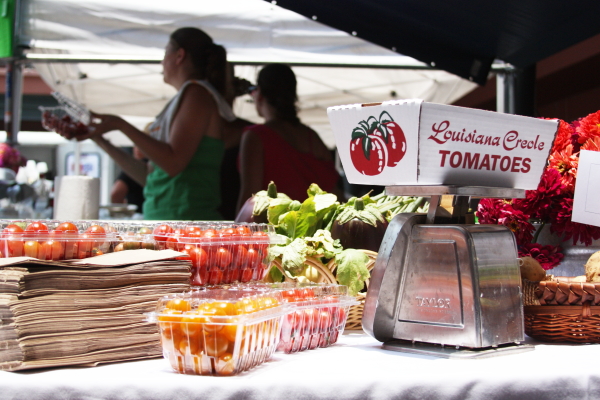 One dish in particular that stopped me cold in my tracks (which is rather hard in the sweltering New Orleans heat), was a tomato salad I discovered at the Tomato Festival from Covey Rise Farms. Covey Rise is a relatively new 25-acre farm located in Husser Louisiana, that's dedicated to growing specialty, small-production produce for restaurants and Community Supported Agriculture in the Louisiana Area.
Unlike commercially grown tomatoes, Covey Rise doesn't gas their tomatoes in order to extend their shelf life. Covey Rise grows Creole tomatoes and other heirloom varietals that are so incredibly delicious, you can't help yourself but devour them the moment you get your hands on them.
Sandy Sharp is the man behind the successful small farm and oversees planting and production. Sharp works directly with chefs like John Besh, Susan Spicer, Emeril Lagasse, and other prominent restauranteurs to grow produce that meet their culinary specifications.
YouTube video from DocNOproductions

[print_link]
Covey Rise Salad
Sun-warmed tomatoes–fresh from the farm–were the jewels in the crown of this beautiful salad. The key to making this salad just as mind blowing as the one I had in Louisiana is picking only the best, most ripe ingredients.
2 lbs. ripe, heirloom tomatoes (I suggest a colorful mix of yellow, red, green, or small cherry tomatoes). Cut into uniformed, bite sized pieces.
2 carrots, peeled and sliced
2 cucumbers, preferably Persian. Sliced
1/2 small red onion, sliced into half moons
2 tablespoons of capers
6 fresh basil leaves, clapped (to release its essence) and torn
1 lime, juiced
3 tablespoons Extra Virgin Olive Oil, the best tasting one you've got
Parmesan cheese, grated
S&P
Feta Cheese, crumbled
*Optional: salad greens (wild arugula, baby spinach, etc.)
Putting this salad together is easy. Throw all the veggies, capers and basil together in a bowl. Sprinkle with a pinch of salt and pepper. Drizzle with EVO, gently toss. Squeeze the lime juice and grated Parmesan over the salad and gently toss again. Taste for seasoning. Plate the salad, finishing the it with the feta.
*If you like greens, be sure to add in your favorite (I suggest a handful of arugula or baby spinach).