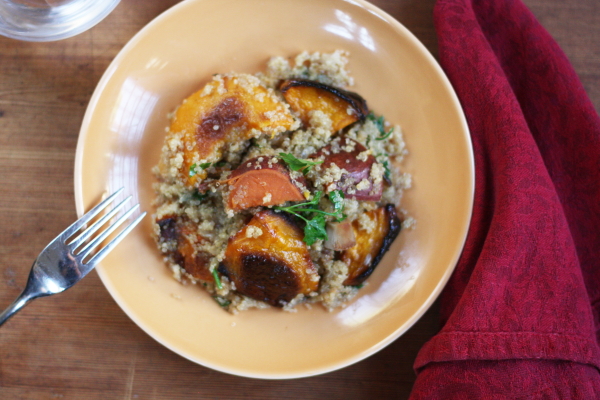 I'm not used to leaving town for my job. Unless you own numerous restaurants or work in a cross-country chain, most people in my business tend to stay in one locale for a long time. Restaurants may be a high turnover business, but most professionals tend to stay at one address for as long as they possibly can. So, it's not every day in the life of this restaurant consultant where I pack my bags and head out of town for several weeks for a restaurant gig. And yet, here I am, packing my bags and organizing my life before I join the talented team of restaurant professionals who will soon open their vibe-dining establishment in Rancho Cucamonga.
I may not have as many posts between now and the end of this month. But I promise to cook up a bunch of great stories while I'm gone and be back in time for Thanksgiving. In the meantime, I leave you with this simple and homey side dish inspired by a photo in this month's Food and Wine. This simple version of a Fall quinoa features butternut squash, sweet potatoes and trumpet mushrooms.
This salad is great as a side dish, a main course, and–if you're looking to turn things up a notch–even breakfast if you fry up an egg and put it on top!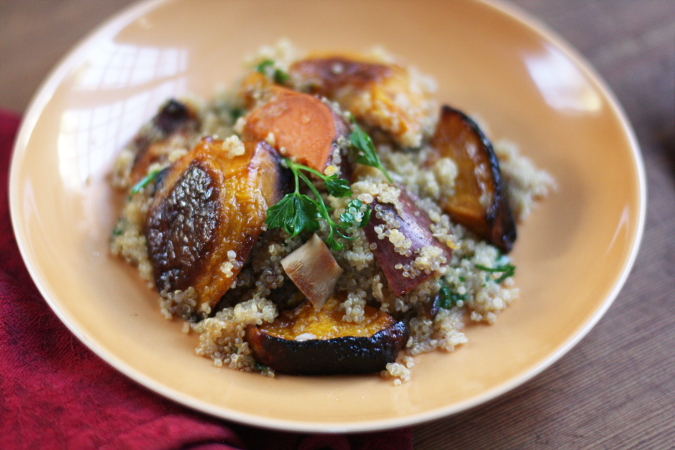 [print_link]
Mushrooms, Squash and Sweet Potatoes Quinoa
One large butternut squash, peeled, halved, de-seeded, and quartered
2 tablespoons of Olive Oil
4 tablespoons butter
2 large shallots, 1 1/2 sliced across; the remaining half, minced
4 thyme sprigs
3 1/2 cups water
2 cups quinoa, rinsed
1 tablespoon of olive oil
1/2 pound oyster mushrooms, cut into 1-inch chunks
1 large sweet potato, roasted
1 tablespoon maple syrup
1/2 cup chopped parsley
Roasting the squash and sweet potato. Preheat the oven to 350.  Either on the cooking sheet or in a bowl, drizzle the quartered butternut squash pieces with olive oil, toss. Arrange on a baking sheet.  Place the sweet potato on the same sheet tray. Roast for about 20-30 minutes and then flip the squash and roast for another 20-30 minutes. The squash should be golden and tender (not mushy). The sweet potato should be soft in the center (test with a knife through the center of it).
In a medium saucepan, melt 2 tablespoons of butter. Add the minced shallot and cook over moderate heat until softened. Add the thyme and the water, season with salt and pepper, and then bring to a boil. Add the quinoa. Cover and cook over moderately low heat until the water cooks down and becomes completely incorporated, about 15 minutes.
In a large skillet melt two tablespoons of butter and a tablespoon of olive oil. Add the sliced scallion and mushrooms. Sauté until soft and browned, about 4-6 minutes. Add the maple syrup. Taste for seasoning. Add the quinoa, squash, sweet potato, and parsley. Serve immediately.