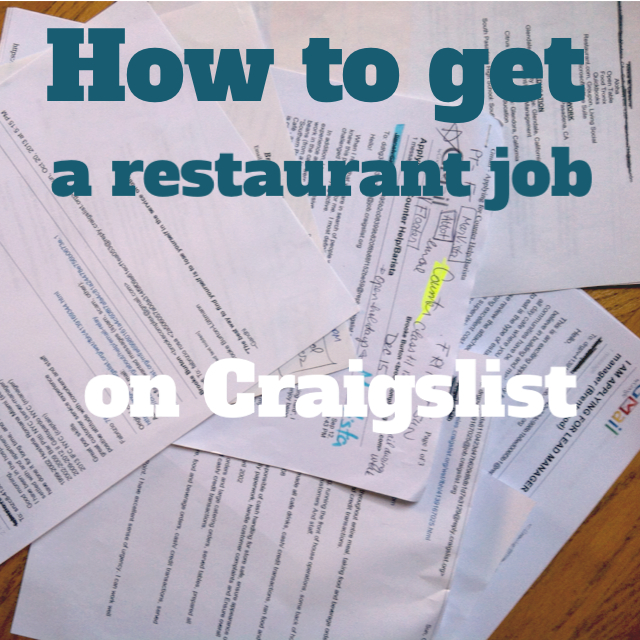 Want to find a great job in the restaurant industry? If you want to get hired, the best thing you can do is to be impeccable and pay attention to every step in the process. It doesn't matter if restaurant work is your life-long passion or a way to pay the bills. How you approach your job search will directly impact the chances of you finding and keeping a great job.
The first step in finding the best restaurant job is to slow down and pay attention to the process. Take a little time to understand what kind of job you really want to get.
Remember: it's better to send out four great cover letters and four great resumes than blanketing craigslist with a slew of resumes via your smart phone.
Figure out what kind of job you really want.  Before you send out a single resume, get clarity on what kind of job you really want. Are you seeking a full time job as a bartender at a fine dining restaurant or a part time counter job as a barista? Do you want to make the transition from server to manager?
Don't send a resume to job posting that you don't really want. Sending resumes for a position you aren't really interested in is a waste of time for you and for the people looking to hire you.  Don't let financial stress or fear motivate you to send resumes for a job you wouldn't enjoy doing.  Only apply for jobs you would actually want to go to every day.
Don't bother applying for a job you don't really want for the long haul. If you really want to be a bartender at a night club, don't waste your time applying to a fine dining restaurant. If you are passionate about being a vegetarian you probably wouldn't want to work at a steak house. Figure out where you can be your best and what kind of work you really want to do.
Read the job posting carefully. Finding a job can be a stressful process. Don't let the pressure of finding a job keep you from paying attention to the little details.  Before you send your resume, make sure you've read the posting thoroughly. Employers put specific directions of how to respond to the job posting within the listing in order to determine if applicants can follow directions. Failure to follow directions can land qualified applicants' resumes in the trash bin.
WRITE A COVER LETTER! Sending a resume without a cover letter is like throwing an application at the hiring manager and walking away. Use the cover letter to be courteous and say hello. Tell the hiring manager who you are and why you really want this job. When you take the time to explain who you are and what makes you uniquely qualified for the position, it helps you to stand out from the rest. A cover letter specifically tailored to the job posting tells the hiring manager in charge that you care enough to speak with them directly and that you are interested in making a good first impression.
Be impeccable. How you act at your current job or in your job search has a way of effecting all your other jobs. If you allow bad habits to set in — skipping steps, forgetting to call, not showing up for an interview on time — these mistakes have a way of trickling over to your next gig. Be the best version of yourself in all that you do.  Don't burn bridges. Be impeccable.  If you want to leave your current employment and find a new job, do it in a graceful way.
Have good manners. If you have the good fortune to be called in for an interview or have a follow up conversation, respond in a timely way. Thank the person for their interest in you. If you have already found work or have a conflict in an interview time, still respond.  If you find your are running late for your interview, call. Not calling and not showing up for a scheduled interview is terribly disrespectful and shows a lack of character. If you respond to a post using your smartphone, don't forget to address the person in the email by name when you respond.  Failure to address a correspondence with a person's first or last name shows a certain level of disrespect and a lack of professionalism.
Responding to an ad for a restaurant job may not seem like the most important thing you'll ever do, but if you can't focus on doing the best job search possible, how can you prove you will be focused once you get the job?