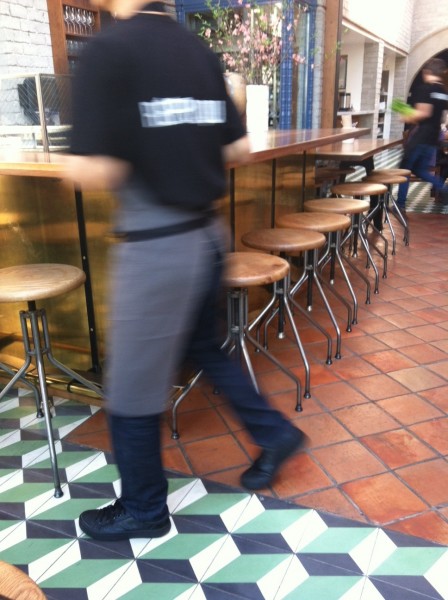 We live in a time where chefs are celebrated like rock stars and restaurants make great TV.  But no matter how popular chefs have become, the people who wait tables, deliver food, and clear dishes exist outside the realm of cool. Service staff occupy a space that's filled with shame.
Discrimination against service staff is so hardwired in individuals, even journalists are unaware of their bias. The media may do a good job of elevating the status of chefs in the eyes of the dining public but many do much to continue the stereotype of a servile service staff.
Flip through a newspaper or magazine or peruse an online media site and you will find that the largest percentage of stories about waiters focus on unfavorable service styles or controversial tipping practices. Hospitality leaders like Danny Meyer may be cited in profiles about elevated service but the media does little to raise the public opinion of servers, bussers, and runners alike. Rare are the laudatory profiles of service professionals that deliver in the dining room. It seems that in popular culture, there's no honor in making a living as a server, busser, runner, or barista.
In my professional experience, service professionals who identify themselves as career waiters or full time bussers are regarded by friends, family, customers, and the business community with pity and dishonor. Shame motivates many full time waiters and service staff to hide details of their restaurant work from friends, family, or acquaintances. Service work is—if referred to at all—is spoken about as a way to "pay the bills" until they get "a real job".
Service as an honorable profession
When I started in the restaurant business in the 90's, I never considered my work as a bartender or server as a career. I thought my service position was means to pay my bills as I worked my craft as a writer. Yet despite my initial embarrassment for my position as a bartender and waiter, I proceeded to fall in love in the business of serving food and drink. I began to see how great service, empathy and knowledge of the restaurant's products could help build business through loyal, return customers. I started to recognize that the work I was doing was something of performance art. Being a bartender and server required a lot of creativity, courage, and organization.
It wasn't until I became a restaurant manager at an innovative restaurant in Los Angeles that I began to look at my work in restaurants as an honorable profession. Since then I have made it my business to teach service as an art form and spread the message that being of service to others is as a career worth being proud of.
I encounter a surprising amount of resistance from some restaurant owners, fellow service workers, and diners when I present them with the idea that career service people are professionals worth investing in and growing.  From restaurant owners to diners alike, many regard service staff as replaceable, transient people with little to no professional skills. Even the people I interview for positions within the industry point to their restaurant experience as a means to an end that will eventually get them to their real career.
I believe that professional service staff are artisans of service committed to the art of sales, intuition, multi-tasking, empathy, urgency, grace, and patience in the dining room. Career service staff have mastery of food knowledge, wine, drink, wit, and culture.  All this work, and yet it's an uphill battle for many service workers to be regarded (or think of themselves) as professionals pursuing an honorable profession. When a day job is looked upon as a career of humiliation—not seen as a career structured around humble service—it's hard to look forward to going to work.
Many of the culinary professionals I work with are highly skilled individuals who struggle with an internal and external battle of shame. They are looked down upon for the work that they do by their peers and customers.
Really, what is so disgraceful about being of service to another human being?
I hope we can start a conversation about the shame in the restaurant industry and the subtle discrimination restaurant service workers face inside and outside of this country's dining rooms. I hope talking about the shame around the service industry will turn on the lights of understanding that taking care of others is an honor and a beautiful thing.
I dream of a day when the men and women who wear aprons and don service uniforms at their restaurant job can come to work with a sense of pride and enthusiasm for being seen. I pray that someday in the not too distant future, the hard work of a service team would make diners giddy with excitement as they witness hospitality so grand it entertains them as much as a rock and roll show. I hold in my heart the possibility of girls and boys hoping with all their heart that maybe someday they could be cool like that great waiter or graceful busser.
I have a dream that one day our career goals will be secondary to the inner calling of wanting to be of service to others. How will you honor hospitality in your life and in others today?
[contact-form][contact-field label='Name' type='name' required='1'/][contact-field label='Email' type='email' required='1'/][contact-field label='Website' type='url'/][contact-field label='Comment' type='textarea' required='1'/][/contact-form]