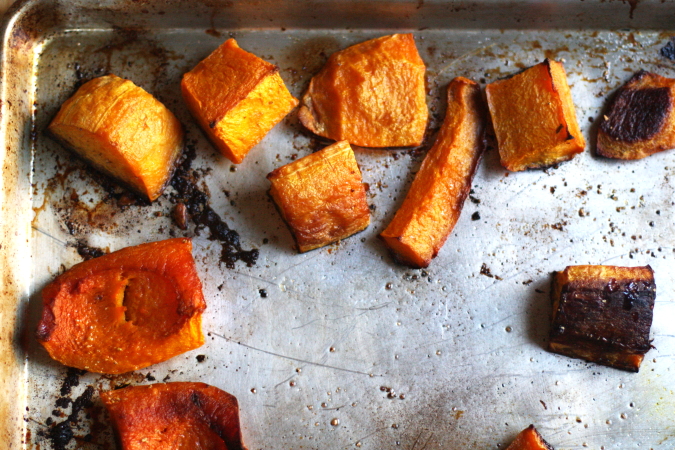 Matt Damon, Paula Poundstone, Ted Kennedy, Janine Garafolo, and Dennis Leary are your typical New Englanders. They might not be California good looking, but they're whipsmart and tough as nails. Which is probably why, as a born and raised New England girl, I feel such an affinity for Butternut Squash.
If there was any one vegetable that could represent a New Englander's sensibility, it would definitely be the ever-reliable butternut. Hearty, thick-skinned and slightly awkward, the butternut squash is undeniably bright and sweet. With sunset orange meat, its straightforward flavor is a perfect counterpoint to its hearty packaging. This tough on the outside, tender on the inside little vegetable saves the traditional Thanksgiving meal of stuffing, gravy and turkey from being nothing but a blur of woodsy browns and earthy tans. Get to know the butternut squash and you'll suddenly realize, like any other good New Englander, it's a real charmer.
A LIFE CHANGING EXPERIENCE
Imagine my surprise, after a lifetime of eating baked and puréed squash, to discover a whole new way to eat Butternut. I was on my honeymoon in Italy when it happened. It was lunchtime in Montepulciano and My husband and I avoided the tourist trap restaurants with English menus in the windows and searched for an eatery that catered to the locals. We were almost to the end of town when we found the Osteria Aquacheta, a quaint little restaurant owned by a food obsessed owner, in the heart of downtown Montepulciano.
We took a seat at one of the last paper-covered tables in the tiny dining room and ordered a pasta course and a primi course with some accompanying sides. Our meal started simply with ricotta stuffed ravioli in butter and a hearty ragu over pici (a local thick, round pasta). Our plates were cleared to make way for the primi course, or main dish. It was then that the pleasant waitress delivered the side dishes and the main course. Though there were beautifully sliced zucchini and a gorgeous braised beef in buttered breadcrumbs, I never noticed them. It was the side dish of Butternut Squash with Pecorino Fresca that held my complete attention.
If I remember correctly, I was speechless.
This is a picture of my dish before I devoured its hot, gooey deliciousness. The meat is tender but not overcooked. The sheep's milk cheese's buttery, earthy and nutty flavors compliment the sweetness of the Butternut perfectly without overpowering it. Olive oil, Butternut Squash and soft, fresh Pecorino baked together created a heavenly symphony of flavor. It was a revolution of simplicity. It was in that first bite of the layered squash dish that I really started to understand the understated elegance of Italian cuisine. Use fresh ingredients and get out of the way.
And in that moment, I was reborn.
As soon as my plane landed on November 8th, I've been working out the details of the recipe. I've tried Pecorino Toscana (nice nutty flavor, but too dry to cook with) and Ricotta Salada (looks creamy enough but doesn't go gooey like it should) and found that really the only cheese that works is Pecorino Fresca, a hard to find, and slightly soft sheep's milk cheese that is perfect for cooking.
After purchasing my Pecorino Fresca at the newly improved Joan's on Third (Beverly Blvd., Los Angeles) and butternut squash from the Hollywood Farmer's Market, I was ready to go. I made this for Thanksgiving and probably will for the rest of my life.
Butternut Squash Gratin
2 Butternut Squash cut 1 inch rounds from the neck of the squash. Reserve the bottom circles of the squash for another use.
½ lb Pecorino Fresca (cut into ¼ inch thick squared slices)
Olive oil to drizzle
Malden Sea salt
Preheat oven to 375. Peel the squash, cut into rounds and drizzle with a little olive oil. Use your fingers to coat every side of the squash rounds with the oil.
**If you like uniformity, use a can (coffee can? Soup can?) to make all the rounds the same size and shape.
Bake the squash rounds for 20-30 minutes or until the squash is nearly finished cooking. It will be tender to the touch of a fork. Set aside to cool enough to work with.
Now you are ready to bake the dish with the Pecorino Fresca. As if you were making lasagna, vary the layers of squash rounds and squares of pecorino fresca. Bake until the cheese is runny and gooey.

Turn the oven to broil and put the baking dish under the flames until the cheese is caramelized.


Enjoy. It's a wicked good dish.