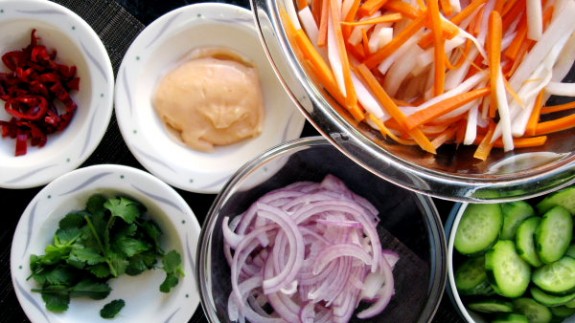 All it took was one bite of Vietnamese food to turn me into a hungry student of the cuisine. That first mouthful inspired me with its hot, sweet, and spicy. Rice paper was a revelation. Fish sauce was a pungent wake up call. The perfume of a fresh kaffir lime leaf and lemongrass enchanted me and filled me with a desire to learn.
My first encounter with the cuisine of Vietnam was in the kitchen of a rocket scientist who lived in the neighboring town of Cambridge, Massachusetts. My friend Mark was a smart guy who loved to travel the world for science and food. The aromas emanating from Mark's kitchen were unfamiliar. The pot on the stove—the source of all that I smelled—was covered to hide its contents. There a book-marked copy of Mai Pham's "The best of Vietnamese and Thai Cooking" perched on the nearby counter.
I was in my mid 20's, living just a short drive from my small town, and knew almost nothing about Asian food cultures. My knowledge went as far as what to order at the local sushi restaurant and Chinese take out spot.
"Close your eyes," Mark said. He spooned a bit of the soupy broth from the splattered stove top.  "Taste."
The high-note spices, the sweet aromatics, and the delicate textures left me speechless. What was that flavor? Pumpkin? Coconut? I was in the thick of a culinary awakening.
Soon after this experience, I got the news I was accepted into film school. I packed my bags for Los Angeles, but just before I left, Mark gave me my very own copy of Mai Pham's cookbook. That cookbook became my passport to food exploration and, eventually, a bridge to cherished friends. My copy is colored with more than a decade's worth of experimenting.
My Five-spice Chicken Banh Mi is truly is happiness on bread.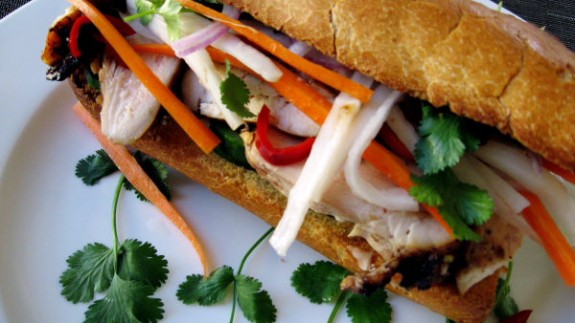 [print_link]
Five-Spice Banh Mi
Adapted from Mai Pham's Bon Appetit December 2005 recipe
The bread used in Banh Mi is extremely important. If you don't have a Vietnamese baker in your town (or city for that matter), I recommend finding the best French style baguette you can. The texture you want is crispy crust and fluffy interior. For great Vietnamese bakery suggestions, go to
Battle of the Banh Mi
for details. If you live in Hollywood and don't want to drive down town, I'd recommend getting your baguette from the
Bread Bar
.
Though there's a lot to do, this recipe is relatively easy if you stay organized.
Ingredients:
Marinated daikon and carrots
¾ cup sugar
¾ cup distilled white vinegar
¼ teaspoon (rounded) salt
3 cups daikon—cut into matchstick-size pieces
3 cups carrot—cut into matchstick-size pieces
Five spice Marinated Chicken
1/4 cup soy sauce
6 garlic cloves, minced
4 shallots, chopped
2 tablespoons fish sauce
1 tablespoon sugar
2 teaspoons five spice powder
6 large skinless boneless chicken thighs**
**I bought chicken breast and thighs from Whole Foods and took the skin off myself. I de-boned the breast and cooked the thighs off with the bone in.
Spicy Lime Mayonnaise
¼ cup favorite mayon
juice of one lime
Sriracha hot sauce (to taste) 1-3 teaspoons should do it!
Sandwich Mise-En-Place
6 6-inch baguettes, cut down the center (don't cut all the way through)
1 English hothouse cucumber (or two Persian cucumbers), cut into ¼ inch thick slices
½ of one small red onion, cut in half through the stem, thinly sliced. Rinsed and drained.
12 fresh cilantro sprigs
2 jalapeno chilies, thinly sliced crosswise
Preparation:
For marinated daikon and carrots:


Whisk first 3 ingredients in a large bowl until dissolved. Add daikon and carrots; toss to coat. Let stand at room temperature for 2 hours. Drain well.
For Spicy Lime Mayonnaise:
Squeeze the juice of one lime into mayo. Add Sriracha one teaspoon at a time. Stop with preferred spiciness is achieved. Have nearby with other sandwich mise-en-place.
For marinated chicken:
Mix first 8 ingredients of chicken marinade together and put into a 13x9x2 inch-baking dish. Add chicken; turn to coat. Let marinade at room temperature for 1 hour. Turn often.

Preheat Broiler. Cook chicken approx. 6-minutes per side. Check that meat isn't pink inside before removing from heat. Transfer to plate; tent with foil to keep the meat warm. When ready to serve, slice.
For Sandwich:
Grill the bread until just toasted. Spread spicy mayonnaise on bottom half of baguette. Top with cucumber slices. Fill sandwich with the meat of one chicken thigh (or breast, if that's what you have), drained daikon and carrot, onion slices and cilantro sprigs. Sprinkle with jalapeno slices and ground black pepper. Serve with cucumber and fennel salad.

Spicy Cucumber and Fennel Salad
Adapted from a Mai Pham recipe
Dressing:
1/4 cup sugar
1/4 cup rice wine white vinegar
1/2 teaspoon salt
3 tablespoons water

Salad:
1 hothouse cucumber (or 4-5 small Persian cucumber) thinly sliced
¼ of a fennel bulb, thinly sliced and halved for bite sized pieces
½ small yellow onion, finely chopped
1/2 teaspoon of Sriracha sauce
6 fresh cilantro sprigs, chopped

*Optional, you can add 2 tablespoons chopped roasted peanuts for garnish

Combine rice wine vinegar, sugar, salt and water in a mixing bowl until well blended. Add the rest of the ingredients and toss well. Let sit at least 15 minutes, then serve.