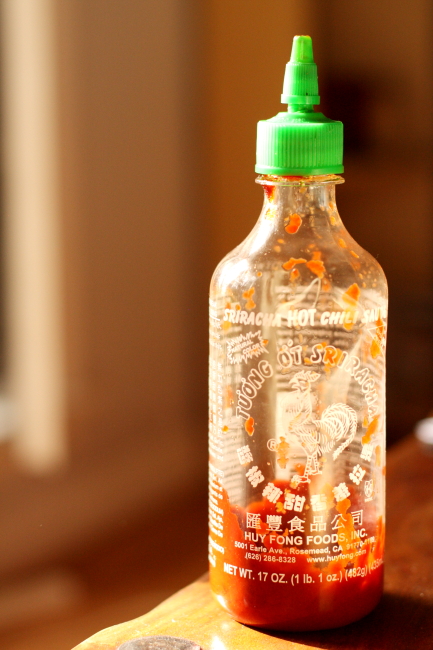 This city has taught me a lot about food, but one of the most important food lessons came in the shape of a plastic bottle with a green cap and nozzle. Sriracha–a sauce created by a Chinese immigrant from Vietnam who relocated in Los Angeles–has flavors that are warm and spicy–like ketchup mixed with garlic and smoked jalapeno. It's a magical sauce that can transform anything into something spicy good.
During those formative first few months in LA, I spotted the rooster sauce on restaurant tables all over LA–from the Mexican taco stand, late night diners, Chinese restaurants, and an all night Thai place in Hollywood where a Thai man with thick black hair dressed up like Elvis and sang between courses.
I was hesitant to try the spicy red sauce. Before I became a citizen of a multi-cultural city, I had never been exposed to a food city where Mexican, Guatemalan, Thai, Japanese, Korean, Chinese, and Middle-Eastern dishes could be found within miles of my home. I was brought up on simple foods and avoided spice wherever possible. But once I took my first taste of Sriracha sauce I was hooked. I bought a bottle at a Thai market not far from my home and began experimenting with it. Sriracha perked up my scrambled eggs, made the cheap frozen pizzas a I survived on more palatable, and took my Thai cooking up a notch.
In the years since my discovery, I have figured out a way to work Sriracha into many of my mainstay recipes, including sauteed kale, chicken banh mi,  caramel pork banh mi, and edamame dip. So when one of the food-loving employees at the restaurant I consult at, told me a story about the Sriracha marinaded fish she cooked the night before, I got inspired. Rather than make my usual roasted chicken for dinner, why not make Sriracha chicken instead? Rather than making things complicated, I kept this recipe really simple.
If you are a fan of roasting chickens, this variation is simple and goes a long way with flavor. The key to the success of this dish is rubbing the bird with the Sriracha a couple of hours before you serve it. Other than that, that's it. If you want to go the extra mile and turn the pan drippings into a gravy, go for it. The gravy gets a spicy, mole-esque flavor from the browned sriracha and chicken grease. Yum!
1 whole chicken, rinsed and patted dry
1/4 cup Sriracha–or just enough to slather the bird in a good coat of sauce
Kosher salt
For gravy: white flour and chicken stock
Preheat the oven to 425.
Once you have rinsed and dried your chicken, slather it in sriracha sauce. No need to measure out the sauce, just pour it onto the chicken and rub it all over the bird until it has a nice coat on it. Sprinkle with a nice dose of kosher salt. Rinse your hands!
Place the bird in a skillet and place in the preheated oven. Tent with tin foil if you want to minimize grease from splattering all over your oven. Place bird in oven. Flip the bird over after 25 minutes. Return to oven for another 20 minutes. After the bird has cooked for a total of 45 minutes, check the inner temperature of the bird (at the connection between the thigh and the back legs of the bird—being careful not to hit the bone with the meat thermometer). If the temperature reads 160-165 degrees the bird is done. If not, return the bird to the oven. Check on the bird's temperature in 5-10 minute increments until the bird's internal temperature reaches 165 degrees.
Remove the bird from the oven. Before placingthe bird on a serving platter to rest for at least 5 minutes, pour the bird's juices into the skillet. Tilt the bird so the juices can pour from the internal cavity, a lot of good juices like to hide there.
Tent the bird with foil as it rests. Meanwhile:
TO MAKE A GRAVY:
Put a heaping two tablespoons of flour into a small jar (one you have a lid for). Add enough water (6-8 tablespoons) to blend the jar. Cover the jar and shake vigorously to create a white flour and water mixture. Then, using an oven mitt, return the skillet to the stove-top over a medium high flame. Using a wire whisk, add a small amount of the flour/water mixture to the chicken grease/juices. Mix well until it begins to thicken. Slowly add the rest of the flour/water.
If the gravy is too thick (there isn't enough liquid), you can add a splash of canned chicken stock, apple cider vinegar, or wine to the mixture. If there isn't enough grease in the mixture, add a pat of butter to the pan.  Stir. Taste the gravy. Add salt or pepper for taste.
Once the bird has rested for 5-10 minutes, slice and serve. Top with gravy.