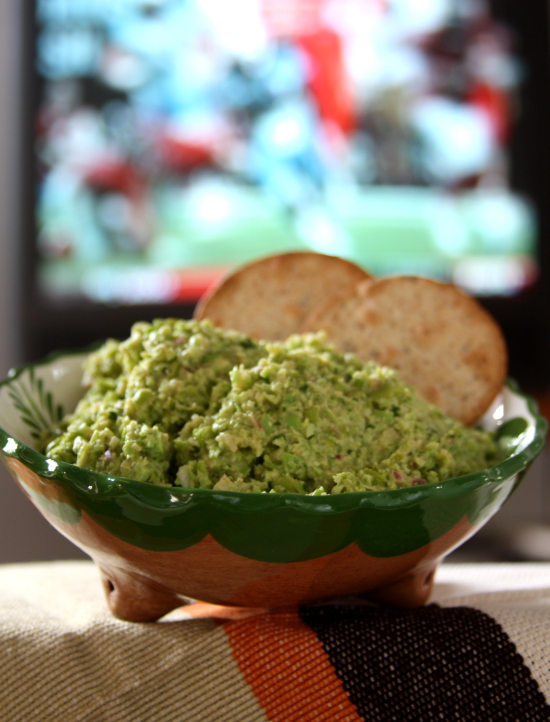 Okay, so I'm not a sports fanatic. But count me in as a front row enthusiast if there's a lot of great food involved. Take for example this healthy dip for Super Bowl Sunday. Throw a handful of fresh ingredients like garlic, parsley, and bright green edamame into the food processor and in just minutes you'll have a fresh and easy dip that's high in protein, big in flavor, and makes eating it a guilt-less pleasure. What a great change from the high fat onion dip of my past!
I grew up in Massachusetts eating chips and salsa, submarine sandwiches, and cherry-red chicken wings on Super Bowl Sunday. My friend Jason Travi, the former chef of Fraiche and Riva, showed me that a Super Bowl party could be a culinary opportunity. This Massachusetts chef never even thought about serving popcorn and cheap beer, and instead offered us  caviar on blini, handmade meatball subs, champagne, and artisan beers. It was, by far, the most elegant spread I'd ever seen for a Pats game. I was a changed woman.
So now I say toss out the jarred dips and plastic tubs of processed cheese, and embrace the bounty of your backyard garden, local farmers market, and healthy grocer. Make burgers with grass fed beef. Make Elise's (from Simply Recipes) beef tacos and don't tell anyone that they're made with tongue until the very last one is polished off (in two seconds flat). Or, throw together a great tasting version of BBQ chicken wings from Steamy Kitchen that will make you happy to indulge.
My recipe for edamame dip is perfect for any party, and is a great choice if you live in a place where avocados aren't in season or are hard to find. This wonderful edamame dip's bright green hue and protein rich ingredients will make this your no-guilt choice on Super Bowl Sunday.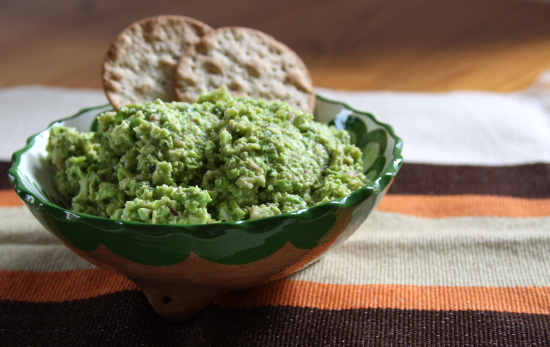 [print_link]
Forever Green Edamame Dip
This dip will be the hit of your party and should disappear quite quickly. Any remaining dip can be used as a spread for a sandwich the next day. This is a great late night snack—I recommend having a bag of frozen edamame on hand at all times!
16 oz frozen, shelled edamame (unthawed)
½ cup flat leaf parsley, chopped
¾ cup red onion, finely chopped
2 cloves garlic
6 tbsp olive oil
2 ½ tsp Sriracha
2 lemons, juiced
salt and black pepper to taste
Boil a small pot of water. Turn off the flame and add the contents of one bag of shelled edamame to the water. Stir for five to ten seconds and immediately drain (the point here is to just barely thaw the edamame, not cook them all the way through).
In a food processor, combine all the ingredients and blend until it starts to become smooth. You'll want to leave some chunks for texture. Taste for seasoning. Transfer to a serving bowl, cover, and refrigerate. Serve with your favorite tortilla chips or crackers.