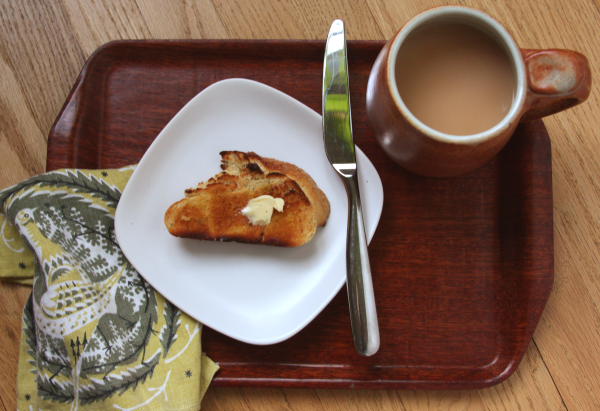 I shouldn't be so surprised by my fear of advanced food technology in my home kitchen. I come from a long line of starving artists that have—for generations—spent their money to pursue their art, rather than feather their home with modern gear. My people—the poet, the angry writer, the famous illustrator and writer, the sculptor, the painter, the silversmith—weren't interested in a gourmet life. They were artists that ate what they could afford and stocked their kitchens with simple items like rolling pins and cast iron skillets, jelly jar glasses and chipped china
And so it is with me. I've built my life around writing and food, and yet my kitchen lacks any sign of modern gourmet trends. I don't own a microwave or a food processor. I hand whip my whipped cream, muddle herbs with a mortar and pestle, and generally do things the old fashioned way.
It wasn't until I decided to face two fears at once—baking and technology–that I was able to attempt to make Saveur Magazine's recipe for a traditional Finnish sweet bread, called Pulla, with my brand new (and untouched) KitchenAid. Even though I'll be working at the restaurant this Easter/Passover weekend, I thought I should do some culinary celebrating before hand.
It's fitting that it took a recipe reminiscent of my grandmother's signature Finnish sweet bread to get me over my fear of the KitchenAid and pastry making.  Like me, she was a hard working artist and Luddite. But rather than relishing in the joys of cooking savory, she loved creating Finnish pastry, flaky pies, and fruit cobblers–all from the belly of a four-footed kettle stove that ran on firewood.The promise of freshly ground cardamom and the scent of freshly baked bread was the thing I needed to motivate me to up my game, embrace the "on" switch, and start baking.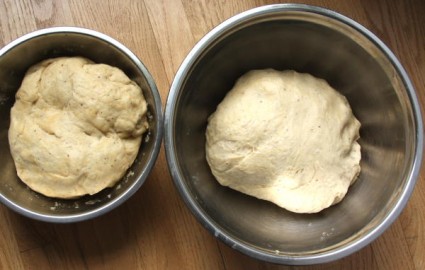 To tell you the truth, once I got past the anxiety of ruining a couple loaves of bread, I really enjoyed the process. I watched the comma-sized particles of yeast grow and bubble in a bowl of warm milk, and felt like a child witnessing a chemical reaction in a Petri dish for the first time. I marveled (blushed really) at the texture of the yeasted bread—soft and alive like a loved one's skin—as I rolled it out with my fingers. I watched the miracle of baking with awe as the hot oven turned my braids of soft dough into a golden loaf of bread.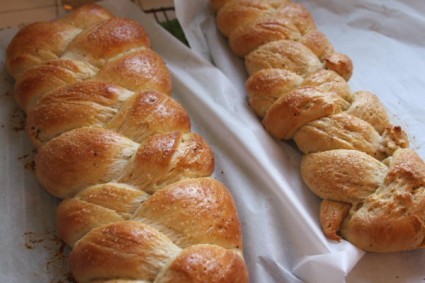 Even the mistakes held some satisfaction, because they taught me what not to do. When I found out my yeast hadn't activated quite enough, I started a small batch and added it to my dough mixture and saved the bread. After a full day of baking, that little success felt like a major victory.
Though I can't promise I'll be baking another loaf of bread any time soon, I can guarantee I'll be using that KitchenAid to make some pastries shortly*
Finnish Nisu
Every holiday my grandmother would bake a traditional Finnish sweet bread she called Nisu. I later learned this braided bread is also called Pulla, referring to the genre of sweet and cardamom spiced bread.
The unmistakable perfume of cardamom and the scent of freshly baked bread is one of my favorite memories of holiday baking.  At Easter, my grandmother would bake this bread with an egg in the center to represent new beginnings.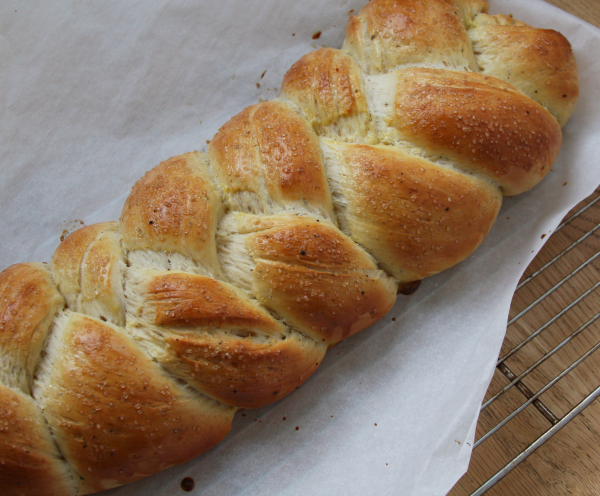 Finnish Pulla (Nisu)
Makes two loves
Adapted from Saveur Magazine (April 2010, Issue #128)
1 1/3 cup milk, heated to 115˚
2/3 cup sugar
6-8 tablespoons of fresh cardamom pods (to make 4 teaspoons of ground cardamom)
2 ¼ ounce packages of active dry yeast
3 eggs, lightly beaten
6 ½ cups flour
1 teaspoon kosher salt
5 tablespoons unsalted butter, cut in to ½ inch cubes, at room temperature
1 tablespoon heavy cream or whipping cream
1 egg yolk
2 tablespoons turbinado sugar (for garnish)
1. Remove the oily cardamom seeds from the dried green shells using the back of a knife. Grind by the fragrant seeds by hand with a mortar and pestle.
2. Combine yeast, warm milk (be sure it doesn't reach a temperature above 115˚ or you will kill the yeast), sugar, and 3 teaspoons of cardamom in a bowl of a stand mixer. Using the mixing paddle, stir together until mixed well. Let sit until the yeasts are activated and foamy, about 10 minutes. Add eggs; mix to combine ingredients. Add the salt and slowly add the flour one cup at a time. Stop mixing when a dough forms.
3. Replace the paddle with the hook attachment. Knead dough for two minutes. While the hook kneads the dough, add the butter in batches, being sure to only add more butter when the previous bit has been incorporated, about 3-4 minutes total. Continue kneading for 4 more minutes after the last bit of butter has been added.
4. Making sure your kitchen is nice and warm (turning on the oven to warm is a good way to warm things up), transfer dough to a greased bowl. Cover with plastic wrap and let sit covered for about an hour. Punch down the risen dough and cover again with plastic wrap, let rise fully for 30 minutes.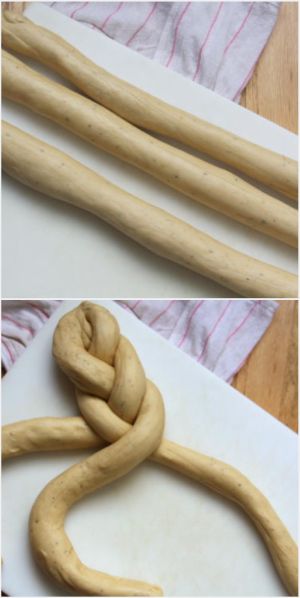 5. Heat oven to 375˚. Transfer dough to a work surface and divide it into two equal wedges. Working with the first wedge, divide the dough into three equal pieces. Using the palms of your hands, roll each piece into one long strand (or 16″ rope).
Braid ropes together to form a loaf. Transfer loaf to a parchment paper-lined baking tray and cover with plastic wrap. Continue process with the second wedge of dough. Cover the last loaf with plastic wrap. Let the two loaves sit until slightly puffy, about 20 minutes.
6. Whisk together the remaining cardamom, cream, and egg yolk in a small bowl. Using a pastry brush, paint on the creamy egg mixture. Sprinkle the loaves with turbinado sugar. Bake one loaf at a time, until golden brown, about 20-25 minutes. Transfer to rack to cool.
Serve toasted with butter. Or serve with eggs, smoked salmon, crème fraiche (and for bonus points, caviar!)
*I've got more to say about the National Food Blogger Bake Sale for Share our Strength, but I'll leave that for an upcoming post!