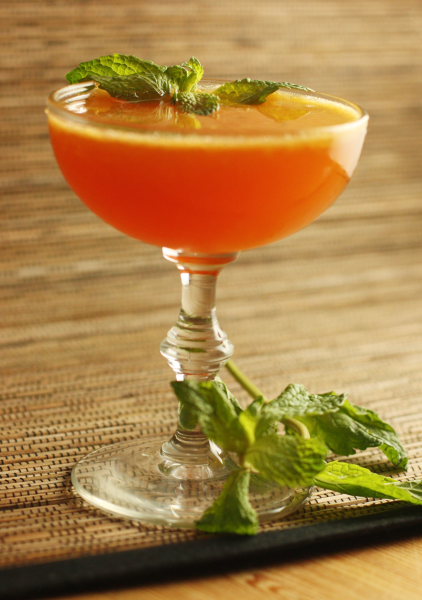 Some chefs will tell you that there is not such thing as leftovers in a well run restaurant. Everything that isn't used should be reused for something else. Scraps of vegetables and chicken bones become stock. Left over meat from a special might become that day's staff meal. And so it is with cocktail making. Whenever I come up with a cocktail—whether it's for myself at home or for the restaurant I work at–I try to limit my ingredients to those on hand and don't require an extra purchase or visit to the market.
My recent culinary foray into Vietnamese cuisine and Banh Mi making had me with several extra ingredients that begged for repurposing. The result: a refreshing Vietnamese cocktail made with complimentary ingredients of muddled mint, sweet tangerines, bittersweet Vietnamese caramel (Nuoc Mau), Plymouth Gin, and a splash of rice wine vinegar for balanced acidity. This is a show stopping cocktail for any dinner party or Asian-inspired meal.
[print_link]
The Mekong
2 oz Gin (Plymouth or British Gin)
Several Mint leaves and a sprig of mint
1 oz Nuoc Mau (Vietnamese Caramel). Recipe
here
.
Dash of Peychaud bitters
Dash of Rice wine vinegar
1-1.5 oz tangerine juice (I suggest Mercots, if available)
1 oz lime juiceThrow a nice pinch of fresh mint leaves into your cocktail shaker. Give a quick twist of the muddler to release the oils of the mint, but not rip apart or seriously break down the leaves. Add the gin,
Nuoc Mau,
dash of bitters the citrus juices and the lightest dash of rice wine vinegar. Fill the shaker with ice and shake until icy cold. Taste for balance. Adjust for balance if necessary. Strain and serve up. Garnish with a mint sprig.
Enjoy!