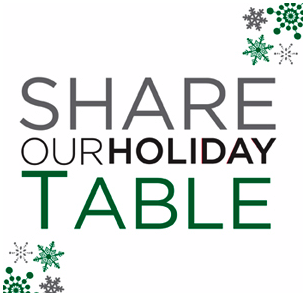 There may not be snow on the ground here in Los Angeles but the twinkling lights, lawn ornaments, Christmas trees, and car-top menorahs are a clear indicator that many in this city are celebrating the winter holidays. December rolls around and people all over our country begin planning the many ways to celebrate the joy of the season. But not everyone has the means to fulfill those dreams. Many struggle to find the money to pay the bills and put food on the table.
What's worse, there are millions of hungry children (two in every ten kids in America) that will slip through the cracks without a meal because of the social stigma surrounding hunger. Many would rather skip a meal than reach out for help. Silent suffering needn't be the answer.
Share Our Strength, a non-profit dedicated to finding a way to get food to our youngest and neediest citizens, wants to eliminate childhood hunger in America by 2015. Thanks to the efforts of volunteers and supporters, Share Our Strength (SOS) created 4.5 million meals for needy children in 2009.
In hopes of raising awareness about childhood hunger in the US—especially during this holiday season–SOS has asked a handful of food bloggers to participate in an online progressive fundraising dinner.  Starting December 6th and ending December 14th, food bloggers like Deliciously Organic, Gluten Free Girl, Devour the World, Ladles and Jellyspoons, Recipe Girl, Tartlette, The Urban Baker, What's Gaby Cooking, and Hunger Angler Gardener Cook will feature unique recipes (appetizers, drinks, entrees, desserts and side dishes) on their websites to give people great ideas for holiday eating and drinking—while also raising awareness for a really important cause.
Raising a glass and awareness
It was an honor to be asked to participate in this year's virtual dinner party as a cocktail contributor. I wanted to write about holiday cocktails because I think it's important to remember that cocktails, like gifts from the heart, don't need to be over the top to be good. Sometimes, its the simple and thoughtful things that are most appreciated.
With simplicity in mind, I decided to share with you my recipe for a simple infused vodka. Though an infusion does take a little time to bring out the flavors (I recommend about two weeks at least for a good infusion), this recipe for crab-apple-infused vodka is so good it made me re-think my assumptions about vodka. The sweet flavors of the crab apple are delicate at first, but over time the flavors of the crab apple become more substantial. Make no mistake, there is no jolly-rancher green fake apple flavors to be had when you make your own crab apple vodka. As a matter of fact, this crab-apple vodka is so good, it's the kind of thing you'll want to make several batches of, just so you can keep some on hand for yourself and give the rest away as gifts.
Really, it's that good.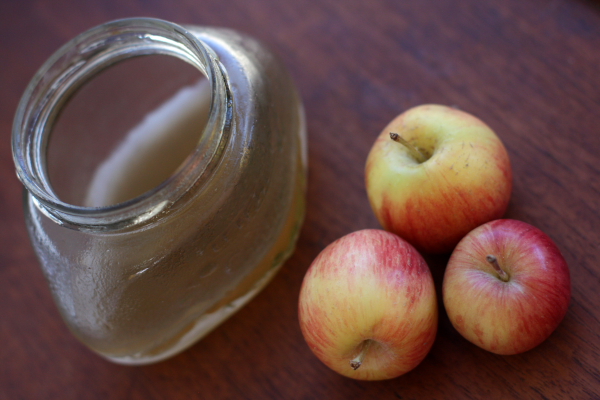 [print_link]
Crab Apple Vodka
Crab apple vodka gets better the longer you let the apples soak. I still have a jar of the stuff from several months ago sitting in my freezer, and I have been want to sip at the stuff like a digestive after an extraordinarily large meal or have poured it freely into a hot mulled cider (cider plus a stick of cinnamon and star anise)*.
1 lb crab apples, halved
1 bottle vodka
sugar, if desired
1 large ball jar
Place the halved apples in a large ball jar and fill with vodka. Seal the container and leave on a shelf (not in direct sunlight). Turn and lightly agitate the jar once a week. Taste after two weeks. Add sugar if an immediate sweetness is desired. Otherwise, wait a month and then taste again. Put in freezer once the desired flavor has emerged.
*Though not everyone drinks, I think it's always a good idea to have a couple of great drink options available to all your guests. Though fresh fruit juice and soda water is a great option for the non-alcoholic crew during most of the year, the holidays are a perfect occasion to offer hot, mulled cider without a hint of alcohol. It's a tasty drink that doesn't require any doctoring (but is great tasting if you do)!

December 7: Drinks
Gourmet
Family Friendly
Vegetarian
Gluten Free