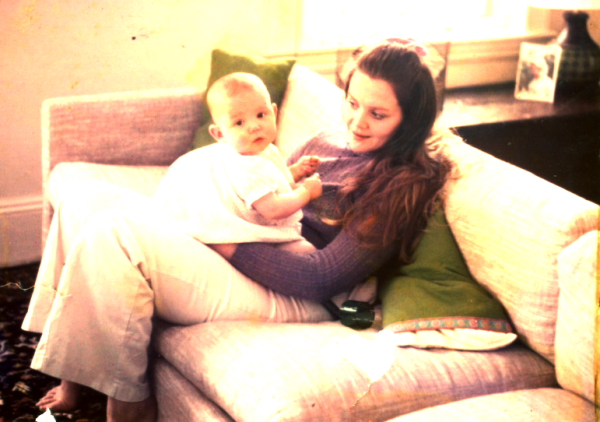 Before there was fear, there was love.
Baking wasn't always something that frightened me. When I was a child, baking was something I longed for. The art of bread and baked sweets was something rare and special. It was sacred.
One of my first memories of baking was when I was quite young. Maybe I was in a high chair. Or I was just old enough to be trusted to stand on a chair by myself. In this memory, I watch my mother knead dough on a floured counter top. She has her back to me and her long, wavy brown hair is pulled back into a ponytail that reaches down her back. All is quiet as I watch her move through clouds of dusty flour. She's creating something beautiful from almost nothing.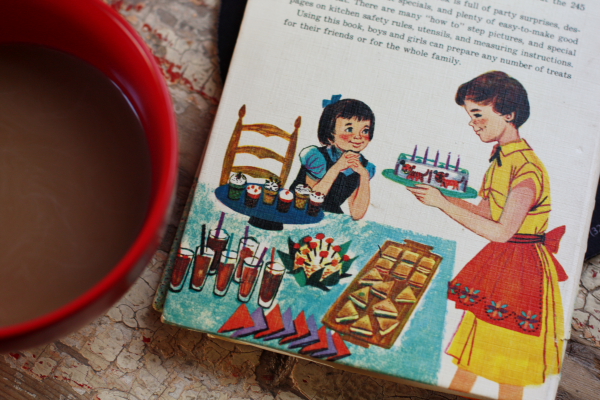 My mother baked when she was happy. Baking days were especially bright days when we had enough money to buy all the ingredients and take the day to make food together. We'd play Godspell as loud as the stereo would let us, and we'd bake something from a cookbook. I'd stand at her side and observe my mother like a museum patron observes a piece of art. I'd marvel at her chin, her ocean blue eyes, and her big strong hands as she slipped rounds of dough into a rough ceramic bowl the color of raisins.
When I was tall enough to reach the counter I watched almost jealously, as she mothered the bread. I stole glances of my bready siblings as they crept up and nudged their head-shaped mounds against the canopy of damp cloth that draped above them. When it was time, she'd let me touch the dough so I could feel the life in them. Then she'd pick them up, shape them again, and slip them into the stove to be baked into hearty loaves.
When my mother baked I was serene. I felt safe and full of pride. When my mother baked she knew to swing a protective arm across my chest when she opened the electric oven to protect me from the dangerous, pumpkin-orange coils inside.
She trusted me with her baking secrets when she taught me about the ways of dough. Together at the stove we would make heavy, fruit-laden cookies, plump popovers, or doughy loaves of bread. I was her helper and she was the tall captain.
When my mother baked, she saw me. For a child who constantly sought attention, it felt good to know that in that moment she knew where I was and what was needed from me. She gave me little jobs that made me feel useful and appreciated. We giggled over warm cookies and piping hot slices of bread with butter that melted in just seconds.
I felt sophisticated when I helped her at the stove. I imagined the sweat on the back of my neck made me more grown up and more like my mom, who stood fearlessly over the hot oven as sweat dripped from her wide forehead.
Homemade bread was magic. Cookies were fun. Baking was a doughy marker of love.
"Why can't we have bread like this every day," I'd ask as I wolfed down a warm piece of bread. "Baking isn't easy," my mother told me. "It takes a lot of time. It's special."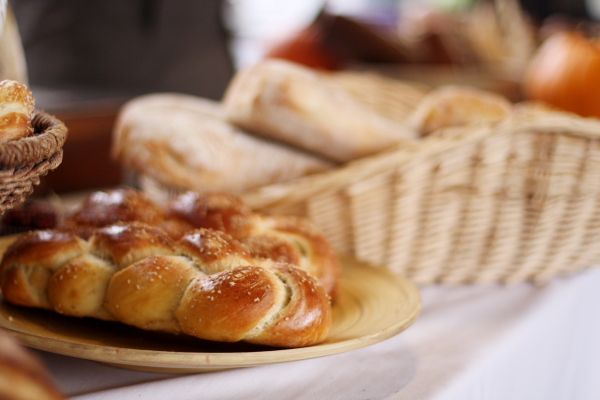 Over the years, I took the infrequency of our baking days as proofs of her theory. Baked goodies–apple crisp, cookies, popovers, and cakes–weren't every day treats, they were precious food stuff that were to be gobbled up before the day was done. When mother's homemade treats were limited to one or two holiday occasions a year, I began to tell myself a story about baking: it's hard, it takes time, it's complicated, and it's so special you'll probably screw it up.
Clearly, this was the true beginning of my fear of baking. As I mine at the root of my fears in the kitchen, the more I start to see how these simple little misunderstandings and complications have compounded and build up over time. They've changed from a simple little thought into something much bigger and more real. I've turned an idea into reality.
The mind is a powerful thing. This pink matter between our ears creates much of our reality. With the help of that internal spark of life, our brain holds onto fear, hope, pain, and all that's in between.
If you believe that only bad things are going to happen, they will. If you believe you are capable of great and wonderful things, you can be great. If you believe you can not bake, you won't. Each and every one of us has so much potential, if only we could just get out of the way of ourselves.
So if you're anything like me and have an odd fear of baking, maybe it's time to face the uncomfortable feelings lurking inside.  The more I face this silly phobia of mine, the more fulfilled  I feel. I'm feeling extra light and full of love for myself, for others, and especially for the woman who first showed me the joy of baking.
Happy Mother's Day to all the beautiful mothers out there!


[catlist id=672]