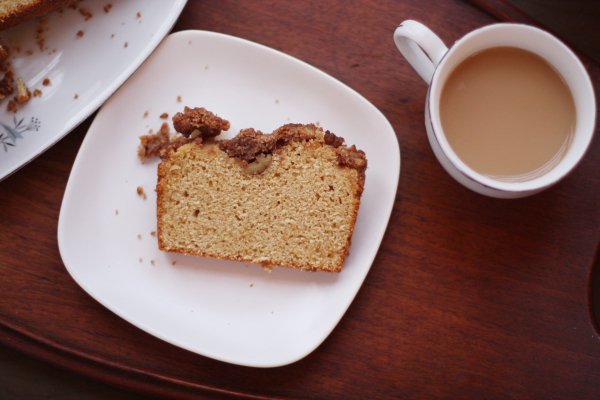 Ever since Easter and Passover weekend I've been thinking a lot about the world ascension. The word has been looping dramatic arcs through my psyche ever since I took one of those deep, restorative, midday naps last weekend. For over an hour I took in the sleep of the dead. It was the kind of rest that soothes, calms, and heals the wounds of hard work.
When I awoke from my unconscious state, I found my refreshed mind chewing on a single word: Ascension. "Ascension," my internal voice said to me. "Look it up."
Though I was happy to go about my day and avoid the quiet nudge, the word wasn't giving up on me. My mind looped: ascension, ascension, ascension. What was it about this word that needed so much attention? Ascension, ascension, ascension. The sound of the word grew louder and louder until I couldn't resist its call any longer.
Finally, I surrendered. I gave over to a word.
Well, I mostly surrendered. Rather than commit to a full-fledged literary investigation that included the involvement of a certain large and weighted Webster's Dictionary that lives on my bookshelf, I instead turned to my computer's succinct internal dictionary. According to Encarta's World English dictionary, ascension is not a word that's included in the basic software. So, as an alternative, I turned to ascend for clues.
I was reminded that ascend means to climb up something, to succeed, and also means to rise up to a higher level.  A mountain, a career, a situation, the physical life, or anything else that offers a good challenge can be ascended. A man named Jesus is said to have ascended from death on Easter day. Perhaps this is why the word came to me with such a force. It was just Easter weekend, after all.
But ascension isn't a word that's limited to mountain climbers and people of faith. Ascension can be used by all sorts of English speaking people who may or may not believe in the existence of God.  So what does ascension have to do with me right now?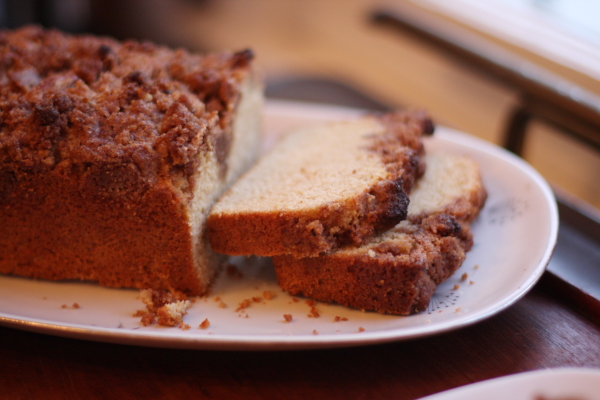 Awakening from that nap the other day was a kind of ascension. Those hearty minutes of sleep healed my heart, mind and body in a way that I felt as if I had slept the sleep of the dead and came back to tell the tale. I felt the gift of being given one more day to rise up from sleep, get up and out of my bed, walk to the kitchen with my own two feet, and step up to the stove and create something good and healthy.
Stepping up to the stove to bake is—without a doubt—an ascent from a valley of flour and yeast-based fears. Every sweet bread and coffee cake I pour into a pan is a rising test of faith. Every cookie and granola recipe shows me the limits of my ability to follow directions, my capacity for humility, and my willingness to accept failure.  Every successful slice of cake shows me the sweet benefits of ascension.
Climbing seemingly insurmountable tasks teach you something.  You emerge on the other side with a deeper understanding and the feeling that perhaps the trail was not as hard as you imagined it to be.
When I made my dear friend Carrie's Buttermilk Coffee Cake the other day, I basked in the flavors of my early morning accomplishment. Soft, cake crumbs and crumbles of flour, sugar and walnut showed me that perhaps someday—a day in the near future–I will ascend this mountain of doubt and fear for baking.
Until all of the fears are abated, I will continue the journey ahead of me, appreciate the growth, and look forward to the day of ascension.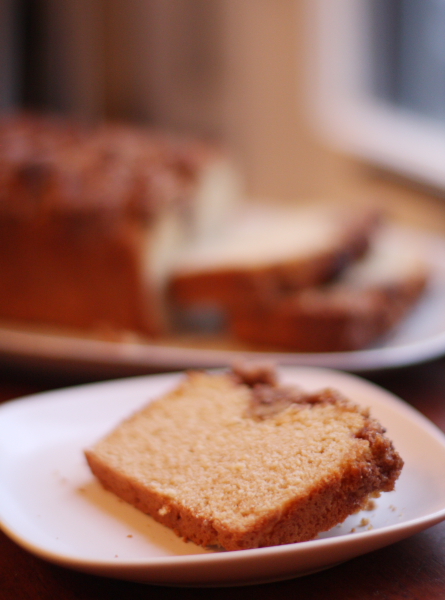 [print_link]
Buttermilk Coffee Cake
This is one of many great recipes from Carrie Vitt, cookbook author and food writer at Deliciously Organic. If you don't have her cookbook, I strongly advise you to run out and get it!
8 tablespoons unsalted butter (room temp)
1 ¼ cups organic cane sugar
2 large eggs (room temp)
1 teaspoon vanilla extract
¾ cup sour cream
2 ¼ cups whole wheat pastry flour
2 teaspoons baking powder
½ teaspoon baking soda
3 tablespoons unsalted butter (cold)
1 tablespoon maple syrup
2 teaspoons ground cinnamon
½ cup whole walnuts (or pecans)
Preheat your oven to 375˚ with the rack adjusted to the medium position. Butter an 8×8-inch baking dish.
Cream 8 tablespoons of butter and ¾ cup of the organic cane sugar in the bowl of a mixer for 3 minutes on medium high. With the mixer on low, add the eggs and vanilla. Blend well. Add sour cream and blend until completely mixed in. Remove bowl from mixer.
Whisk together the flour, baking powder and soda and salt in a small bowl. Add dry ingredients to the wet ingredients and stir with a wooden spoon until everything is combined. Pour batter into the baking dish.
In the bowl of a food processor, pulse together 3 tablespoons of cold butter and the remaining sugar, maple syrup and cinnamon. Pulse until combined. Add nuts and pulse briefly until the nuts are roughly chopped. Crumble the topping onto the batter.
Bake for 25-30 minutes, or until golden brown.