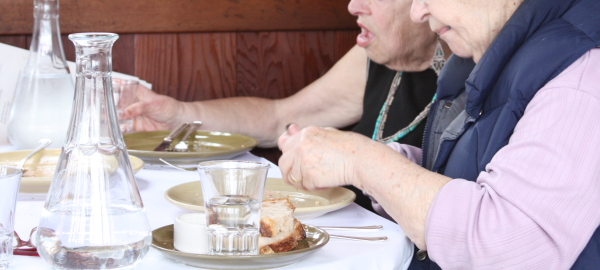 "I'm not usually a difficult customer," The Beverly Hills housewife said out of the corner of her red lipsticked mouth.  "I just don't understand why getting me a drink is such a production."
It was a Friday night and the restaurant was packed. I had spotted the guests' unhappiness across the room when I scanned the dining room for signals of possible problems. My glance bounced over happy customers curved over plates and full cocktail glasses, and stopped hard against a squared edge of a black suit and the stiff neck of the man wearing it.
I was already moving across the room towards the four-top when the suited man's friend, a man with gray hair and no drink, swiveled in his chair in search of assistance. I stepped up to the table and took my place next to the ladies perched in their seats. The women were two rigid examples of a 60-something Beverly Hills housewife.
"Good evening," I said with my most soothing voice of leadership. "May I help you?"
"I should hope so," the white knuckled man with no drink said. "We've been here thirty minutes and our server hasn't been able to get us a drink." I nodded. Time warps and stretches into large increments when you're a desperate for something. I had seen a trusted server working hard to find a single malt scotch for the suited gentlemen, surely their thirty minutes were—in real time—actually just five or six.  But in the world of the customer, perception and reality don't always meet.
The make-up primed blonde housewife continued. "I don't want anything crazy. I just want a glass of chardonnay."
I smiled. A deep breath would fuel my calm. This would not be an easy turn around.
You see, we had no oaked or sugary chardonnay on our wine list. We had not one lemon-water Pinot Grigio or even a hit-you-over-the-head Sonoma Cab. There were no knee-jerk choices on the wines by the glass list here. Even the bar lacked any easy choices. It was stocked with small batch bourbons, organic vodkas and pretty little digestives made from hand-picked herbs.  The menu had no spaghetti and meatballs, no fettuccini alfredo, and never would you see tiramisu make an appearance. The men and women in the kitchen saw their work in food as a vocation—not "slinging hash"–and sought to engage their customers about their favorite subject by offering dishes and wines only a native Italian would be familiar with.
I just want a glass of Chardonnay, she said. And as requests go, a simple glass of chardonnay shouldn't be a tough one. But what she was looking for was something more than that. The glass of wine she sought–a buttered, candy apple California Chard–would never be made available on our menu.
So. In this moment with this particular woman, at this specific Italian restaurant, we had just hit upon what could become a rather huge obstruction.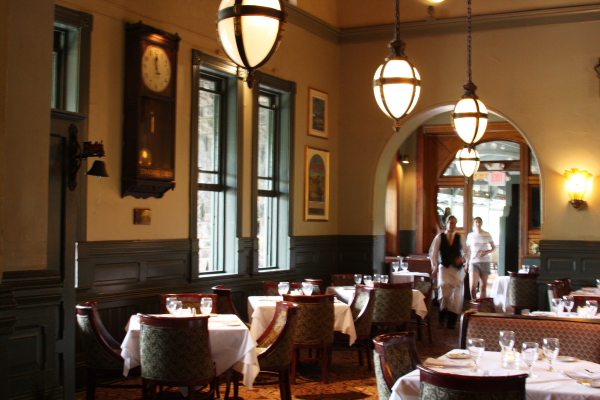 "We don't have a chardonnay by the glass," I said. My insides winced as I felt the tension at the table rise with every word I spoke. "But I'd be happy to bring you a couple of tastes of some wines I think you might like very much.
The lady bit at the air with her sharp white teeth. "Why can't you just get me what I want!"
Here is where I wish I could hit the pause button, lay out a comfy blanket, light a fire and unfurl the long list of reasons of what makes her particular brand of  get me what I want so complicated.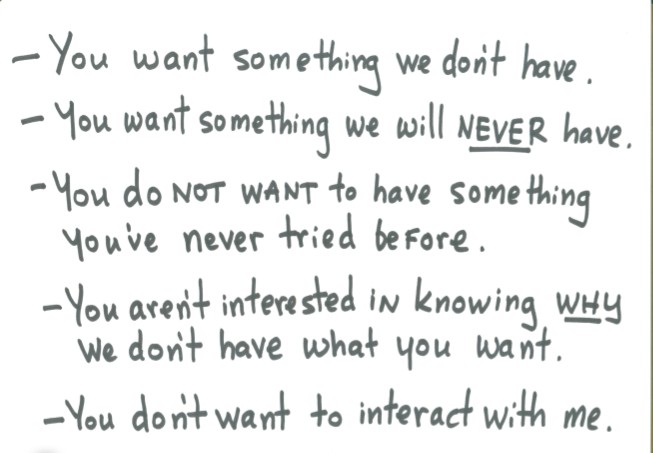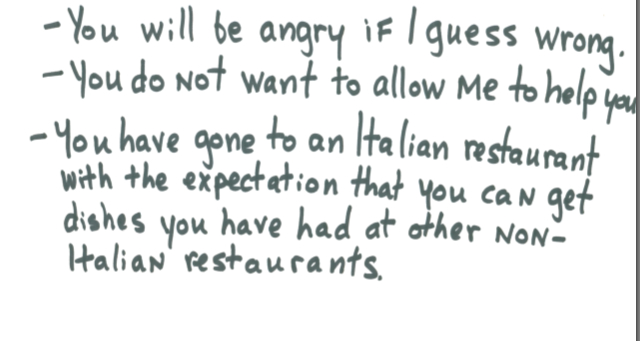 I do want to get you what you want, dear lady, I thought. But getting what you want at a restaurant requires an ounce of trust and a little bit of surrender to someone (or something) other than yourself.
"Don't worry," I said. "I'm going to take great care of you."
The older lady swatted me away with a bejeweled gesture that reminded me of a queen waving away a servant. Be off with you already.
I took her cue and stepped away from the table to find a solution to my very pressing problem. My job requirement isn't to talk philosophy, it's to get people what they want. So I stepped up to the wine wall and uncorked two bottles that could appeal to the ladies' particular tastes and—as I shelved the thought that I deserved a splash of wine to abate my anxiety–I poured a bit of wine for the unhappy women.
I returned to the table with the wine and a small prayer: please let this wine please the ladies. Since women are often the feelers of the table and tend to direct the tone of the final voice of judgment, their happiness was paramount to me. This was my chance to win the table back.
I wish I could tell you that those glasses of wine were just what it took to turn everything around. The glasses of wine helped and the brief flicker of a smile from the ladies certainly made me feel better. But soon after, there was the business of the pork chop being unacceptable for its "unbelievable amounts of fat"—a complete reversal from the description from a neighboring table who called the very same dish "the best chop I've ever had." The angriest of the ladies hated anything with fat on it, and refused to eat anything else, for fear of being disappointed.
I wish I could spin a yarn of how my friendly demeanor lifted the darkness in their hearts. Or how my empathy, compassion and going the extra miles helped turn the angry table around. But that wasn't the case.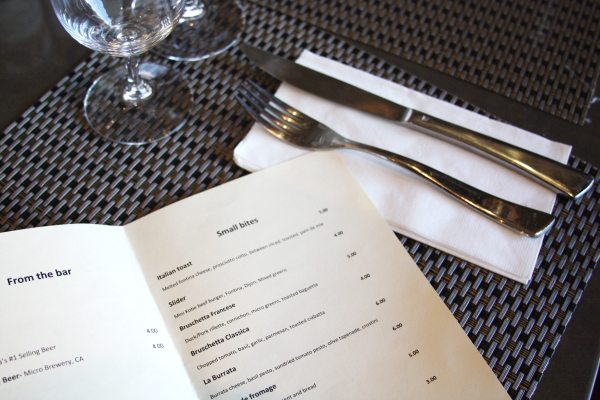 How would one help four unhappy people who wanted something we didn't have? No matter what we did, we could never give that illusive thing they craved to them. And not because we didn't try. We lost them because they refused to step outside their small circle of choices and try something new.
Managing expectations is something we in the service industry have to deal with inside the restaurant and outside on the street. All of us humans carry around our own internal list of How Things Should Be. But the challenge is to have a certain amount of flexibility in how we approach getting those things we desire.
Will we ever reach the imagined ideal of that thing we want so much? Probably not. Will we ever find the holy grail, the perfect sandwich, the best margarita, the sacred spot, the wonderful mate, or the greatest vacation spot? Perhaps. If we are lucky enough to find that greatest thing once, why is it we continue to seek it out in exactly the same way, in several different places?
In order to find true happiness, I think, you have to have a certain amount of humility, flexibility, and the willingness to expand your understanding of what the all illusive Its are. Because honestly, if you cling too tightly onto a single imagined idea of what it is you want, you may never find it. And what's worse, you'll spend the rest of your life—or dining experiences—very, very unhappy.