Nowadays, most people's budgets don't have much room for the extras, especially big luxury items. If you have things in your life that you want to save your pennies for–a new car, a big piece of furniture, a trip to a food blogging conference, or even fattening up your savings account–stretching your dollars in the kitchen is important. Since eating out seems like an impossible indulgence with your hard earned bucks, you need to get crafty with the way you approach your daily costs.
Being frugal doesn't mean you have to stop enjoying yourself in the kitchen. As a matter of fact, I look at budgetary limitations as a formalized culinary challenge. I pretend I'm a participant on Iron Chef with the featured ingredient of NO MONEY! and see just how far I can stretch my menu with basic pantry items. I've found what works best for my budget menu planning is to keep two things in mind: 1) cook meals that can be eaten at any time of the day and 2) use simple pantry items as the base ingredients for dishes. When I cook a meal that can double as breakfast, lunch, or dinner, less time is spent in the kitchen and more time can be spent doing the things that need to get done.
Thanks to the great people at Foodbuzz.com, I've been given the opportunity to share with you a handful of easy recipes in this month's Foodbuzz 24×24. My goal: help you save money so you can afford to do the things you want to do–like attend this year's Food Buzz Conference in San Francisco. What's even better, these three recipes make perfect road trip or airplane snacks so you can save your dollars at the airport when you're flying (to San Francisco).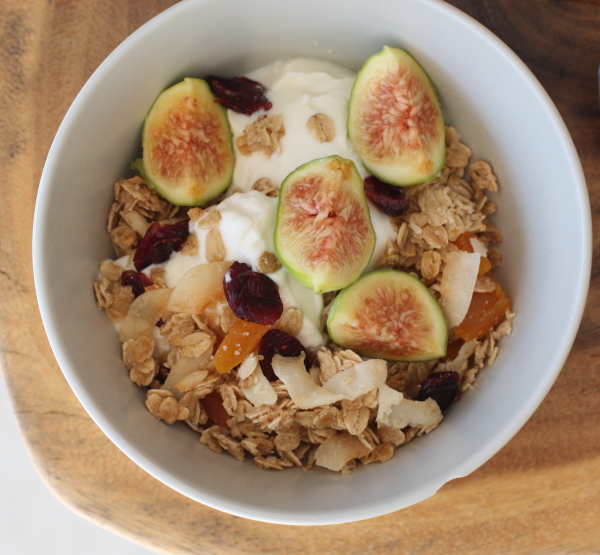 Oats
Oats are a perfect inexpensive pantry item that can double as a main ingredient for several meals during the day. Oatmeal for breakfast, granola for a midday snack, or even as the crumble for a dessert fruit crisp.
This granola recipe is an equally tasty but less expensive version of a previous granola I posted on this site several months ago. This is my favorite version of this recipe because it costs less and leaves me room to spend money elsewhere. I eat this granola dry, as a snack, and sprinkle a handful over Athena's Greek Yogurt for a decadent breakfast, lunch or dinner. Oh, and the granola is great over ice cream, too!
Chef's tip: Use the left over oats to make oatmeal for breakfast the rest of the week.
[print_link]
Apricot and Coconut Granola
Adapted from a recipe from
Deliciously Organic
1 cup whole cane sugar (I used Trader Joe's organic evaporated cane sugar)
3 oz organic maple syrup
3 oz organic agave syrup
4 cups rolled oats
1 ½ cups coconut, unsweetened
1 cup dried apricots, chopped
1/2 cup dried cranberries (or other dried fruit)
Optional: generous pinch of salt
Preheat your oven to 350º. Adjust the top rack to the middle of the oven. Whisk sugar, syrups, and a pinch of salt in a small saucepan over medium heat until almost smooth. In a large bowl pour syrup over the oats and coconut*. Stir gently with a wood spoon until it is completely mixed throughout. Pour mixture onto a sheet tray covered with parchment paper. Bake in the oven for twenty minutes, or until almost golden. Remove from oven. Let cool. Add dried fruit after you break up the granola into loose bits and large pieces. Enjoy immediately or store for later use.
Can be stored in an air-tight container for several weeks.
*if you don't want your granola to be too sweet use less of the sugar/syrup mixture.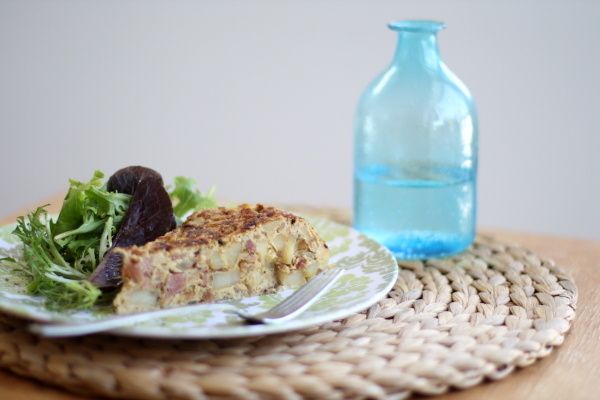 Eggs
I don't know if you'll agree with me on this, but having breakfast for dinner is just downright fun. So when I asked Adam C. Pearson, my rock star food stylist friend, what kind of egg dish he would recommend I make for this budget post, he suggested I make a Spanish Tortilla. Turns out this dish–which took some explaining for me to understand that a Spanish Tortilla is basically an egg and potato frittata that's served room temperature and sliced like a pie–is a perfect any time meal. This simple dish is a perfect thing to slice up, drop into a zip-lock bag and take to the office (or to the airport).

[print_link]
Potato and Egg Frittata aka Spanish Tortilla
Contrary to the sound of it, a Spanish Tortilla doesn't actually have any tortillas in it whatsoever–just eggs, potato and any other tasty ingredients you care to add.
6 medium potatoes, diced
1 large onions, thinly sliced
*1/4 cup diced ham (or 2 slices of thickly cut bacon, diced)
1/4 cup milk
8 eggs
Salt and Pepper to taste
2 tablespoons butter
2 tablespoons vegetable oil
Directions
In a large bowl, mix the potatoes and onions with a pinch of salt. Heat 2 tablespoons of butter in a large non-stick frying pan. Fry the potatoes and onions on low heat. Cover with a lid for 5-10 minutes to let them soften. Turn up the heat for another 5 minutes, or until golden brown. Remove from the stove.
Meanwhile, break the eggs into a medium bowl. Add a pinch of salt and milk. Whisk until frothy.  Add the potatoes and onion mixture to the eggs and mix well.  Using a clean frying pan, heat the oil on a high heat. Pour in the egg mixture, move it around in the pan to help the eggs to rise. Fry until the bottom begins to brown. Being careful not to burn yourself, place a large plate over the top of the sauté pan so that you can flip the frittata. Slide the uncooked side back into the pan to cook the entire tortilla for another minute or two. Turn off the heat and let set in the pan for a few minutes. Serve sliced with green salad.
Chef's tip: The extra 2 eggs can be used with a previous scheduled meal. Add a fried egg to a pizza, a hamburger, or a bowl of fried rice and suddenly you're eating a luxury meal. Drop an egg into a bowl of simple chicken stock and you're eating like an Italian Grandma.
*This dish is simply wonderful without the pork, but it certainly gives this dish plenty of great flavor. If you can't find an affordable ham steak at your butcher's counter, you can substitute the ham with diced bacon, which can be cut to order into two thick slices (so you don't have to buy an entire package of sliced bacon) and kept at a reasonable cost.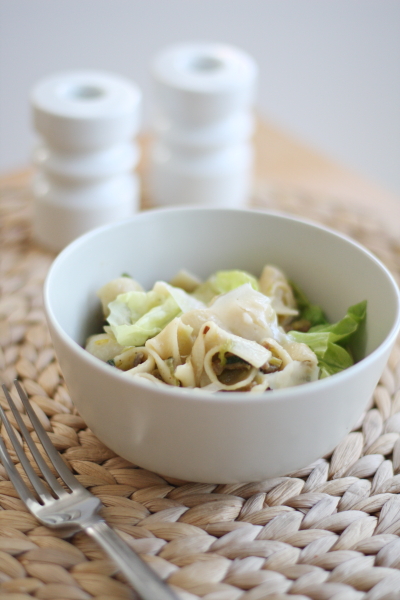 Pasta
Pasta is one of the main bargain meal staples in most homes. No matter what you're upbringing, you probably have a pretty good idea how inexpensive pasta can be when creating a satisfying meal. You don't need to resort to jarred sauces or powdered cheese to create an inexpensive pasta dish, though. As a matter of fact, some of the most delicious pasta dishes can be made with just three ingredients.
This pasta dish's unique ingredients makes for an exceptional meal that won't taste like a re-hashed meal or yesterday's leftovers.
Chef's Tip: This dish is great warm or served cold. Transform any leftover lettuce you have on hand into a salad.
[print_link]
Pasta with Leeks and Turkey Sausage
Modified from a recipe from
Martha Stewart
1 box of pasta (shells or twists work best)
1 lb of turkey sausage
3-4 leeks, white and light-green parts only, halved lengthwise, cut into 1/4-inch slices, rinsed well, and drained
1/4 cup dry white wine
2 tablespoons butter
1 head of butter (bibb) lettuce, washed and torn into pieces.
Course salt and Pepper to taste
Grated Parmesan, for serving
*Reserve one cup of pasta water
Directions
Bring to a boil a large pot of salted water for pasta.
Meanwhile, in a large skillet, cook turkey sausage over medium-high heat. Break up the meat with a wooden spoon until browned, about 5 minutes. Add leeks to the skillet and cook until softened, 5 minutes. Add wine and cook, stirring frequently, until mostly evaporated, 2 minutes. Stir in butter and season to taste with salt and pepper.
When pasta water is at a rolling boil, cook pasta according to package instructions. Reserve 1 cup pasta water. Drain pasta and return to pot. Add the sausage and leek mixture. Toss gently to combine. Add the torn lettuce (use no more than 3-4 cups of torn lettuce) to the pasta with enough pasta water to create a "light sauce" that coats the pasta. Toss. Serve with Parmesan on the side.
I hope you've found some inspiration and useful advice that can help you use a handful of basic pantry items to stretch your budget, please your palate, and make you feel like you're not skimping.