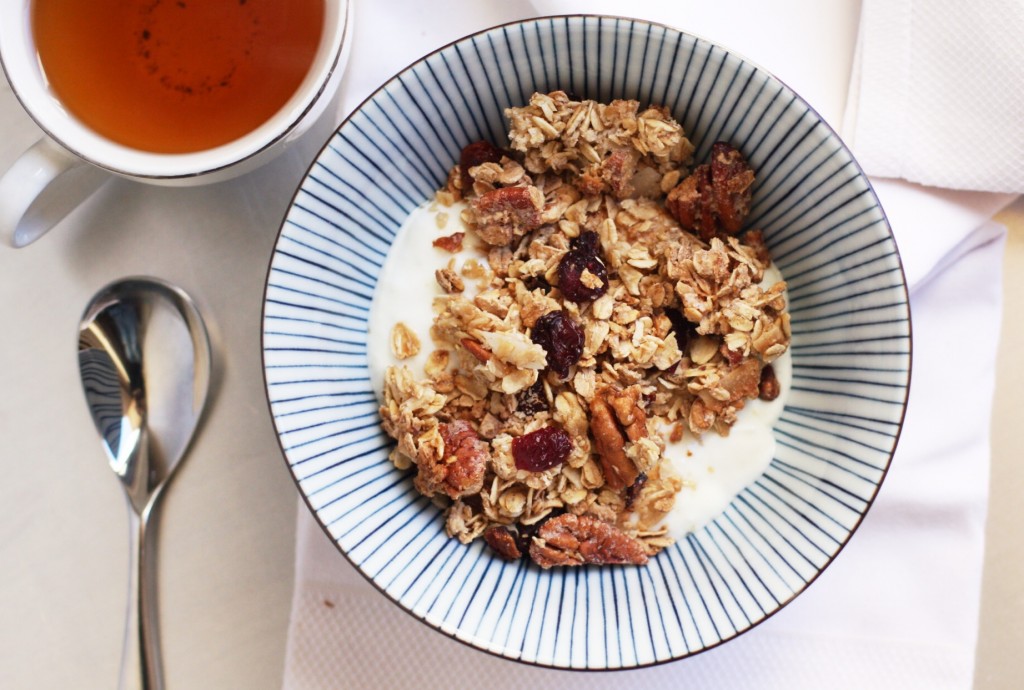 I'm an adventurous eater, but I'm also a creature of habit. I save my bold menu choices for dinner and rely on a handful of trusted culinary customs to ease into my day. I relish the repetition of a cup of coffee with a thick piece of toast with jelly, Greek yogurt with granola, a bowl of cereal, or a poached egg with kale. Sometimes, when I feel the need for easy indulgence, I eat breakfast for dinner.
Thanks to my friend Carrie Vitt and her brand new cookbook, Deliciously Organic (International Focus Press), I'm eating my favorite breakfast food all day long. I eat Carrie's Granola with dried cherries and pecans when I wake up, as a between meal snack, for dinner, and—I'm loathe to admit–even sprinkled on top of a generous scoop of ice cream.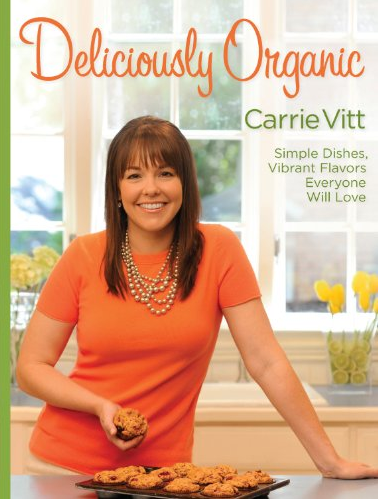 Carrie's granola recipe is the perfect example of what is so wonderful about her new cookbook. Deliciously Organic is approachable, full of terrific ideas that aren't impossible to take on, and stocked with simple adjustments that can make a huge impact on your health and happiness.
Deliciously Organic's Granola with Dried Cherries, Coconut and Pecans is—by far—the easiest and most satisfying granola recipe I've ever made (and I make a lot of granola). Thanks to the presence of a good amount of organic coconut, Carrie's granola recipe doesn't call for any oil or butter. Maple syrup and organic cane sugar binds the oats together and creates big ol' clusters (my favorite part of store bought granola) without requiring unnecessary (and unhealthy) ingredients. Even better, the prep and baking time doesn't take much more than 30 minutes, which is fast and super easy!
Carrie brings her open personality to the page with bright and happy colors, friendly (and sophisticated) design, helpful tips, and gorgeous, light-filled photos from Helene DuJardin of Tartlette. Deliciously Organic offers readers valuable insights and culinary adjustments that can make a significant contribution to your health without requiring huge sacrifices.
"This book isn't about giving up good tasting food for tree bark," Carrie says in her cookbook's introduction. Instead, Deliciously Organic offers a generous serving of mouth-watering photos, recipes that make you want to cook from each and every page, and amicable recommendations that help you live a healthier life.
This useful, every-day cookbook proves that living a healthy life doesn't have to be difficult. If you're interested in finding out more about Carrie Vitt's cookbook, please go by her website to learn more about Carrie's inspiring story of overcoming difficult health issues with healthy eating.
[print_link]
Pecan, Coconut and Cherry Granola
Adapted from Deliciously Organic
I adjusted Carrie's original recipe by adding kosher salt—I'm a fan of a slightly salted granola for balance.
1 cup whole cane sugar (I used Trader Joe's organic evaporated cane sugar)
¾ cup organic maple syrup
4 cups rolled oats
1 ½ cups coconut, unsweetened
1 ½ cups dehydrated whole pecans, or pecan halves
1 cup dried cherries (or other dried fruit), lightly chopped
Optional: generous pinch of salt
Preheat your oven to 350º. Adjust the top rack to the middle of the oven. Whisk sugar and maple syrup in a small saucepan over medium heat until almost smooth. In a large bowl pour syrup over the oats, coconut, pecans (and salt) and stir gently with a wood spoon until it is completely mixed throughout. Pour mixture onto a sheet tray covered with parchment paper. Bake in the oven for twenty minutes, or until almost golden. Remove from oven. Let cool. Add dried fruit after you break up the granola into loose bits and large pieces. Enjoy immediately or store for later use.
Can be stored in an air-tight container for several weeks.