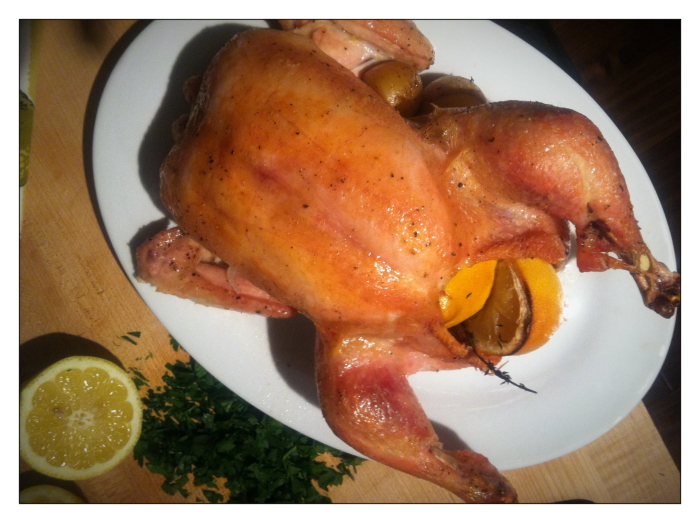 When people ask me if I'm available for a dinner date or event, I often have to tell them this: I don't know. Maybe? It's not that I'm trying to hedge my bets or play hard to get, but the truth is I never really know. I'm building my business as the Service Coach and I don't have a set schedule.  Because when you're a consultant, or are in the business of being of service to people, you really have to be available for your clients–new, current, or recurring–all the time.
So when Lucy Lean asked me to participate in a virtual dinner party to celebrate the release of her gorgeous, must have book MADE IN AMERICA a few weeks back, I knew I was going to be in the thick of working with one of my clients. So rather than bow out, I asked if I could be a virtual late arrival. And so I am.
I chose to cook this Lemon Garlic Roasted Chicken from chef Michel Richard for a handful of different reasons. 1) I wanted to check out a cooking technique for chicken (a modified low and slow method?) 2) It looked the easiest recipe for me to make under tight timing constraints and 3) I admire Chef Michel Richard.
The recipe is quite simple but it does require a bit more time than my usual Zuni chicken method. I liked the results and I can't wait to cook more from Lucy's gorgeous book.
Congratulations to Lucy Lean. And thank you so much for welcoming me, even though I'm more than fashionably late!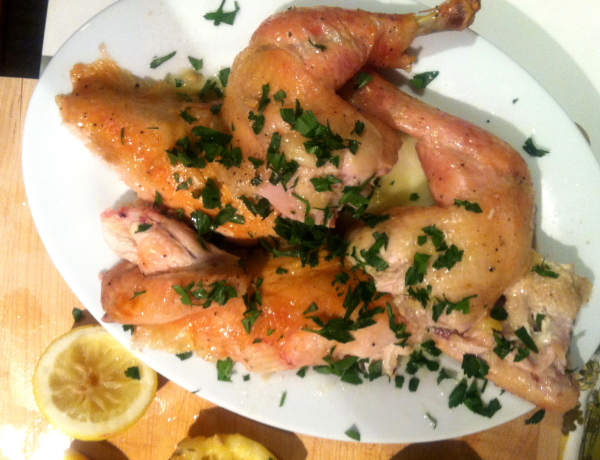 [print_link]
Made in America Lemon-Garlic Roasted Chicken
Give yourself 2 hours for prep and cooking and you'll be happy with the moist and delicately flavored bird.  Though Lucy doesn't say to, I recommend using the lemon-infused onions and garlic cloves as a garnish for the chicken.
2 onions, sliced
20 cloves of garlic, unpeeled
one free-range chicken (about 4 lbs)
2 lemons cut in half, plus an additional 1/2 lemon
1 branch of fresh thyme
4 tablespoons olive oil
2 tablespoons chopped, fresh flat-leaf parsley
S&P
Place a rack in the middle of the oven and preheat to 300°F.
Cover the bottom of a roasting pan with the onion slices and garlic cloves.
Rinse the chicken under cold water inside and out. Drain and thoroughly pat dry with paper towels. Lightly season the cavity with salt and pepper. Stuff with thyme and four of the lemon halves. Place the chicken in the roasting pan, season with salt and pepper, and sprinkle with olive oil.
Roast in the middle of the oven for 1 hour. After an hour, remove the chicken from the oven and increase the heat to 450°F. When this temperature is reached, return the chicken to the oven and roast until golden and crisp. [NOTE: This may take more than 30 minutes, depending on the size of your bird]. The chicken is cooked when a fork inserted into the thigh releases clear juices [or the internal temperature of the bird reaches 165°F.].
Remove the chicken from the oven and let it rest for 10 minutes. Remove the lemon halves from the cavity.
Slice up the chicken to serve. Squeeze the juice of the uncooked, remaining lemon over the chicken and sprinkle with chopped parsley.
Transfer the onion, garlic, and liquid from the roasting pan to a sauté pan and bring to a boil. Add half a cup of water to the pan, mix well, and return to a boil. Strain and serve the liquid as a gravy with the chicken.