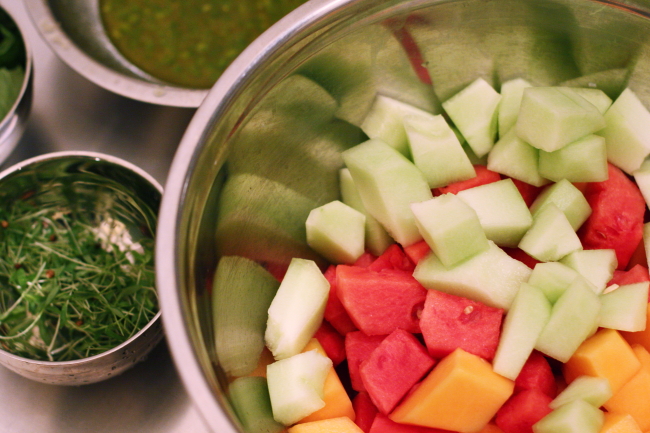 Working in the restaurant industry can be a wonderful thing, especially for someone who loves to cook. Some days can be more inspiring than others, but the love of food and a constant desire to create beautiful things in the kitchen is the twine that holds the front and back of house of the restaurant together every day. Coming to work has been especially exciting and fulfilling since I began working with the talented and Michelin star rated husband and wife culinary team, Karen and Quinn Hatfield.
My work assisting the pair open their newest restaurant, The Sycamore Kitchen–a bakery/café and bakery located in the Fairfax/Miracle Mile area of Los Angeles– gives me the opportunity to work with a team of highly skilled and passionate people who express themselves beautifully through the wholesome and flavorful food they make.
The flavors of the food at The Sycamore Kitchen are approachable, wholesome, and ever so sneaky because you find yourself needing to get more and more of the stuff. You just can't help yourself. In fact, in just a few weeks the restaurant has been open, Sycamore Kitchen has garnered a dedicated following. Not only do customers drive across town for a Salted Caramel Bobka roll, or the Double BLT sandwich with braised pork belly, they return day after day for savory and sweet favorites with determined gusto.
Even though I'm at the restaurant more than full time, I find myself craving certain dishes frequently. It's almost haunting, these flavors. The cookies and pastries are constantly on my mind and dishes like Sycamore Kitchen's heirloom watermelon salad with aleppo pepper and lime make me pace my apartment until I can't take it anymore and have to go to the store to buy all the ingredients so I can recreate the dish (to the best of my ability) at home.
Why? Because these sublime flavors aren't something I can get out of my head so easily. Just take one nibble of this spicy, salty, sweet dish and you'll see what I mean.When going to your local farmers market or grocery store, look for the best melons you can find. For visual appeal, look for melons of varying color and flavor.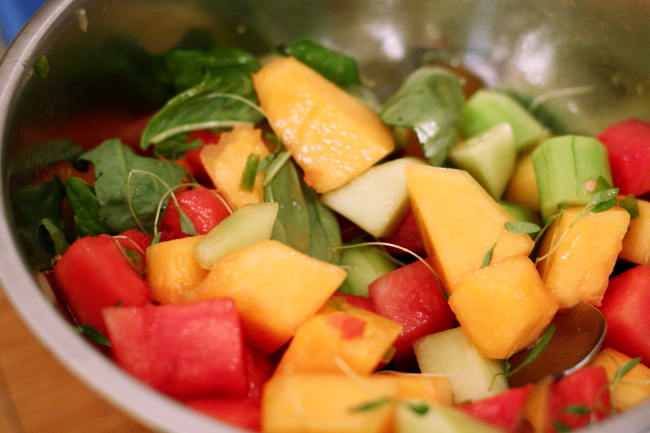 Heirloom Melon Salad
A salad inspired by Karen and Quinn Hatfield, The Sycamore Kitchen
1 small, soft-ball sized seedless watermelon, cubed
1 small, soft-ball sized cantalope, seeds removed and cubed
1 small, soft-ball sized melon (honeydew, yellow watermelon, etc.), seeds removed and cubed
4 Persian cucumbers, remove the skin and cut into large chunks (the size of your cubes)
Several branches of fresh basil*
1 aleppo pepper–or Jalapeno–thinly sliced or diced small
2 limes, juiced
Extra Virgin Olive Oil
Salt and Pepper
Maldon sea salt
Prep the ingredients, being careful to put each in its own container. Remove basil leaves from the stem, tear.
For the chili vinaigrette, remove seeds from the pepper and rinse before slicing, julienne or dice the pepper and add to the lime juice. Let macerate for several minutes. Add a healthy splash of EVO to the citrus and pepper mix. Add salt and pepper for taste.
When ready to serve, build each salad individually with an equal portion of colorful melon and cucumber. Toss with two tablespoons of chili vinaigrette and a big pinch of fresh basil. *I had some micro-cilantro left over from another meal and added this to the salad. Top each portion with a nice drizzle of EVO and a pinch of Maldon sea salt.
Serve with Sriracha Chicken