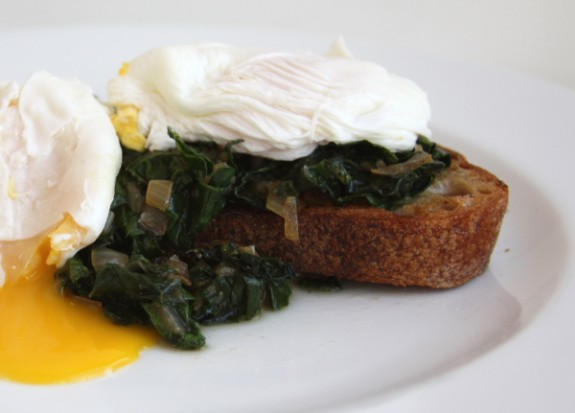 You may not know this, but I run a very successful restaurant. Thing is, this restaurant isn't one you've ever heard of, or even seen, because it doesn't exist anywhere but in an undisclosed spot in my imagination.
My fantasy restaurant has no overhead, no ten year lease, no worries associated with the health department, no long hours, no grease traps, and food costs are something I occasionally ponder. In my make-believe eatery I serve rustic fare with warm service in a room with hardwood floors, a pressed tin ceiling, and a brick fire place. Then again, some days I'm serving fresh caught seafood and beer at a shoebox eatery with clean white tile, communal tables with red chairs, and industrial steel signage.
And maybe that's the best thing about my imaginary restaurant. I can change things up whenever I want and it never costs a cent. Yet, no matter how menu changes and renovations my imaginary restaurant undergoes, one thing that stays constant is this one menu item: Perfect Poached Eggs on toast with Sauteed Kale.
I'm pretty certain that if I ever did open a bistro, this warm and comforting egg dish–two soft poached eggs lounging over a bed of sautéed kale and toast–would be the thing to turn customers into regulars. With anti-oxidant rich kale at its core, this breakfast feeds a winter morning's hunger and keeps you going long after you finish that last bite.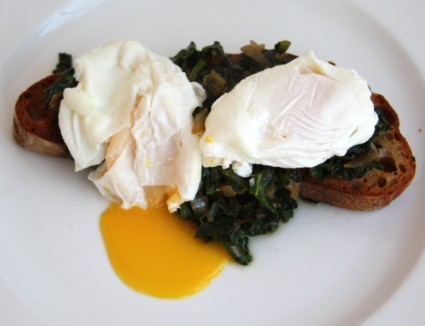 [print_link]
Perfect Poached Eggs on toast with Sauteed Kale
Serves two
4 eggs, separated into two small bowls (2 eggs in each bowl)
2 slices of bread for toasting
1 tablespoon of vinegar for poaching water
1/4 tablespoon of butter for toast
For the Sautéed Kale
Two bunches of Lacinato Kale (Dino Kale), about 6 cups after being de-veined and chopped
Half an onion, chopped
2 tablespoons olive oil
1 cup chicken or turkey stock
2 tablespoons cider vinegar
salt and pepper to taste
Submerge kale in a big bowl full of water; dirt will settle to the bottom of the bowl. Rinse and repeat this step, if necessary. Dry kale.
One at a time, fold the kale leaves closed to expose the stem; remove the stem with one long slice of your knife. Reserve the kale stems for another use. Once all the kale leaves are de-stemmed, chop the kale into ½" strips. Set aside.
Heat a sautée pan over medium heat. Add 2 tablespoons of olive oil and the chopped onions; sautée. When the onions are soft, add the kale. When the kale turns a brighter shade of green and becomes soft (about five minutes), turn up the heat and add the chicken stock and 2 tablespoons of cider vinegar. Let the liquid reduce. The kale should be ready when the moisture has been cooked down.
Meanwhile, fill a medium sized saucepan with water and bring to a boil. Reduce the heat a bit and add the white vinegar to the water. Just before you begin poaching the eggs, toast and butter the bread.
Stir the poaching water clockwise to create a whirlpool. Slip two of the eggs into the center of the saucepan's vortex so that the water's current can help the whites of the egg wrap around the yolks.  Let the eggs cook 2-4 minutes, depending on the desired doneness of the yolks.
As the eggs finish cooking, put the buttered toast on a plate and cover with a generous amount of kale. Using a slotted spoon, remove the poached egg from the water and set atop the kale toast. Sprinkle with salt and pepper. Repeat the process with the next two eggs. Serve immediately.