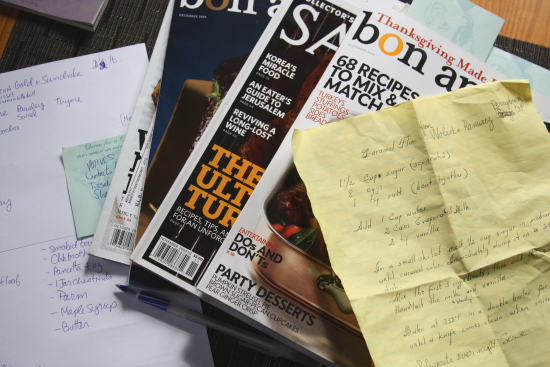 Not every food lover has the opportunity to turn to a celebrated chef for help whenever they have a food question. That's why I treasure the fact that my job as a server and bartender puts me in the proximity of some of the most chefs in Los Angeles.
Though I may not cook like an award-winning chef, I certainly want to. For that reason alone, I never take the blur of activity in the restaurant's kitchen for granted. As I pass by the busy stoves on my way to the dining room, I snatch mental snapshots of the day's prep: the way a prep cook measures out a perfect portion of pasta with a scale, how another slides his sharp knife through the belly of a fish, and the way a pastry cook zests a lemon with confident strokes.
Whether or not the brigade in chefs' whites is aware, these men and women are my culinary mentors. When a recipe stumps me or a particular ingredient poses too much of a challenge, I bring my culinary conundrums to the people I trust the most. Because chefs know how dough should feel, the way to combine simple flavors and make them sing, just which spice will make a dish come alive, or how to thicken a sauce so it clings to a protein like a mist rolling over a hill.
Unfortunately, it seems like the moments when I truly need a chef's expertise is when I'm alone at my home stove or at the farmers' market with a head full of uncertainties.  Though I work for Nancy Silverton, I'm not about to call the busy chef with a question about lamb shanks*. So how does a home cook find their way in the kitchen? Here are five simple ideas to get you closer to cooking like a chef.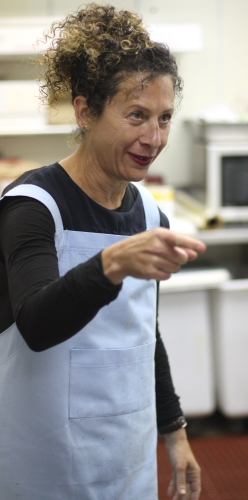 Without the aid of a friendly chef nearby, I think the best way for a home cook to find culinary guidance is to turn to your culinary heroes' cookbooks. Like an astrologer that consults stellar charts for clues to bigger questions, I turn to Alice Waters, Suzanne Goin, Mario Batali, Marcella Hazan, Judy Rogers and countless others for culinary truths. The key to getting the right information is knowing what to look for.
1. Read cookbooks for content not recipes. Many cookbooks offer valuable chef insights between the recipes or in the head notes. Take a little extra time to read the cookbooks of your favorite chefs for their secrets.
2. Research: If you have a question about the preparation of particular ingredient, turn to several sources to see what they have to say about it. Trusted food magazines like Saveur and Bon Appetit may have differing opinions from your favorite cookbook authors. For example, Martha Stewart may like to sear a piece of meat before roasting it for flavor, while Judy Rodgers may suggest brining, then searing.
3. Study: If you're stumped about a cooking technique, consult Harold McGee's On Food and Cooking. This encyclopedia of food brings the kind of expert perspective and understanding of cooking that can illuminate even the most difficult cooking concept. McGee's book is to cooking as the Rosetta stone was to ancient languages.
4. Look for variations on a theme: If you want to find out about the diverse ways an ingredient can be cooked, try scanning several cookbooks for ideas. The way Nancy Silverton likes her beets with horseradish, or how new cookbook author, Louisa Shafia of Lucid Food, likes to make vegetable patties with the red root, may inspire you to try a new and different approach.
5. Experiment. Sometimes the best way learn an ingredient is to dedicate yourself to mastering it. For one month, find varying recipes that highlight the diverse ways to prepare your special ingredient. In using multiple recipes, you will begin to form a rounded understanding of your subject.
6. Have fun. Not every dish will be a success. One thing I've learned from chefs is that even though not every dish can be perfect, it can be the thing that teaches you valuable information you need to get you one step closer to a signature dish.
*Though I've been tempted to call Nancy to beg for her advice, I abstain. I do not want to be That Annoying Employee.